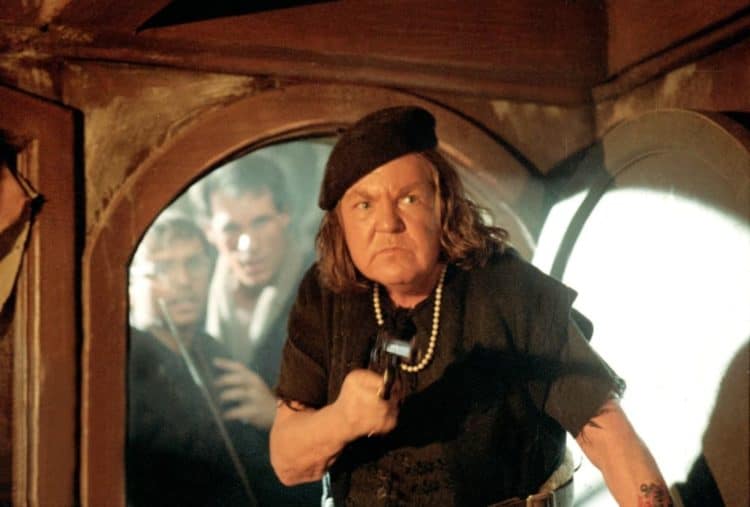 If you've seen The Goonies more than once and even Throw Momma from the Train then it's fair to say that you recognize Anne Ramsey even if you don't remember her name. What you likely remember is that she was kind of a miserable old woman that was mean as hell and in some cases more than a little tough, well, at least from an outward appearance. Ramsey passed away back in 1988, but it's still fun to watch the old movies she was a part of just to see what she was like back in the day. Out of all the actors that have had their time in the sun and have been nearly forgotten or held up as a type of standard it's easy to see why Anne is one of those that we can't quite forget since she played her parts quite well and was more than a little convincing when it came to her most iconic roles. I could say that actresses like her don't come around that often and I could offer a whole list of platitudes and respect that she definitely deserves, but it's easier to talk about the most iconic roles that a lot of people probably remember since it's easy to imagine that Anne might belt out "Get on with it sonny!" in her customary growl. Yes, I'll admit it, I would laugh and get on with it.
One role that not a lot of people might know as well is that of Momma, from the movie Throw Momma from the Train. Seriously, that's what she's credited as, though she's called Mrs. Lift in the movie. The whole movie revolves around the idea that Billy Crytal's character, Larry, is upset that his ex-wife stole his book and is now rich because of it while he's suffering through writer's block. Owen Lift, Momma's son, is a student in Larry's writing class and is highly dissatisfied with his home life since Momma is a horrible person that constantly berates him, but also praises him when he does something to help her. The thing is, Owen has daydreams of killing his mother all the time, but he's not about to do the deed himself. Instead, after watching Strangers on a Train, an old Hitchcock favorite, he goes to Larry with the idea that he'll kill Larry's ex, as it's already been established at that point that Larry hates his ex with a passion if Larry will kill his mother. Larry of course wants nothing to do with it, but after meeting Mrs. List he decides that he'll do it. While Owen supposedly goes through with his part of the plan, Larry can't do it since he's not a violent person, but when Larry is suspected of his ex-wife's death and tries to hide out at the List home, Momma makes it clear that she's bound and determined to turn him in. By the end of the movie, Larry and Owen become good friends and Momma passes away from natural causes. But oh yeah, Momma is the kind of person you can't help but think about killing for several reasons, even if action is never taken.
The other role is one you had to know that I was going to mention, Mama Fratelli from The Goonies. This woman was a piece of work since she chained one of her sons to a wall and treated him like an animal, while she pampered one son and constantly slapped the other. Maternal instinct wasn't much of a concern of Mama Fratelli's since she constantly let her sons have it, but to be fair she and Francis did help to break Jake out of jail. But apart from that one has to admit that any mother that would point a gun at her son to motivate him to go first down a darkened tunnel isn't bound to make mom of the year. But Mama Fratelli was still a needed part of the movie since she added to the comedy as well as the danger aspect since in her gruff and demanding way she was still someone that could deliver a line that people would be bound to remember. One has to wonder what it was like to work with her on the set and what she was like when the cameras weren't rolling. Plus, who's really going to forget her scenes with Corey Feldman, aka Mouth? Both the tongue scene, when she brought out the switchblade and implied that she would cut his tongue out, to the moment when he was actually quiet until she started pulling jewels from his mouth. A fun fact about that is the realization that Feldman actually held all those jewels in his mouth.
She was definitely a great actress in her time, and because of that, it's necessary to remember her every now and then.
Tell us what's wrong with this post? How could we improve it? :)
Let us improve this post!