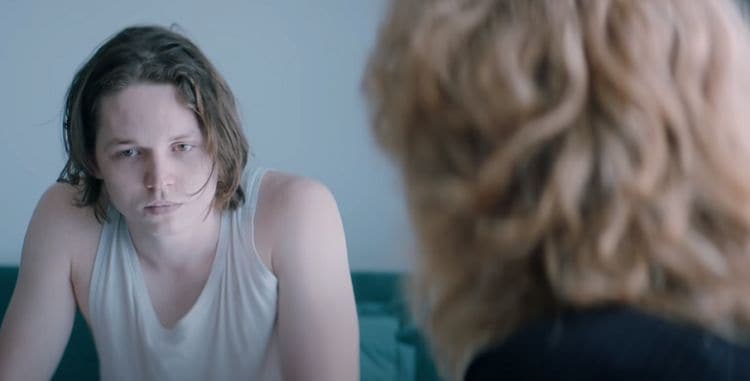 It's fair to say that Frank Grillo and Michael Kenneth Williams will be the biggest reasons, in terms of who the actors are, why we'll be taking a look at this. Jack Kilmer, as the lead character named Utah, doesn't really come off as a passable leading man in the trailer, and it's easy to think that he might not do so in the movie either. It could be that Jack will be someone that could possibly grow and might have a good deal of potential, but apart from that, it's hard to say that he's going to anything other than an accomplice in this movie despite the fact that it's centering on him. But the business of making money on sending junkies to rehab is something that's likely to burn a lot of people up since not only does it describe events that have happened but trying to catch people at the practice is something that people have a serious issue with due to the fact that those committing crimes don't necessarily wave their arms and shout 'over here' when they're doing something wrong. But one would think that the number of people that could potentially go missing or be shuffled through the rehab centers would be noticeable after a while. Of course, if one is really thinking that then they're not thinking in the same dimensions as the scammers are and might not be aware the road to rehab forks a few times thanks to this type of business.
This is the type of movie that people need to take with a big grain of salt if they think that it's exposing something that authorities don't know about, or that it's done much of anything to slow the practice. If anything, the movie has highlighted the fact that this exists, and while it might be a lucrative business it's still not bound to be taken down entirely as it relies on those that practicing it giving each other up due to a crisis of conscience. As Utah proves in the movie, it can happen, but one has to imagine that there are plenty of people in the business that would go to great lengths to prevent such a thing from happening. Money does a lot of strange things to people, not the least of which is to make them defend their income in any way possible, especially when being found out comes with a lengthy prison sentence. Defrauding the system would be the least the charges in the movie since Wood, played by Michael Kenneth Williams, makes it clear that what he does isn't always that nice. But those that step out of line in a business such as this aren't bound to last that long, as it's indicated in the trailer.
It's very likely that people are going to be a bit upset by this movie, but they might also, hopefully, do their own research to find out if this is in fact something that happens. It does actually, but shutting down every rehab house that does this is like trying to shut down every meth house in a state, the moment one goes down, two or three more might go up. Those numbers aren't exaggerated unfortunately in some cases, since those that are after the kind of money that can come from operating a crooked rehab house are out there and they're not stopping until someone physically makes them. The thing about the movie is that doesn't really show the worst-case scenarios, perhaps to assure people that while this is a horrible business it's not nearly as effective as some people think. While that's up for debate, the idea is that body brokers do exist, and the movie doesn't make things better or worse those that have been through such experiences since it's based on actual events but it's still by and large entertainment, something to use as information but also something to sit back and think about as the actors move through the story from point A to point B. Trying to get too serious over a movie is bound to give someone a migraine, or at least a tension headache since trying to feel such strong emotions for a movie that is based in reality isn't hard, but it is a little silly. It's a movie, and despite being based on real events, this is a fictional story and is meant to be taken as such.
In terms of acting it's an easy movie to watch and one that will no doubt entice some folks since they might be interested in learning more about the rehab industry and what fuels it. No doubt some emotions might run high, but at the end of the day, the movie is one of those that people will hopefully enjoy.