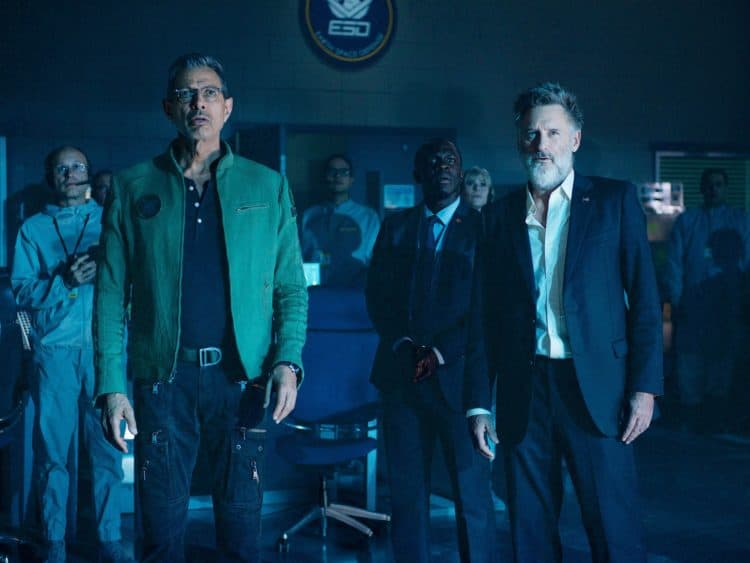 In 1996, Independence Day rocked the movie world and arguably catapulted Will Smith into A-list status. The film was a huge success, banking more than $800 million worldwide on a $75 million production budget. Not surprisingly, Hollywood was eventually going to try and milk this cash cow dry, so the sequel was officially greenlit in 2014, though Roland Emmerich had been developing a second film since the early 2000s. Unfortunately, Will Smith decided to not return to the movie, with the director himself explaining that the actor had no interest in doing another sequel after coming off Men in Black III. Smith was killed off in the sequel, with his son – played by Jessie T. Usher – stepping in to take over the latest film. This time, David Levinson returns and notices that a 3,000-mile-wide mother ship is approaching Earth. Once again, it's up to the several brave fighter pilots to stop the alien invasion and save humanity from another deadly attack. Upon release, the film was met with middle-of-the-road reviews, with critics praising the special effects and action; however, trashing everything else about the 2016 feature. Independence Day: Resurgence entered the weekend with a low 30% rotten tomatoes score, but a bad score doesn't always guarantee box office failure. The film grossed $41 million opening weekend, despite a promising start of $16.8 million on the first day. Sadly, it didn't even come close to matching the nearly $800 million that its predecessor made, only amassing $389.7 million. Though a sequel was teased at the end of the film, studios have gone silent in regard to making a trilogy official. So, what happened? Independence Day: Resurgence had all of the ingredients to making a successful blockbuster, but the movie failed to connect with modern audiences. Let's take a deeper dive into the reasoning behind the movie bombing theaters.
Will Smith Was Not Present for The Film
There's no official word on why Smith truly passed on the sequel. While Emmerich gave an explanation, Smith has remained silent on the situation. Considering the fact that Smith did Bad Boys 3 several years later, it's clear that he either A) changed his tune regarding making sequels or B) hated the script and wanted no part of it, but politely declined in the process. The second statement is pure speculation as Smith has never indicated such a reasoning; however, it's not uncommon for actors to past on sequels if a script simply sucks. A prime example is Keanu Reeves and Speed 2: Cruise Control. However, Will Smith is a star, and was the main staple of the first film. It was great to see the returns of Bill Pullman, Jeff Goldblum, Judd Hirsh, and Vivica A. Fox; however, the studio should've gone out of their way to bring in Smith, even if that means waiting for a couple more years. Smith is the driving force of the original film and there was a black cloud without him in the sequel.
Independence Day: Resurgence wisely doesn't ignore Captain Steve Hiller but tying Jessie T. Usher's character as his son arguably did more harm than good. Jessie T. Usher is a talented actor, but he doesn't match the charisma and energy of Will Smith. By playing his son, we're constantly reminded of Smith's character, who made a far more memorable impression. Don't get me wrong, Independence Day sucks when it comes to character development, which is why Smith anchoring the vehicle was such a huge part of the film's success. With the opening day number drawing more than Independence Day, audiences were likely curious about the sequel; however, the film ultimately making over $10 million less than its predecessor is an indicator that bad-word-of-mouth prevented other moviegoers for checking out the film. The sequel has many of the same problems as the original; however, it also feels lazy, and the characters are quite lackluster. Adding Will Smith wouldn't change that, though the A-list star would've likely helped the movie garnered a strong opening weekend number.
Audiences Were Tired Of Sequels In 2016
2016 was known for the summer of sequels. 14 sequels were released from a period of April to August: Finding Dory, Captain America: Civil War, The Purge: Election Year, Neighbors 2, X-Men: Apocalypse, Rings, and Barbershop: The Next Cut, are just some of the sequels released that year; however, Captain America and Finding Dory are the only ones to find true success. With the abundance of sequels coming out that year, audiences were likely burnt by the lack of fresh content in the mainstream media. Hollywood is a business, first and foremost, so you can understand why executives try to milk a franchise for all it's worth; however, Independence Day: Resurgence felt like nothing more than a cash cow that never justified its existence. The first film never teased a possibly of a sequel nor did anyone demand one, despite the original movie being deemed a classic by many.
Tell us what's wrong with this post? How could we improve it? :)
Let us improve this post!