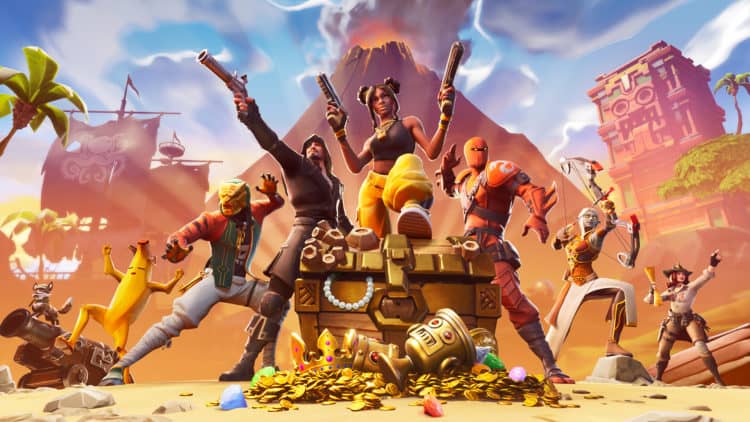 One of the reasons for Fortnite's success is the new content that comes out on a regular basis. This is critical because limited content means limited entertainment, which in turn, means that there will come a time when the players will see their interest run out. As such, the people behind Fortnite release new content for its massive fan base on a regular basis, as shown by the fact that Fortnite is now on Season 8, which started up on February 28 and is expected to continue for ten weeks until May 8.
What Has Changed in Fortnite's Seaon 8?
In some respects, Season 8 of Fortnite is much the same as its predecessors. For instance, Fortnite's Battle Royale mode remains free of charge for interested individuals, which is perhaps unsurprising when it has played a huge role in enabling its fan base to expand so much so soon. Regardless, the important takeaway is that if a player wants to pick up the Season 8 battle pass for 950 V-Bucks, they shouldn't expect anything besides cosmetic items such as emotes, skins, and wraps.
With that said, considering the fact that Fortnite is sustained by such purchases, it is clear that the right cosmetic items can prove very worthwhile for the right players. As a result, interested individuals might want to take a look at the exact contents of the Season 8 battle pass to see if it is something that they are willing to pay some money for. Besides the usual selection of emotes, skins, and other cosmetic items, there are some stand-outs. One example would be the banana costume, which actually comes with the name of Peely. Another example would be the two new Progressive Outfits, with one being a pirate look called Blackheart and the other being an animal person look called Hybrid. Of course, there is more content than that included in the Season 8 battle pass, which may or may not have an influential effect on interested individuals' ultimate choice on this matter.
Moving on, there is a clear pirate theme to Season 8 of Fortnite. Due to this, it was inevitable that the map would see some piratical changes, with an excellent example being how Lazy Links has been taken over by Lazy Lagoon with its pirate ship. However, the most entertaining example might be the cannons that can be found on the pirate ship as well as at various locations on the map, which are fully functional. In short, players can move the cannons into new positions for the purpose of shooting cannonballs at other players. However, there is a much more amusing option of shooting other players, which will enable them to tear through structures. Damage-wise, a direct hit from the cannon deals 100 damage in addition to knockback, while getting caught in a small radius will result in 50 damage because of splash damage. Speaking of which, interested individuals might also want to take note of the lava and the volcanic vents. The first causes 1 damage as well as a bounce-off effect upon contact, while the second can enable interested individuals to use their gliders once more.
Mechanics-wise, there have been some intriguing changes as well. For example, there is now a party assist feature, which will let interested individuals get their party members' help with completing challenges that are stymieing them. Furthermore, there is a new ping system that seems to have drawn a fair amount of inspiration from Apex Legends, which should enable smoother communication than ever before.
Final Thoughts
There are more changes included in Season 8 of Fortnite than what has been mentioned here. As a result, interested individuals might want to check out a full list so that they can get a better idea of what to expect. For that matter, it should be remembered that Season 8 has just started up. Due to this, more new content is bound to show up, meaning that interested individuals might want to head to one of the numerous online communities out there for some speculation. That kind of thing isn't suitable for all of the players out there, but for those who love that kind of thing, it can make for excellent entertainment in its own right.