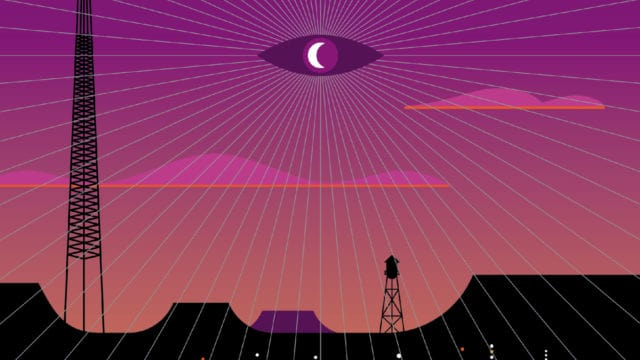 Welcome to Night Vale is a podcast. To be exact, it is a podcast presented in the format of a fictional radio show that features a man named Cecil Gershwin Palmer reporting on the events that happen in the titular town, which can be found in the Southwest of the United States. Given that Cecil is centuries-old, it should come as no surprise to learn that the town of Night Vale is rather unusual to say the least.
Overall, Welcome to Night Vale combines both horror and humorous elements into a winning combination. For example, the Glow Cloud is a sapient cloud that can possess people, but at the same time, it has chosen to settle in Night Vale because it finds it an excellent place to raise its child, with the result that it is now a member of the local school board. Likewise, the Good Boy is Satan summoned in the form of the cutest puppy imaginable, while Hiram is a five-headed dragon that has stated an interest in running for the position of Mayor of Night Vale. Regardless of the exact factors behind its success, there can be no doubt about the fact that Welcome to Night Vale is one, as shown by the tens of thousands of fans who follow the podcast as well as the fact that the two co-creators Joseph Fink and Jeffrey Cranor have appeared on The Late Show with Stephen Colbert.
Could Welcome to Night Vale Become a TV Show?
Given the success of Welcome to Night Vale, it should come as no surprise to learn that the two co-creators have received offers from people interested in making books, comics, movies, TV shows, and video games based on their creation. However, Fink and Cranor have stated that they know little about making most of those things, which was why they chose to settle on writing a novel called Welcome to Night Vale that was released in October of 2015. In more recent times, the two have announced the writing of a second novel called It Devours! that is expected to see release in October of 2017. Summed up, it is clear that Welcome to Night Vale has the potential to become a TV show, but whether it will become one or not is much more uncertain.
After all, the screen is a much different medium than the podcast, meaning that there are legitimate questions about whether the series can make a successful transition or not. For example, much of Welcome to Night Vale's charm comes from the fact that it is told to its listeners through a single far-from-omniscient character's narration, which creates an intimate feel that would be lost with most screen-based methods of storytelling. Furthermore, there are entire swathes of the setting that are described in vague language that provides enough information to arouse the imagination but not much more than that, which seems like the sort of thing that would prove to be a nightmare to translate to a visual medium. Still, this does not mean that Welcome to Night Vale could not be turned into a successful TV show, just that it would need capable show-makers to make the changes needed for a successful screen-based narrative without changing so much that the result loses its essential character.
Tell us what's wrong with this post? How could we improve it? :)
Let us improve this post!