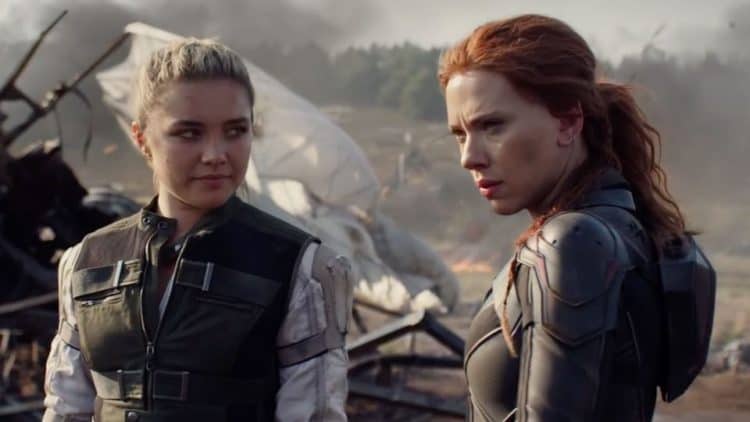 Florence Pugh has won the heart of many fans with the recent Black widow film by displaying an outstanding performance as Yelena Belova. According to the Box Office, the film grossed over $263 million worldwide as of July 18, 2021. This data shows Black Widow's rapid popularity in less than a month after its release, even surpassing its budget. With Florence Pugh's fame getting stronger after featuring in films and TV shows for less than ten years, producers are currently eyeing her. She is a powerful actress nominated in the Academy Awards and now attached to a few significant projects. Before the Black Widow release, most of her followers recognize her active roles in Little Women and Midsommar. However, her starring role in the Black Widow movie and Little Women has boosted her career, yet she still has more upcoming projects. Her fans are rapidly growing in eager expectation of when they will see her active role in the latest cinemas. Let us explore a few significant forthcoming movies and TV shows that the in-demand superstar will most likely appear within the next few months and years.
Hawkeye – Post-Production Stage
Hawkeye is an upcoming Marvel TV Show featuring Florence Pugh acting as Yelena. The series announcement made by Marvel and Disney in December 2020 is wrapping up the plot with several other characters included. The show will most likely premiere by the end of 2021, though Marvel hasn't publicized the official date. At least, the film being in the post-production stages is evidence that it might most likely premiere before the end of 2021.
Don't Worry Darling – Pending Post-Production
"Don't Worry Darling" is an imminent psychological thriller directed by Olivia Wilde with Florence Pugh as a leading star. The storyline features a 1950s husband dwelling with his housewife in a peaceful community. The plot gets exciting when his housewife Alice gets suspicious about his husband and begins uncovering his dark secrets because of strange events occurring. Apart from the fascinating story, shooting this movie completed in February 2021, but producers haven't announced the release date. However, additional details confirm that New Line acquired the project after successful bidding. That said, New Line is likely to release the film very soon, so fans will have to be patient to see what comes up.
The Wonder – Pending Pre-Production
Florence Pugh won the producers' hearts and set to star Sebastian Lelio's adaptation of The Wonder. The Wonder is essentially another psychological thriller story made for Netflix that adapts a thrilling novel by Emma Donoghue. The story is about an English nurse who visits a tiny Irish village set in the late 1850s. Her Goal was to witness between medical anomaly and miracle after discovering an 11-year-old girl can survive for several months without food. The strange occurrence of the young girl attracts tourists and also causing a journalist to cover the story. Later, it turns that the story is associated with love against evil. The Wonder appears to be still in the early development phases, so the expected release day might be until late 2021.
The Maid – Pending Pre-Production
In December 2020, Florence Pugh was among the co-producers in the murder mystery "The Maid," also set to act as a starring role. Universal Pictures announced winning the rights to produce the film based on Nita Prose's debut novel, with the expected launch date being January 2022. The film's plot essentially follows Molly, who had a consistent routine of maintaining clean rooms. It is through her general cleaning routine that she discovers the dirty secrets held by each room. It has an exciting plot that comes with it, so ensure you never miss watching it once it launches.
Good Person – Pre-Production stages
Florence Pugh and Morgan Freeman have active roles in the drama "A Good Person," directed by Golden Globe-nominee Zach Braff. Good Person features Allison (Florence Pugh), involved in a fatal accident causing her life to fall apart. The story unfolds, showing Allison building an unlikely relationship with her aspiring father-in-law Morgan, who helps her live a fulfilled life. Ensure to catch the end of this exciting drama, with the projected production rumored to happen in fall 2021. After that, you can hope for its earliest release date to be in mid-2022.
Dolly – TBD (Announced)
After AppleTV+ winning a competitive bid for the upcoming Dolly film, it is yet to go into production as of July 2021. If it does, Florence Pugh will be among the stars to feature in it. Dolly, a story centered on Elizabeth Bear's, combines both a sci-fi genre and a courtroom drama. The plot involves Dolly, a robotic "companion doll" who pleads innocently after killing his owner. For now, let' us not get ahead of the storyline since many changes can happen before it appears in the production phases. At least all we have to know is that Florence is an in-demand star featuring in it.
Rumored Madonna Biopic
Reports from the Mirror site in January 2021 indicate Madonna had an interest in Florence Pugh to feature her life in a future biopic. Madonna had also shortlisted Ozark's Julia Garner as a potential contender. A recent ET Canada discussion during a red-carpet interview held in June 2021 shows Florence considering Madonna's role. She also expressed much interest while appraising it would amaze her working with the icon. Although there are no official conclusions, such rumors show how potential executive producers consider her a perfect model for their shows. Besides, it is now up to Madonna to decide who she could choose between Pugh and Garner, including other stars. At least, we all now know Pugh won't disappoint us when she takes Madonna's role.
Final Thoughts
With Florence Pugh being a high-demand actor, especially after her latest prowess in the Black widow, the talented young lady will achieve a lot as an actor in the coming years. Currently, she possesses significant awards and nominations with lots of recognition, showing she has a bright future in upcoming movies and TV shows. For now, let relax and wait expectantly for the above releases and see the best that Pugh has in store for us.