Now that season 5 of Ideal (starring Johnny Vegas) has come an end, it's time for the BBC to air another dark comedy. If you watch Ideal and like it, then you probably enjoy that feeling of concern that always follows an episode. Lucky for us, Reece Shearsmith and Steve Pemberton, two thirds of the League of Gentlemen, took to our screens again last night in their new comedy thriller, Psychoville. The League of Gentlemen was a big hit, but after 3 seasons and a film the boys called it a day. Psychoville sees a return to form for Shearsmith and Pemberton. It is awkward and uncomfortable, yet hilariously funny and a bit magical all at once.
But it's certainly not for kids. In Pemberton's words 'It's the same tone as The League Of Gentlemen, it's called Psychoville, it's on late-ish…'so consider yourself warned. They aimed for an intriguing thriller comedy, and have definitely achieved it. They watched programmes like 24, Lost and Dexter, and wanted a comedy that has some of the same feeling, squeezed into seven half hours due to good old British sitcom tradition. The result should be a narrative that slowly reveals itself over the course of the entire series.
Unlike the League, the boys aren't playing every major character this time around, but they still play a lot of them. The League started out feeling like a sketch show and gradually mutated to have a storyline, but in Psychoville the story is there straightaway. We just have to figure out what it actually is. In fact, this is my only criticism of the show so far. Intrigue is immediately set up; five seemingly unconnected characters each receive a Harry Potter-esque letter stating 'I know what you did'.
Now, I've seen this tactic used in horror films. Everyone gets quite irate for a while and people end up dead. This doesn't happen in Psychoville, of course, but after two episodes we're still left having no idea what it is, but luckily we're given plenty of character information instead. Will all the characters and plots introduced early on, the letters initially take a backseat.
There's Mr Jelly (Shearsmith), an irate clown hell bent on becoming the best party clown in Salford. Unlucky for him, Mr Jolly currently has that title.
There's Joy (Dawn French), a midwife who seems to think the doll she's carrying around is a real baby named Freddy.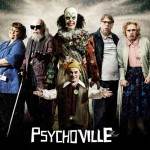 Robert (Jason Tompkins), a pantomime dwarf, seems to exhibit some more of these magical properties whenever he's angry, which happens quite a lot.
David (Pemberton) is a serial-killer obsessed man-child. It remains to be seen whether he wants to be a killer, or just admires them.
Maureen (Shearsmith) is his long-suffering and now suspicious mother. Her relationship with her son isn't quite normal.
Lomax (Pemberton) is a blind art collector, has unfortunately had all his art stolen, but doesn't know it. His Holiest of Holies is safe for now though.
All characters so far look promising. As in the League, these writers are brilliant at taking a funny scene and delivering it with a poignancy and depth. The scene where Joy hands her '˜baby'to her husband for changing is exceptionally sad. The aim of the game seems to be to make you feel everything in carefully devised stages, and it works. It looks as though Pemberton and Shearsmith intend to continue down this vein whilst upping the comedy thriller stakes of the game. It should make for entertaining viewing.
Apparently the boys initially wanted six episodes, but the BBC pushed for seven. The fourth episode is the one '˜squeezed in'. It will mostly consist of Shearsmith and Pemberton sat at a table, talking. Playing which characters and talking about what exactly remains to be seen.
Tell us what's wrong with this post? How could we improve it? :)
Let us improve this post!