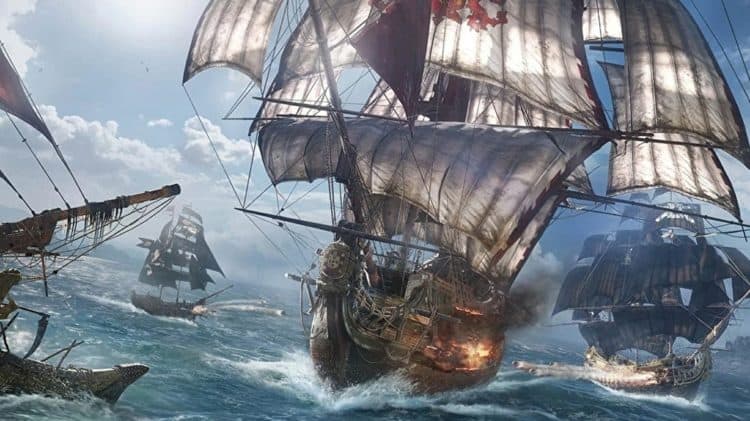 Skull and Bones is a good example of how Ubisoft experiments with new gameplay mechanics and finds ways to fully take advantage of it. When Assassin's Creed: Black Flag was released back in 2013, it quickly became a favorite among its core demographic. This was mainly due to the fresh setting of the Caribbean and an expanded full-scale sailing mechanic that was first introduced in Assassin's Creed III. This whole pirate adventure struck a chord with a lot of gamers and it kind of ushered in a sub-genre of its own. It was so popular, it enticed Ubisoft to make a spin-off of this installment titled Assassin's Creed: Rogue, which was released in 2014. It built up the naval elements of its predecessor and, from then on, the developers made sea-faring an underlying foundation for the subsequent installments of the Assassin's Creed series.
Of course, while the sea exploring aspects made a return in Assassin's Creed: Origins and Assassin's Creed: Odyssey, Ubisoft was quietly crafting an entirely new game called Skull and Bones. It focuses solely on naval warfare that was inspired by these aforementioned titles and it was supposed to be a unique PVP experience. It started its development back in 2013 and a gameplay demonstration was even shown back in E3 2018. Ever since then, it's nowhere to be seen and gamers throughout the community are wondering what's going on with it? Well, when it comes to game development, sometimes things become turbulent and snags can hinder the creative process. Apparently, this is what's happening with Skulls and Bones. Even though Ubisoft has a healthy passion for this title and has invested over $100 million for its development, the stars don't seem to be lining up quite yet.
Video
Sailor's Warning
Initially, Skull and Bones was going to be a multiplayer component to Assassin's Creed: Black Flag. Ubisoft then decided that this idea would be better suited to be a standalone project. From what was shown in the gameplay demonstration, Skull and Bones was going to be a competitive naval shooter with some open-world Far Cry looting and exploration aspects intertwined into it. Apparently, individuals who were spearheading the project kept "moving the goalpost", so to speak. Skull and Bones keep getting back on track with a "new vision" only to have it thrown out the window and be rebooted several times over. The workplace morale has the development on Skull and Bones on shaky ground and it prompted many of the developers to resign. Naturally, the constant restarting of this project will cause it to be delayed further and further, leaving many gamers twisting in the wind.
Originally, Skull and Bones was going to be a unique pirate-centric PVP simulator where players create their own avatar, pick a ship, and go out on adventures. This basic idea was scrapped and now the developers over at Ubisoft are going for a more conventional direction. The newest game director, Elisabeth Pellen, is now trying to make this title with "live service storytelling." This would be opposed to a static game where there's a single-player campaign that would be accompanied by DLC and the like. There will now be a constant stream of new storylines, quests, and co-op events for players to try out. The closest example that the developers are trying to duplicate would be with Sea of Thieves. The growing popularity of Sea of Thieves is certainly a prime model to follow in regards to an online pirate game. Perhaps, Ubisoft has reached full stride with this game's development process and they now have a clear goal on what they want? Only time will tell.
Bring Me That Horizon
It also appears that this title is being re-designed from the ground up in terms of its gameplay mechanics and online capabilities. There are rumors that things will switch to the first-person view while on the ship and Skull and Bones will ultimately end up being a free-to-play game. Given that the direction of Skull and Bones is now going down the "live-storytelling" route, it would be wise of Ubisoft to consider making this project free-to-play. The idea of a pirate-themed competitive game being broken up into seasons would give it time to grow and adapt to being the game it wants to be. As of early 2020, there are still some situations happening over in Ubisoft Singapore that entail the managing director being removed from his seat due to allegations of misconduct. This, once again, could cause the game to be delayed even further.
Even though pirates are a fairly popular genre these days, the question is that whether or not gamers will still care when Skull and Bones releases? There is certainly potential with this idea and many gamers have fond memories of Assassin's Creed: Blag Flag mainly due to the naval exploratory aspect of it. Making a pirate game that is centered around this gameplay mechanic is welcomed to many people's minds. However, the constant delays may cause some concern about the quality of the product will end up being like. There are many examples throughout the history of video games where a game was delayed for years, only to end up being a broken mess. Hopefully, this won't be the case.
Nothing, But Humble Pirates
After everything that has happened within Skull and Bones' development cycle, Ubisoft has confirmed that this game is indeed still coming. By the time that this finally gets released, it's a good bet that it is going to be for next-gen consoles. With that said, the specs that come with this hardware will definitely give this IP a boost that it may need to reach to the level of satisfaction that the developers are striving for. Even though this game was originally going to be released sometime in 2020, the recent situations with development have given it a few more years of time. Therefore, as things currently stand, Ubisoft has confirmed that Skull and Bones will be released within the fiscal year of 2023. Basically, that's within the time period of April 1, 2022, to March 31, 2023. Hopefully, there won't be any more surprises until then.