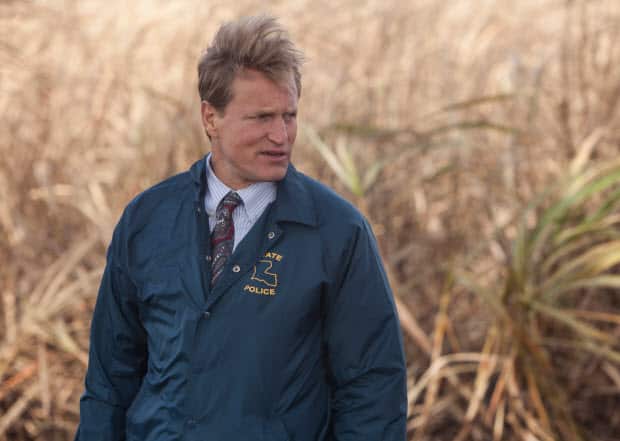 "I know who I am… there's victory to be found in that." – Rust Cohle
As True Detective burrows further into the psyche of its two main characters in "Seeing Things", it also spreads itself out thematically, exploring every nook and cranny of the gray areas between 'good' and 'bad', and 'angel' and 'sinner'. With the spiritual and literal symbolism flowing, "Seeing Things" is a very dense hour of television — but a deeply rewarding one, moving its focus away from the narrative to firmly establish itself as a contemplative character piece, rather than a superficial macabre drama with a penchant for awesome monologues.
The title of the episode – "Seeing Things" – is an explicit reference to Rust's hallucinations: but it's also about the nature of humans, and how first appearances can be ever-so-deceiving. Just look at Marty Hart: the 'priest' in our Holy Trinity has revealed himself to be a phony, a "family man" who cheats on his wife, which he justifies by explaining how a male cop needs to keep his psyche in check before he goes to home to play Daddy and husband. At first look, Marty seems to be the normal, God-fearing rural southern type, but in "Seeing Things", he's revealed to be something completely else, a philanderer who is bad at covering up lies ("I smell p***y," Rust warns him when he shows up at the precinct for work), and is even worse at covering up his self-moralizing behavior.
The biggest distinction between the depiction of Rust and Marty are their appropriations of words; where it's clear that Marty is 'seeing things' in his own life that don't exist (like his happy family life) thanks to the things he says during his 2012 interview, Rust is actually seeing things, describing the events of 1995 with a tone so reflective and lucid, it begs the question whether he'd lost his mind long before he joined the homicide unit and became Marty's partner. He was a deep-undercover with vice in Texas in the past, which ended with him murdering three cartel members and developing a nasty penchant for hallucinogenic flashbacks (like the crows taking flight, their bodies creating the spiral shape found on the victim's back) — and although that makes him an unreliable narrator, True Detective hitches their philosophic wagon to his unhinged character, juxtaposing his honesty against the facetious mistruths Marty spreads about himself.
This idea of misconception finds its way into every facet of the episode: the most noticeably among these the backwoods bunny ranch the two men visit looking for clues into Dora's murder. It puts the show's spiritual debate front and center, when Marty the hypocrite comes face to face with the ranch's madame (arguably the greatest 'parent' out of those seen in this episode; at least she doesn't lie to her surrogate 'children'), who laughs and chastises him for his moralistic views on the young girl they're interviewing (Lili Simmons, of Banshee fame) and what she does with those girls for a living. In a way, she's the best parent of all on True Detective, in its own scary way: Marty's "father of the year" persona melts away with the sight of his kinky affairs, just as Rust's unstable emotional state around families (though he admits dinner with the Harts wasn't "as bad as [he] thought" it would be) are revealed not to be a natural part of his character, but something borne out of the pointlessness of life he witnessed when his own daughter died ("saving" him from the sin of being a father, in his eyes).
"Seeing Things", in fact, is about what is not seen: the entire episode centers around the search for a church, a symbol of Rust and Marty attempts to find enlightenment through all the darkness enveloping this new murder case (and creeping its way into their souls, as we can see in the 2012 interviews). More so, it continues the line of thinking established in the pilot regarding the pull between good and evil, the subjective yin and yang that molds our views of people and the world around us. We all may have our own bodies — but as Rust reads in Corinthians, "the body is not one member, but many," suggesting the cosmic balance is being tipped in the favor of the Lovecraftian King in Yellow, a horrible evil that infects and corrupts the souls around him, including the detectives he alludes. Ultimately, "Seeing Things" is about self-perception: and whether whore, police officer, wife, or child, there's always more to see than meets the eye with people, especially in a town where everything is connected, like the limbs on the body of a human (or the jagged antlers of a stag).
Other thoughts/observations:
– Rust: "I'm police. I can do terrible things to people. With impunity." His sudden explosion (and instantaneous deflation) is a small window in Rust's long, disturbing past — and it might be the most frightening moment of the show so far.
– Just as Rust smells weakness on the men they questioned, Marty smells his own weakness, left over from the night previous, on his hand.
– Drawn with the ash of the burned down church is an image of a woman with stag antlers.
– Just as last week made reference to "the end" of the investigation and the subsequent fallout between Rust and Marty years later, "Seeing Things" makes reference to a "throwdown in the woods" we haven't seen yet.
– "Old men die, and the world keeps spinning."
[Photo via James Bridges/HBO]
Tell us what's wrong with this post? How could we improve it? :)
Let us improve this post!