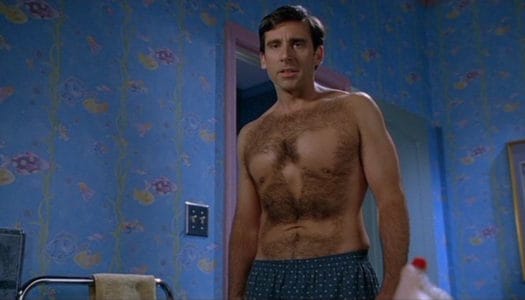 So if you don't know this man don't feel too bad, but feel at least a little embarrassed. He's a Grammy winner after all and has won the award several times. Micheal McDonald seems to have gained more success when being featured with other notable singers and musicians than he has on his own, but the truth is that he's been a success for about four decades now, it's simply that he's one of the many that get so little mainstream notice that he seems to slip between the cracks. Granted he's very talented and he's a hard worker, but for some reason he doesn't seem to get the same level of notoriety as other musicians. He does have a faithful fan base though, so he's proved his worth and he's a genuine star.
Here are some of his contributions to the world of pop culture.
5. The 40-Year Old Virgin-Taking It To The Streets
This isn't the best representation of him since the movie that keeps playing over, and over, and over in the store becomes so repetitious that it's become a running gag between the employees who would rather burn the store to the ground than hear the song for the ten thousandth time since they started working there. As a former retail employee I concur with this assessment.
4. Thelma and Louise-No Lookin' Back
This is an aptly named song for such an important film in the world of pop culture. Thelma and Louise opened a lot of eyes when it came out and helped out McDonald's career as well when his song was featured in the soundtrack. You can see that he's done a lot in his career but it takes some looking to really find it. You don't have to look too hard though.
3. Running Scared-Sweet Freedom
The buddy cop team of Hines and Crystal was one of the funniest to ever hit the theaters in its time and could have helped pioneer the buddy cop movie to begin with. It certainly helped pave the way for comedy in police movies. As a pair the two men were a good match and were seen to work fairly well together. That's the kind of chemistry needed for such a film.
2. American Idol w/Clark Beckham-Takin It To The Streets
It's something pretty special when you get to perform on a show like this with one of the noted greats in the music industry. American Idol has elevated the careers of many individuals whether they won or not, proving to be a staging ground where those with genuine talent tend to take off and do something great with what they've got so as to accomplish something they truly desire.
1. The Late Show w/Jimmy Fallon-Show You The Way w/Thundercat and Kenny Loggins
https://www.youtube.com/watch?v=x8AgdI4eyFc
It's not too often that you get three stars on the stage at the same time. Of course Thundercat was looking to advance his career and one of the best ways to do that of course is to get on stage with known personalities and allow them to make you look even better.
So yes, Michael McDonald is a genuine star, even if you don't hear about him all the time.