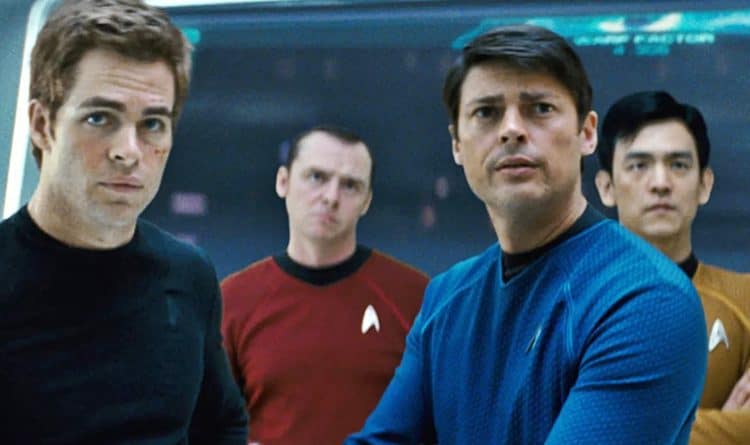 The boys, the boys, the [easyazon_link identifier="B0057GYOBI" locale="US" tag="tvovermind00a-20″]Beastie Beastie boys[/easyazon_link]! Oh yeah, for a long time they were the absolute best when it came to doing what they did. They knew how to put on a show, how to throw down with the best and how to straight up party when it came time to throw a great concert. With the loss of Adam Yauch and Steve Berry though they're not quite the same despite their legendary sound. It's exceedingly sad really that such a great band would undergo two hurtful losses despite the fact that they were something that couldn't be avoided. It's safe to say though that all of us who grew up listening to the Beastie Boys will remember them for a long time through their music and the use of their tracks in the many movies that have decided to add them to their soundtracks.
Here are a just a few you might remember.
5. [easyazon_link identifier="B01IS31U6S" locale="US" tag="tvovermind00a-20″]Star Trek: Beyond[/easyazon_link] – Sabotage
So we no longer need extra-heavy or futuristic armaments and defenses from alien invasion. All we need is the Beastie Boys wailing out Sabotage on the right frequency to stop the aliens in their tracks. How many of you busted up laughing when you saw this? It's nothing against the franchise but it seems like a nod to the past and an insanely odd plot device to use this song in this manner. It was kind of cool though.
4. [easyazon_link identifier="B01HOSMNYQ" locale="US" tag="tvovermind00a-20″]The Secret Life of Pets[/easyazon_link] – No Sleep Till Brooklyn
Max and the bunny are out on a mission to get Max back to get their friends back and, unfortunately, the bunny is doing all the driving. To say the fluff ball's got a screw loose, as it was said earlier in the film, is putting it pretty lightly. Honestly I don't think they could have cast anyone else as the bunny and made it quite as hilarious. For all his over the top antics Kevin Hart is pretty funny.
3. [easyazon_link identifier="B00LM4VT1C" locale="US" tag="tvovermind00a-20″]Bad Words[/easyazon_link] – B-Boys In The Cut
In Jason Bateman's directorial debut he plays one of the most despicable characters he's ever portrayed in film. Strangely enough you start to feel for the guy after a while even after all the horrible stuff he's done and continues to do. And the kid, well, he's kind of just along for the ride but at his own insistence so it makes the movie even more messed up but in a very delightful way.
2. [easyazon_link identifier="B004I1E044″ locale="US" tag="tvovermind00a-20″]Shrek Forever After[/easyazon_link] – Sure Shot
Every character in Shrek has their thing and it's generally not to be messed with. The Pied Piper is kind of unique since he doesn't have to talk, attack, or even really seem menacing at all. He just plays his flute and according to its setting the magic will take care of the rest. Oy, I'd hate to see a guy like this in a government position. Wait a minute, do you think…nah, better not.
1. [easyazon_link identifier="B071SGYD2N" locale="US" tag="tvovermind00a-20″]Diary of a Wimpy Kid[/easyazon_link] – Intergalactic
It takes a lot of guts to get up at a school dance and just go bust a move when you're a nerd or a geek or anything related to such terms. But when your song is on then your song is on and it's time to bust a move. These two deserve a lot of props for getting out their and just shaking it for everyone to see.
Yeah, the Beastie Boys are awesome, and it'll stay that way.
Save
Tell us what's wrong with this post? How could we improve it? :)
Let us improve this post!