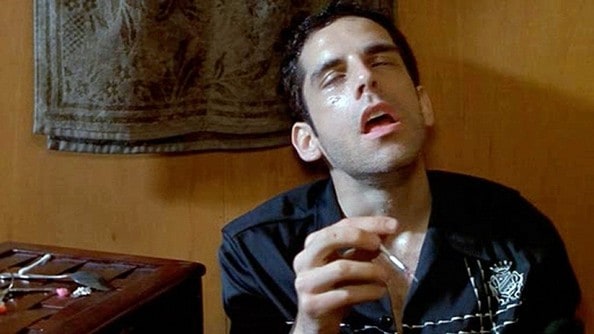 Finding serious moments with Ben Stiller is kind of tough since the guy happens to be in a lot of comedies, which he's very good at obviously since a LOT of his movies are comedies. But there are those moments when he's more toned down and less fully on with the comedy so that he can be dramatic as well. When this happens you get to see a different side of him that's kind of interesting and in some cases just a little uncomfortable. Well, maybe that last part is just me when I see certain scenes. There's no denying that he's a good actor, but when you get used to seeing someone in comedy it's hard to switch gears so quickly.
He does manage to do both drama and comedy pretty well though.
5. The Secret Life of Walter Mitty
Walter Mitty is the guy that hasn't done much in his life but desperately wants to. Something always manages to hold him back though, at least until he discovers that he's missing a crucial picture that will be used to run the last issue TIME magazine. In order to find it he goes on an adventure unlike anything he's ever known, finally fulfilling his dream and eventually finding that he had what he'd been looking for all along.
4. Permanent Midnight
This is probably one of the hardest roles to see anyone take. Stiller is a straight up drug addict that gets high in his car with his child in the passenger seat one night. He gets arrested and eventually has to start making his way back to square one, which if anyone has ever known a hardcore addict is a long and painful journey for everyone involved.
3. Next of Kin
Stiller's character in this one is pretty low-key even though he pops up here and there in the movie. He plays the son of a crime boss that's eventually killed by the boss's top man simply because he was witness to a murder that sparked a feud between the family of the victim and his father's gang. To be honest he's just a blameless bystander in this movie that got taken out because he wasn't really needed.
2. Fresh Horses
In this film Stiller plays the kind of friend that's bound to get a person into trouble simply because he wants to go out and see what there is to do. Andrew McCarthy is the lead character that decides to give into his friends insistent manner and go out looking for a fun, raucous time at a place where they might get into trouble or might just have a good time. What he doesn't expect is to find someone that he'll end up falling for.
1. Empire of the Sun
Still has a limited role in this coming of age film that stars a young Christian Bale, but it's just enough to deliver a line asking the young kid if he wants a Hershey's chocolate bar. Seeing how such things were very scarce in war zones in WWII this line is kind of important since when the kid says yes, Stiller says he would like one too. There was no shortage of jerks during the war, but a lot of them either had a reason or were that way before enlisting.
Tell us what's wrong with this post? How could we improve it? :)
Let us improve this post!