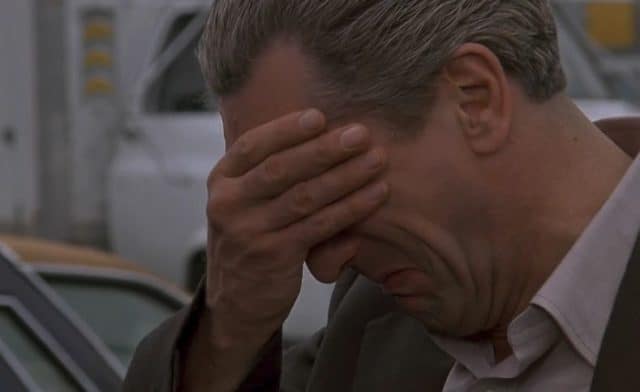 You don't normally see guys like Robert De Niro cry, at least not in certain types of movies. But it does happen. And usually when it happens that means that something very serious is wrong. He's the kind of guy that usually has a couple of major expressions on his face that can speak volumes so he doesn't have to have a wide assortment of facial tics that might tell people just what he's thinking about. When he does cry it seems to take up his whole face, pulling everything into a sorrowful grimace that takes about a minute or two to recover from. Yet when this guy cries you simply know that something very bad or very tragic has just happened since like I said his face doesn't reflect a whole lot most times. It's usually his words that give rise to what's happening on the inside and then help to decipher just what his look means on the outside.
He's not too complicated, but his crying face is one of the most expressive he has.
5. Goodfellas
The real Jimmy Burke was a stone-cold killer and mobster that did anything he could to get as much power as possible. He cared about the people close to him so long as they could help him out, but in this clip you can see just how much it meant to him that Tommy become a made man. That alone would have helped Jimmy to cement his legacy even further. Of course he was sad to lose a friend as well.
4. Analyze This
Mob bosses aren't supposed to be seen as weak. It's like blood in the water if they're seen to be even the least bit unstable, as the movies show that other families will come after them like starved hounds. That's why in this movie the boss has to undergo therapy in order to find out just what's wrong with him and why he starts crying for no good reason sometimes.
3. The Deer Hunter
Sometimes your best friend is the one guy you know the least. After returning from Vietnam Mike was a changed person, but not so much as his friend Nick, who never came back. Once he finds out that their friend Stevie, who's paralyzed on one side and bereft of both legs, is being sent wads of cash, Mike tracks down Nick only to share one final moment with him before Nick loses at a game of Russian Roulette.
2. The Untouchables
Some people paint Al Capone as a philanthropist and others as a murderer. This particular scene shows him as little more than a man using his influence and power to enjoy a night at the opera while his men take care of business around town. He barely acknowledges their deaths as he continues to enjoy the beautiful sounds coming from the stage below. Cold, simply cold.
1. Little Fockers
Okay this one might feel like a bit of a cheat, but at the very least he is crying out in pain. The tears would likely come later since he was stabbed in the, well, the nethers by a needle with a drug designed to counter the drugs he took to maintain an erection.
It's not often that you see De Niro cry, but it does happen.
Tell us what's wrong with this post? How could we improve it? :)
Let us improve this post!