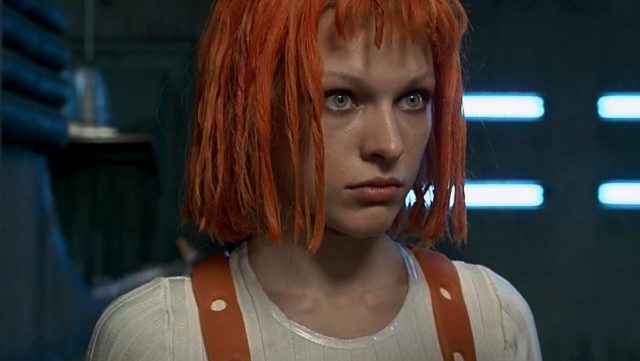 She's one of those actors that you see in a single role and say to yourself that this their role, this is the role that they were meant to play. It's very easy to say this about an actress like Milla Jovovich, especially given that she's been playing one primary role that's gotten her so much attention since the first movie came out in 2002. That's fifteen years of being known as the one woman in all of Raccoon City, in the entire world actually, that holds the key to ending the reign of the undead. She's played plenty of parts before and after this role, but if anyone asks about her they're likely to point out the role of Alice in Resident Evil. It was after all one of the few roles that painted her as the rough and tough female that was not to be messed with.
Here are a few other roles that also helped her to achieve the level she's at now.
5. [easyazon_link identifier="B013UZ6TP6″ locale="US" tag="tvovermind00a-20″]The Fifth Element[/easyazon_link] – Leeloo
Reconstructed from little more than a hand and a few scraps of flesh, Leeloo is the ultimate weapon, but she has no idea just where she is and what to do once she's brought back to life. Thankfully she runs into Corbin Dallas, who is equally confused but at least finds the right priest to drop her off with. Somehow though fate keeps bringing them together until she is finally able to do what she was meant to do.
4. [easyazon_link identifier="B000S6GIK2″ locale="US" tag="tvovermind00a-20″]The Messenger: The Story of Joan of Arc[/easyazon_link] – Joan of Arc
As Joan of Arc she was a very disturbed woman. She was a sign and an inspiration, but she was also so deeply touched by the voices that she heard that she allowed them to guide her into ruin. Perhaps she heard the divine words of God or perhaps she was hearing what she wanted to hear, as Death implies. Whatever the case, she was eventually burned as a heretic and a witch, despite the inspiration she gave to her country.
3. [easyazon_link identifier="B000GT4H0Y" locale="US" tag="tvovermind00a-20″]Ultraviolet[/easyazon_link] – Violet Song Jat Shariff
This movie didn't get a lot of great reviews and it didn't do that great at the box office. In fact the story needed a lot more development than it was given. But her role was still the strongest part of the film largely because of her presence and the level of attitude that she can bring to bear. If nothing else she put in one stellar performance that was sadly overlooked because of a poorly directed film and a half-baked story.
2. [easyazon_link identifier="B003F1LRLM" locale="US" tag="tvovermind00a-20″]Return to the Blue Lagoon[/easyazon_link] – Lilli Hargrave
When put against her other roles it might not seem that great but in all honesty this was one of the roles that got her really noticed and pushed her forward to be a star. It wasn't the best and I get that but it was a dang good start.
1. Alice – [easyazon_link identifier="B00AVILCGW" locale="US" tag="tvovermind00a-20″]Resident Evil[/easyazon_link]

https://www.youtube.com/watch?v=7YMu0Kict9M
I'm not going to specify which movie because really she is awesome in all of them. From the beginning to the end she is without a doubt the greatest zombie slayer ever. Her body count is insanely high and the fact that she's still alive is a blessing to science fiction.
Milla Jovovich will be very lucky to find another character that is so loved by fans. Hopefully that's possible.
Save
Tell us what's wrong with this post? How could we improve it? :)
Let us improve this post!