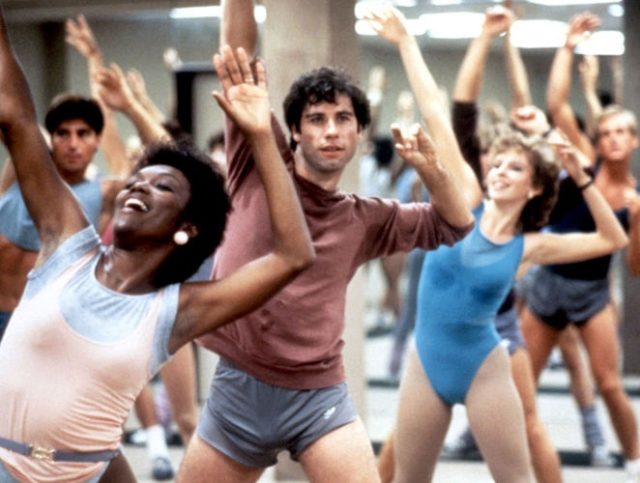 For some guys, those that haven't gotten full control of their hormones yet, this is a dream come true as women in tight-fitting clothing and with a definite desire to shake and shimmy their way into shape flock to aerobics classes. Some guys happen to find this useful too but chances are you won't see a whole lot of them in places like this. Aerobics isn't just a woman thing by any means, but honestly, the ratio of women to men in these types of classes is seriously skewed.
The image of aerobics classes in film is definitely just as imbalanced, but it's part of the funny and obviously a way to get male viewers to watch.
5. Grown Ups 2
Recall that hormonal crack I made in the beginning of article. This would be one of those moments that a man with no filter on his mouth or his hormones would find most appealing. A room full of beautiful women in good shape bouncing and jiggling because a supposed aerobics instructor's aid told them to do so to "warm up". Oy, at least it's a comedy so that there's some humor attached to it. Otherwise you'd have to think there was a sign by the door that said "check brain here". At least the guy got a healthy dose of payback when the kid bit him.
4. Perfect
It's a role custom made for Jamie Lee Curtis back in the day and kind of a not-so-surprising one for John Travolta. Come on, we saw him Saturday Night Fever remember? He had to be in pretty good shape for that and it no doubt carried over to this film. The story goes that he's a reporter working on another story when he decides to try and write about the aerobics experience. Curtis says no, they develop a relationship, his article gets rewritten slamming the aerobics studio, but eventually she learns that he had nothing to do with it. Classic love story really.
3. Here Comes The Boom
Yes, former MMA fighters can in fact bust a move in the aerobics studio and look good doing it. Bas Rutten is a legend in the world of MMA and brings a bit of light-hearted humor to the film that it desperately needs. His chemistry with Kevin James is awesome and as a trainer one couldn't ask for anyone better. His training methods are a little questionable at times but the results are that James is eventually able to, by luck, knock out the baddest man in UFC.
2. Bad Moms
Zumba is a little difficult to do if you're not used to it. Maybe that's why it was developed for Wii when it was, so you wouldn't have to go through the embarrassment of doing the moves in front of others. Whatever the case, you would think that someone that's in the kind of shape that Mila Kunis is could keep up. Of course appearances can be deceiving. It's still tempting to find out whether or not she can actually rock a Zumba class in real life.
1. The Nutty Professor
Think about being so big that you can't even get halfway down to touch your toes. Then you develop a miracle serum and BAM, you're thin, and in good shape! Yeah, I think a lot of us would be taking the time to enjoy it to the fullest degree and possibly find the courage to go to an aerobics class or two, or three. Heck, we all might become regular members at the gym if this happened.
Aerobics classes are something you do when you have the time, the funds, and of course the energy. Realistically millions of people use them all the time, but for those of us that can barely fit a small 20-minute workout into our lives it seems almost unreal.
Save