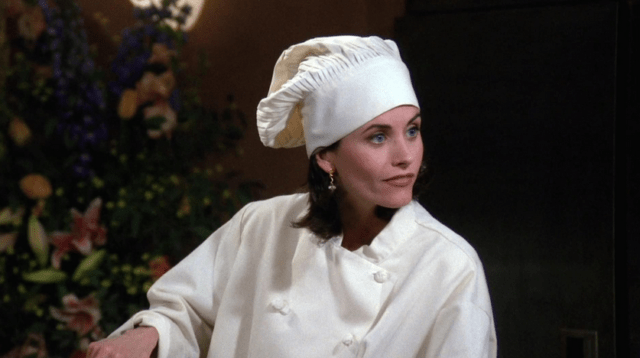 Friends is one of the most iconic television series of all time. Not only does the show feature a cast of talented, quippy and successful actors, but it challenged the entertainment standards of '90s television and set a bar of excellence for future shows to come. Although the cast created an environment on screen of real friends who really cared about each other, audiences never seemed to get sick of the feel-good vibe that Friends was setting.
In fact, the homey element of the show might arguably be the reason why it did so well – though I will venture to say that the show was made more successful because of food. If you pay close attention to the show, nearly every scene features, in some way, characters eating or drinking something. I drew the conclusion that the homegood feeling of food contributed to the show's success.
So I decided to compile a list of the top 5 Monica recipes that seemed to bring the crew together. Watchers at home couldn't help but drool over the delicious food that head chef Monica Geller made, so this gives you an opportunity to try those delicious dishes at home next time you turn to TBS and watch re-runs. All recipes were sourced from hungryforever.com, recipes-plus.com, and geniuskitchen.com.
All the Lasagnas
Season one was filled with entertaining episodes, especially episode 12, in which Monica was left with a dozen lasagnas after failing to make them vegetarian. Lasagnas went to every household in the show, including Ross's ex-wife, Carol. Though I must admit, watching Chandler and Joey eat lasagna from their knees was my favorite part. Top this dish off with a delicious and healthy glass of wine and you've got a lovely evening.
Here's the recipe from Hungry Forever:
Ingredients:
12 whole wheat lasagna noodles

1 pound lean ground beef

2 garlic cloves, chopped

1/2 tsp garlic powder

1 tsp dried oregano

1 package cottage cheese

2 eggs

1/2 cup Parmesan cheese, shredded

1 1/2 jars tomato basil pasta sauce

2 cups mozzarella cheese, shredded
Instructions:
Preheat an oven to 350

ºF

.

Cook the lasagna noodles in boiling water for 10 minutes.

Combine the cottage cheese, eggs and parmesan.

Spread four noodles to cover the baking pan base.

Layer with the tomato basil sauce, topped with ground beef, and the cottage cheese mixture. Repeat the layers twice.

Top the lasagna with a layer of sauce and mozzarella.

Cover the pan with foil and bake for 30 minutes.

Take off the foil and bake for 10 more minutes.

Allow to stand for 10 minutes and serve.
The Moist Maker
Season five brought some interesting events including a blossoming relationship between Chandler and Monica, secrets kept between the group, and the best sandwich in the world. Unfortunately the sandwich is stolen by Ross's boss from the company fridge, and Ross is fired from his job. It's OK though – the sandwich is really good.
The trick to creating the Moist Maker, a sandwich created from leftover Thanksgiving food, is soaking a third slice of bread in gravy before adding it to the center of the sandwich layers. This sandwich is so good that Ross was willing to risk his job, his reputation and his dignity to enjoy it's goodness.
Jam, Jam, Jam
Everyone around the country was sad to see Monica and Richard split in season three, episode three, except maybe Joey, who seemed to be the main benefactor of the sad event. Monica plunged herself into the chaotic task of making jam, and lots of it. Fortunately, Joey was there to eat several jars of her famous blackberry currant.
After making too many jars of jam to count, Monica realizes her return on investment wouldn't be worth the effort and changes her task from making jam to making a baby. Meanwhile, Joey continues to reminisce on the days when his mother would drop him off at the movies with a jar of jam and a spoon.
Check out the instructions for jam-making from Recipes-Plus:
Place the berries in a large saucepan.

Add 1/4 cup water, the lemon juice and the liqueur.

Bring to a boil. Reduce the heat and simmer for 15 minutes.

Pour in the sugar and stir over low heat, until dissolved. Increase the heat and bring to a boil for 10-12 mins.

Place a candy thermometer in the pan. Do not stir, bring the temperature to 220ºF, then remove from heat and cool for 15 minutes.

Pour into sterilized jars.
Quiche With Fingernails, Anyone?
Phoebe and Monica had a short stint of working together in season four when they were given a catering job from Monica's mother in episode three. As al ofl Friends' fans know, Monica and her mother had a bit of rocky relationship due to her mother's incessant nitpicking. It doesn't help that Monica completely botched her mother's catering when she lost one of her fake fingernails in a quiche she was baking.
Check out the famous spinach and fingernail quiche recipe from Genius Kitchen (minus the fingernail):
Ingredients:
1 ready-made pie crust

3 tablespoons butter

1 small onion, chopped

1 cup frozen chopped spinach, thawed and drained

1 garlic clove (pressed using garlic press)

6 eggs

1 cup milk

2 cups colby-monterey jack cheese, shredded
Directions:
Preheat oven to 375ºF.

Press pie crust into 9″ pie pan.

Pre-bake pie crust for about 10 minutes. Set aside.

Sautee onion, garlic and spinach in butter until onion is soft, add salt & pepper to taste, then set aside.

In medium mixing bowl, whisk together the eggs and milk.

Spread shredded cheese in bottom of pie crust.

Spread spinach mixture over cheese in pie crust.

Pour egg/milk custard over spinach mixture and cheese.

Bake at 375 degrees for 35 minutes. If crust starts to get too brown, – cover edges with tin-foil.

Slice and serve.
Merry Christmas Candy
This last recipe might be a little dangerous if you have a sweet tooth. Season seven, episode nine showed a new side of Monica to the audience. We all knew she was a know-it-all and a clean freak, but her people-pleasing reaches an all-new height when she decides to make holiday treats for her neighbors, who can't get enough of her decadent candies.
Monica made a variety of homemade candies that day and you can practice your candy-making skills at home as well. A small tip from a sugar freak: cane sugar can help you sleep, so avoid using synthetic sugars at night that might keep you awake.
Try out Monica's candy recipe from Hungry Forever:
Ingredients:
3 3/4 cups white sugar

1 1/2 cups light corn syrup

1 cup water

1 tbsp orange extract

1/4 cup confectioners' sugar
Directions:
Mix the white sugar, corn syrup and water together.

Cook over a medium heat until the mixture comes to a boil and the sugar dissolves.

Heat without stirring until 300

ºF

.

Take off the heat and stir in the extract.

Pour onto a cookie sheet and dust with the confectioners' sugar.

Allow to cool and break into pieces.

Serve.
As you can see, food is big part of the Friends franchise, and can you blame them? There are some excellent recipes to be shared in this epic series. Next time you sit down to watch some re-runs, pay close attention to food; you will find it's a major theme in the show.
Tell us what's wrong with this post? How could we improve it? :)
Let us improve this post!