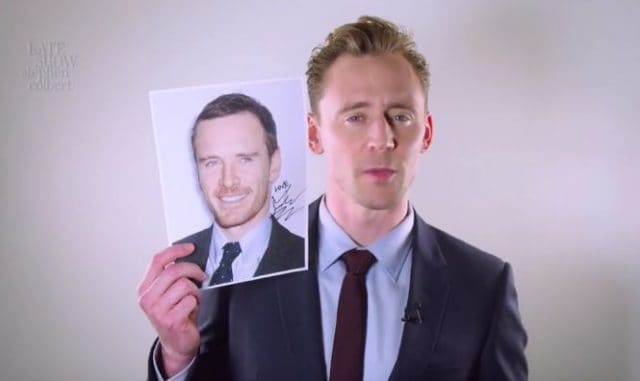 It's been almost a year since Stephen Colbert began hosting The Late Show, and throughout those months, Colbert has had some pretty terrific guests, including Tom Hiddleston, Anna Kendrick, and James Corden. Now, many of those celebrities are part of one hilarious video, as they all describe their very eccentric pet peeves backstage at The Late Show.
Things start off pretty normal at first with Kendrick explaining that she doesn't like it when people are passive-aggressive towards her, but every pet peeve from there gets goofier and goofier. David Duchovny mentions how he hates when aliens abduct him just to point out the parts of The X-Files that aren't realistic, and Sam Rockwell admits that he's upset that people assume he's not a murderer just because he played one in The Green Mile.
The best two pet peeves, though, have to go to Hiddleston and Corden. The Thor actor kicks things off, saying that he hates when people go up to him and ask him to sign photos of Michael Fassbender, since, you know, he's not actually Michael Fassbender. Then Corden follows that joke up by mentioning how upset he gets when Michael Fassbender won't give him his autograph.
"He says, 'Oh, I'm not Michael Fassbender. I'm someone else,'" Corden explains. "And I'm like, 'I know you're Michael Fassbender, so give me your autograph.'"
Watch Tom Hiddleston, Anna Kendrick, James Corden, and many other celebrities share their pet peeves in the Late Show video below:
[Photo via YouTube]