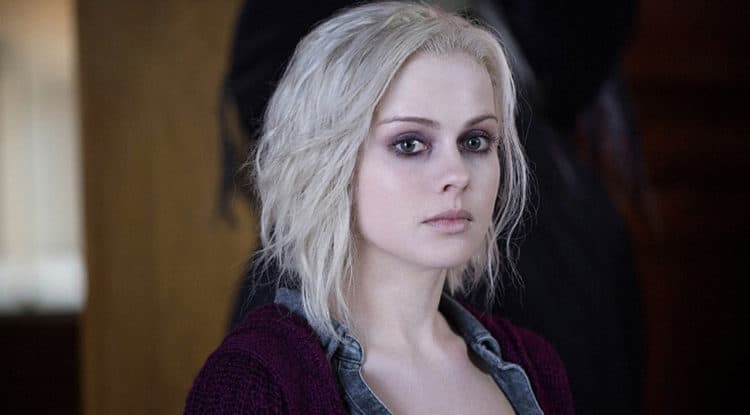 The time has come–sadly. iZombie has entered into its fifth and final season. The CW show has won many hearts over the years and will be missed for several reasons. First, it's really the only show of its kind. Two, Rose McIver has been wonderful portraying our favorite zombie slash psychic. Also, we're likely to never get a show like iZombie ever again. Since this is going to be the last season of the series, creator Rob Thomas has promised a solid ending for all the beloved characters. Fans can't help but speculate, so here are the top five iZombie theories that's going around right now.
1. Liv and Major are going to have a heartbreak ending
Liv has had a hardened heart towards Major for about a couple of seasons now, but we've always been hopeful for their relationship. We saw Liz begin to have a change of heart during season 4, but even then, the two still didn't have a great ending that season. Major has been doing "major" work with Fillmore Graves, and Liz is nothing but inspired and impressed. According to TV Guide, Liv is finally seeing the Major change into the person that she's always thought he could be. Fans believe that Liv and Major will finally get the chance to grow their relationship this final season. We can see them having a chance at maybe rekindling the kind of love they had before. However, we certainly can't expect the two to have a happy ending. Rob Thomas has hinted that the two are going to have a definite closure, but fans highly doubt that Liv and Major are going to get engaged again or anywhere even near that. Many believe that heartbreak is in store, but it will be for a good reason.
2. Zombieism will never be cured
This is an easy theory to follow given how much zombieism has spread in the last five seasons. Many believe the theory that zombieism was never really meant to be cured in this show, and that humans and zombies were never meant to coexist together. While that fact may negate all the hard work both parties have put in over the seasons, it actually just makes sense. Some fans believe that a cure may be developed early on in the season, but zombieism will somehow find a way to be immune to that cure later on and come back strong. It's definitely a strong theory that's more speculation at this point, but it does give the show the kind of finality that creator Rob Thomas has been hinting on. This theory then suggests that the peace many fans have been longing for between humans and zombies will just never happen. In the case that it does, it will be at the sacrifice of a special, special character.
3. A major character will die by the finale
There's no doubt that we'll probably see multiple deaths this season. As we see it, there are a few characters that we can easily get rid off–Blaine for example. But as much as we'd love to see Blaine disappear off the face of planet iZombie, it just can't be that easy. According to TVline.com, Peyton has now become the acting mayor of Seattle. This is an incredibly important and dangerous job, but many fans can't help but feel that this job will lead to her demise. Peyton is definitely an important character we could see going, but there are a couple that may top that. Major is another character that might very well go by the end of the season. Just like Peyton, Major is now in charge of an entire group–Fillmore Graves. However, many of his soldiers don't care for his style of command. A mutiny might be in the works closer to the end, and that would mean the end of Major.
4. Ravi will find a cure
This is the total opposite of the second theory, but it's also a good one. Since we're expected to have a lot of resolution in this final season, finding a cure might make sense. But the point of this theory is more on what happens after a cure is found. We know that Ravi will be continuing his work with the CDC to develop a cure for zombieism, and fans have suggested that he will find it. This doesn't mean that zombies are going to be willing to take the cure, however. Fan theories have suggested that once the cure is found, Seattle will begin to heal itself, and Peyton might set forth a course for progress. However, a high item such as a cure could either fall into the wrong hands. This means that Ravi's life will be in danger, and he might be the major death that we're bound to brace for in this season. Also, a cure could be found, but it might be too late to turn Seattle back to the way it was before zombieism. The latter sounds more likely. In addition, after Ravi finds a cure, we might finally see Liv become human again.
5. We're going to see the best brains of the series ever
This one is almost a given. Rob Thomas talked about his favorite season 5 episodes in this interview. Coming from that sentiment, we can predict some radical brains to cross our TVs this season. Some fans have suggested that we'd get a chance to get on a major character's brain after he or she dies off. This will definitely be an interesting plot, especially if we get to see the brain of somebody like Peyton or Ravi after he or she is killed. No matter what, it's enough to know that we'll see some good, interesting, and exciting brains before the season ends–and then we'll never see anyone on brains again, ever.