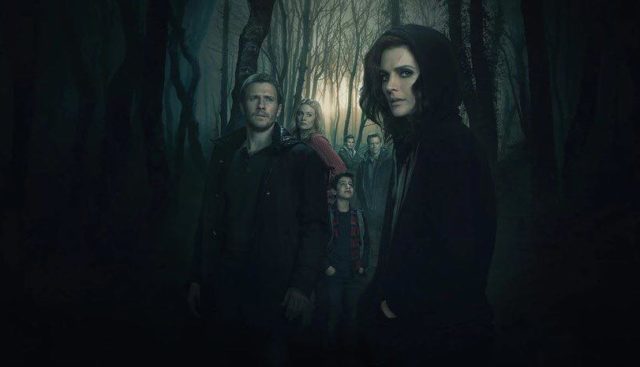 There are a ton of reasons I could give you as to why you should watch Amazon's new show Absentia. That would be a five thousand word essay though. Instead, I'm giving you the short list, because it starts streaming on Amazon tomorrow (February 2nd). Here's why, out of all the new shows that are popping up, you need to make sure to watch Amazon's new show Absentia!
5. It's Been Seen All Over the World and People Love it
We in America are used to being the guinea pigs for new shows – but not this time! After wowing the world at the Monte Carlo TV Festival last June, it started airing in some overseas markets that September. It debuted at number one in Spain, Portugal, Romania and Poland.
The recent Canadian premiere on the Showcase network did well also. It was the biggest premiere of the broadcast year for them and made the top 10 list of Canada's Specialty Entertainment Programs! Overall, this show has worldwide buzz – watch and join the conversation!
4. The Story is a Character-Driven, Inspiring Thriller
Here's the official plotline listed on Amazon for Absentia.
FBI agent Emily Byrne (Stana Katic) disappears without a trace while hunting one of Boston's most notorious serial killers, and is declared dead. Six years later, Emily is discovered held in captivity, with little memory of the villain who kidnapped and tortured her. As Emily unravels the mystery of her abduction, she finds herself the prime suspect in a string of shocking new murders.

The story of Absentia is a dark one. There's nothing light about a serial killer, nor in what we see happen to Emily. However, the show is also about relationships, love, and personal resilience. Actress Stana Katic, who stars as Emily, said this about her character.
You will root for her, you will hate her, you will be afraid of her, you will love her. You will follow her throughout the series while she's searching for the truth alongside her family and her nearest and dearest.
In this particular time in the world, watching a story about living through a confusing time, but carrying on regardless, is an inspiring one!
3. It Looks and Feels Like a Movie
Amazon's new show Absentia was shot on locations overseas in Bulgaria, so there's little of the TV studio set feel to anything. Likewise, director Oded Ruskin (False Flag) directed all ten episodes so there's a total cohesiveness to the visual style that you usually only get in movies. Incidentally, it also was shot like a movie – out of story order. Maybe feeling like you're shooting a movie makes it come out more movie-like?
2. A Great Cast With Some New Talent – At Least to American Viewers
Some of the cast American TV viewers will probably recognize. For instance Stana Katic co-starred on ABC's Castle for eight seasons. Other cast members were on American shows as well. The Game of Thrones fandom will know Ralph Ineson as Dagmer Cleftjaw. Patrick Heusinger was on Girlfriends' Guide to Divorce, while Neil Jackson was on Sleepy Hollow. Finally fans of the acclaimed British import, Downton Abbey, may realize that Cara Theobold played Daisy's rival, Ivy Stuart.
There will also be faces new to the American audience, but they are well-known in other countries. In particular keep an eye on Bruno Bichir and Angel Bonanni. Bichir plays Emily's therapist, and is a well-known second generation actor in Mexico. (Think of the Sheen family without drugs drama.) Bonanni has been in several Israeli shows, including the critically acclaimed False Flag.
Last, but not least, is the young actor playing Emily's son Flynn. Unless you're a horror movie buff, you won't recognize British born Patrick McAuley. He was Johnny Hodgson in The Conjuring 2. His work in Absentia is excellent!
1. Stana Katic is Amazing in This Role of Emily Byrne
Stana Katic played the fan-favorite Kate Beckett on ABC's Castle for 8 seasons. As powerful and iconic as that role was, the character of FBI agent Emily Byrne may eclipse it. Being a dramatic thriller gives the actress a broader canvas to share her talent and the results are a gutsy, physically demanding, no-holds-barred performance.
No, Emily Byrne Isn't a Version of Kate Beckett
Given that both characters work in law enforcement, it's fair to ask if there are similarities between the characters of Emily Byrne and Kate Beckett. The answer is no – except of course for what Katic told Natalie Abrams from Entertainment Weekly:
…the characters don't have a tremendous amount of parallel other than they bear a strong resemblance to one another. [Laughs]
Here's another telling difference between the two characters. A word she started using early on about Beckett was that she was like "a female superhero." With her interviews for Absentia a term Katic often employs to describe this character is, "anti-heroine."
Superheroes, by definition, always do the right thing and are out to save the world. We love Wonder Woman and Superman, but they aren't overly complicated. Even Batman always ends up complying with the rules of being the good guy.
Anti-heroes though, they do some bad things. Sometimes they do a lot of bad things, but we still hope that things will work out for them. Think about Walter White from Breaking Bad or, as Katic referenced in Canadian entertainment site, The Star, Tony Soprano from The Sopranos.
The Wrap Up: Amazon's New Show Absentia is a Must!
What I love most about Absentia is that it's the kind of role that a woman doesn't often get to play. At the same time, it's not simply a character that happens to be played by a woman. This is a specific story of being a female survivor – and Katic runs away with it.
From the first episode it's clear this is absolutely an ensemble piece. Everyone has great moments, with good performances all around. However, the nature of the story is that without Katic's performance Absentia wouldn't work. If there are Emmy nods to look for, the first will be for her.