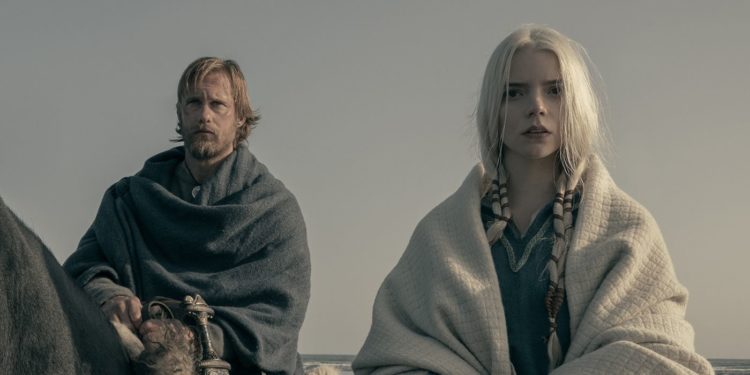 If you like Vikings and Norse folktales, you need to see the new trailer for the upcoming epic historical thriller The Northman. It's exactly what it sounds like and believe you me, it's incredibly awesome. Of course, it's only a trailer and those can be deceiving, but I don't think that's the case with this one. The premise is something you've probably heard of before. It's a revenge thriller about a Viking prince seeking vengeance against the man who murdered his father. I know, we've seen about a million of these revenge movies, but this time, the main protagonist seeking revenge is a Viking. And how can we possibly say no to a revenge movie involving a Viking? When I watched the trailer, it reminded me a lot about the Vikings series, only edgier. I think that has a lot to do with the fact The Northman was directed by Robert Eggers. This man has a short resume, but it's an impressive one. So far, he's directed 2015's The Witch, as well as 2019's The Lighthouse. Those movies can be basically summed up as psychological horror films with some seriously edgy story elements to them. And on top of that, they have some seriously special talent. In fact, Anya Taylor-Joy from the Witch and Willem Dafoe from The Lighthouse will be in The Northman and boy, do they look phenomenal. I mean, when is Willem Dafoe not phenomenal?
The Northman is actually stacked with some stellar actors. The lead is the very tall and very Norse-looking Alexander Skarsgard, who will be playing the role of Amleth. Fun fact: Amleth is actually a character considered to be a medieval Icelandic legend and served as the direct inspiration for William Shakespeare's Prince Hamlet character. Even the name itself is just the letters rearranged. Clever move, Mr. Shakespeare. But with the Amleth character being a Scandinavian of Icelandic origins, The Northman is set in the tenth century in Iceland. Alexander Skarsgard is playing the lead, while Anya Taylor-Joy is playing the role of Olga, and Willem Dafoe will be playing Heimir the Fool. I'm getting a lot of Skyrim vibes right now. Oh, but that's not all. Nicole Kidman will be playing the role of Queen Gudrun, the mother of Amleth. Amleth's father, King Aurvandill, will be played by none other than Ethan Hawke. A little spoiler that you'll see in the trailer, but Ethan Hawke doesn't last too long. Hey, that's how revenge quests usually work. But I must say, his Norse accent is killer good. Reminds me why Ethan Hawke has always been criminally underrated.
And how can we possibly ignore the other cast members? You got a lead like Alexander Skarsgard, a man with the perfect Norseman look, playing a vengeful Viking Prince and he sells it. Anya Taylor-Joy plays his companion and by the way she speaks, she sounds like her character is seriously into witchcraft. In fact, in her own words, "she uses her cunning to break men's minds". There's something seriously deceiving about a character like that and I want to see it. And as for Mr. Willem Dafoe, he's in the very beginning of the trailer for about five seconds, but his character is truly frightening. When the man can bring that Willem Dafoe-ness to its absolute peak, that means we're in for a good show. The main antagonist, Fjolnir, will be played by Danish native Claes Bang. He's most notably known for playing Count Dracula in the Dracula Netflix series. How can The Northman possibly get any better? I don't know, but all I know is, with this cast and the fact that it's a story about Vikings has already captured my curiosity. It's like Assassins Creed: Valhalla and the Vikings television series molded into one and made into a movie. I think it's about time we've got a good Viking movie.
If The Northman sounds a little too cliche for you, just watch the full trailer and I think you'll be hooked. We got the revenge story we've seen several times in movies, but given that it's predominantly an action movie with Vikings, you can expect some bloody action. You want an example? There's one part in the trailer where Alexander Skarsgard's character catches a spear being thrown at his companion and literally hurls it right back at the guy who threw it. Come on, where else have you seen something like that? But of course, something like that only works in a Viking movie. As far as the story of The Northman goes, I think it's a good opportunity to show us a different angle on Scandinavian history. According to the legend from the old Icelandic poem, Amleth comes from the Jutes. The Jutes were a Germanic tribe with Nordic roots who joined the Angles and Saxons in the Germanic invasion of Britain in the 5th century after the Roman occupation. The Saxons settled in the British territories Essex, Sussex, and Wessex. The Angles, on the other hand, made their settlements in East Anglia, Northumbria, and Mercia. And as for the Jutes, they chose to settle in the lands of Kent and the Isle of Wight. These three groups of people made up the most powerful of the Germanic tribes.
Now The Northman takes place centuries after the Anglo-Saxon settlement of Britain. Based on the trailer, we see Amleth's people living in a rather small settlement. They're still collected enough to have a king ruling them and not much of a kingdom to expand. But hey, these are Vikings we're talking about. They're not particularly interested in expanding. But the trailer shows us plenty of tribes who are willing to go to war with one another. That's presumably where Fjolnir, the main antagonist comes from, and he's willing to kill a king and usurp a throne. All of this is what sets up vengeful story of The Northman himself. This sounds like a cool revenge story with a Viking as the lead. Again, if you haven't checked out the trailer, I urge you to give it a watch. The Northman is set for an April 22 release date of next year. If you like Vikings, then this movie is probably for you.
Tell us what's wrong with this post? How could we improve it? :)
Let us improve this post!