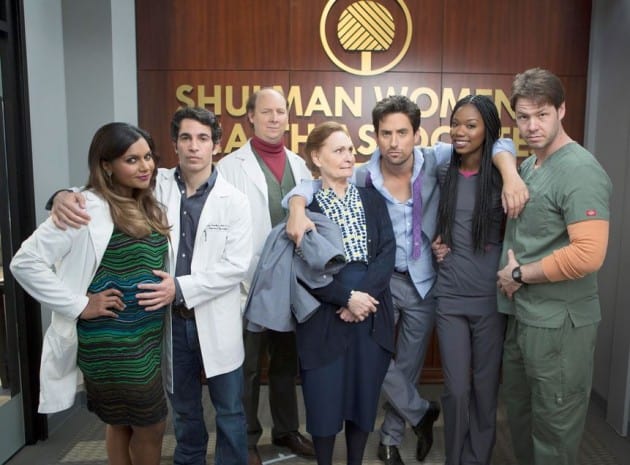 The Mindy Project tackled the sensitive subject of self-confidence this week with another great episode. Laverne Cox of Orange Is the New Black guest starred in a critical role as Tamra's cousin, but more importantly as the life coach Mindy and Danny needed.
Mindy Lahiri is usually the most confident person on this series (and most others if I'm being honest) with the eccentric outfits she always pulls off flawlessly. A pregnant belly is nothing to be ashamed of, yet Mindy can't help but feel hideous as she begins to show. She thinks Danny doesn't want to sleep with her when we all know that couldn't be further from the truth. He's in love with her no matter what, and being pregnant only makes her that much more beautiful to him. The fact that he laughed at her in the zippered leopard print spandex body suit was actually funny because she did look ridiculous.
Tamra's cousin Sheena inspired both Mindy and Danny in their own ways. She was first called on by Tamra to help Mindy feel better about herself, and through some very deep thoughts, she eventually broke through to her. While Mindy was coming around on accepting her body in all its natural glory, Danny got the necessary boost from Sheena to make Mindy feel as appreciated as she is. Together, Mindy and Danny found a solid middle ground.
In a surprising development, Peter and Lauren are getting married! Or as he puts it in his invitation, he "finally wore her down." Skipping right over a long engagement, they're jumping right into the wedding planning. Their preferred RSVP method is to sext him, and Mindy doesn't hesitate to snap an under the shirt picture right away. Based on next week's season finale episode title, maybe we'll get to see this wedding sooner rather than later!
Danny was actually roped into Jeremy and Morgan's storylines as well. Jeremy, now going by Jer or JerBear, guilts them into attending a pajama-themed singles party. He's definitely ready to mingle, but not with anyone in attendance at the party. Instead, the neighbor who crashes and cancels the party catches his eye. Cristin Milioti also guest starred as this new flame for Jer, and so far, so good. They definitely seem like a good match for each other, both so passive aggressive, as he writes her a "strongly worded note" about crashing the party and she stubbornly shows up at his office in return.
In addition to all of that, there was still time to squeeze in a little Morgan storyline. He's noticeably been gaining weight since he started dating Jessica, the hoarder. The way she treats Morgan, and the way he allows her to treat him, isn't right. I don't see them lasting long term, but for now, I guess as long as sweet Morgan is happy again, I'm happy for him. Anyone that would break up with someone when they believed they were about to be fired from their job clearly isn't the most sensitive person.
All of these crazy storylines were all wrapped up around Jeremy wanting a new office staff photo. The body issues and fat shaming obviously came up as a result, but in the end, they got as close to a perfect picture as they could get with everyone's eyes closed.
Notable quotables:
-"I realized the only person that can make you feel better about yourself is yourself." -Mindy preaching some truth!
-"If the person in the mirror was your best friend, would you be as mean to her as you are to yourself?" -Sheena dispensing some truly deep thoughts
What was your favorite part of the episode?
[Photo via FOX]
Tell us what's wrong with this post? How could we improve it? :)
Let us improve this post!