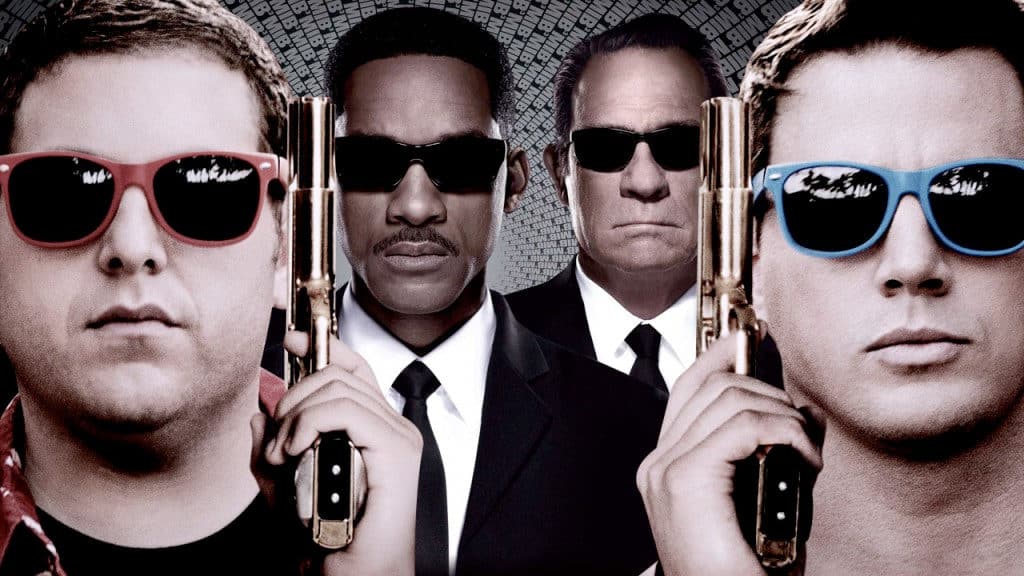 Looking back now, with the benefit of decades worth of hindsight, the original Men in Black (1997) was lightning in a bottle: a serendipitous meeting of the exact right director, the exact right actor and the exact right script, all at the exact right time. Will Smith and Tommy Lee Jones were a perfect on-screen duo to carry the alternating dramatic heft and bizarre comedy opposite of the ever-unsettling Vincent D'Onofrio. The script was just deep enough, the director just off-beat enough, the special effects just convincing enough and the cast just game enough for all of the inherent weirdness and wonderment that the movie's basic premise demanded. And, for their efforts, the movie earned solidly over half a billion dollars at the global box office, spun-off into a multimedia empire and forever lodged itself into the popular culture: not bad for a genre mish-mash based on a weird little comic book that nobody bothered to read.
Moving forward with the franchise, however, it quickly became obvious that Sony had all of zero idea what people actually liked about the franchise, and so fell back on reflexively delivering a diminishing version of the same movie again and again as if by rote. The satisfying conclusions to the first movie's parallel plots, in which an old agent retires and a new agent is trained as his replacement,, are thrown out in favor of constantly rehashing the rookie-veteran dynamic between J and K time and time again. They abandoned forward-looking new characters, like L, and even retired the old standby actors, recasting them by younger thespians in lieu of actually writing in a different one altogether. And, unsurprisingly, Sony was never able to recapture that same energy and success ever again with these movies.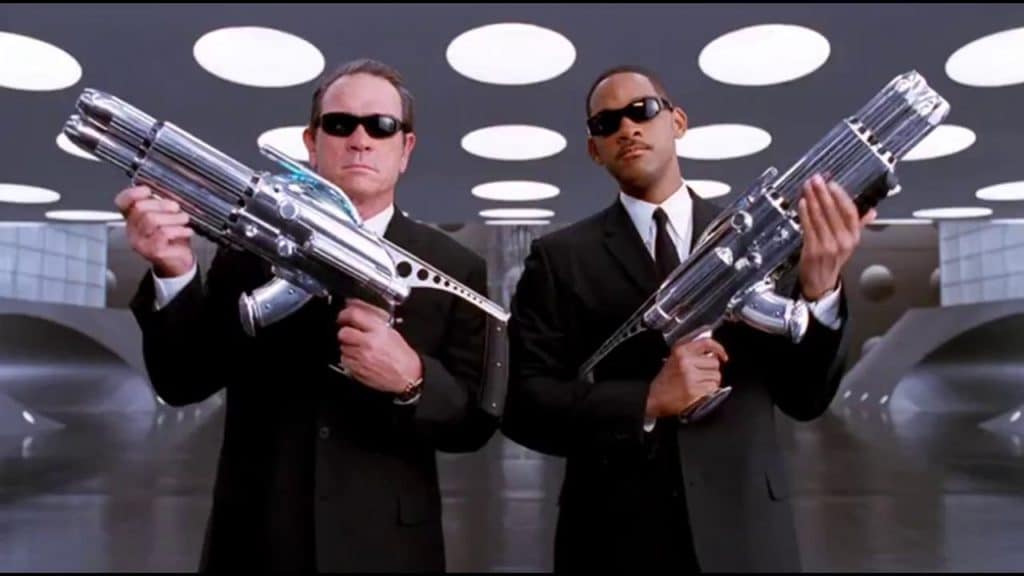 Although Men in Black: International (2019) does try to rectify these past mistakes by casting two new actors in new parts that have a completely different dynamic together in a completely new setting, it too ultimately falls short of launching a bold new chapter in this franchise's history (for a great many number of reasons, most of which have to do with the film's subpar screenplay). But before Sony took the more straight approach of a soft franchise reboot, they had a different idea in mind for a Men in Black sequel, and it was one of the most bizarre things I've ever heard of a major studio considering in my life.
Ever since Marvel solidified its mega-franchise with The Avengers in 2012 — incidentally, the same year that the last Men in Black sequel was released — every studio worth their salt in Hollywood has desperately chased after the same success that they had by creating a shared cinematic universe for their various film properties: something that would both stretch out their existing catalogs of content to remain forever relevant and transform their every new release into a 90-minute trailer for every other release they have in development (in essence, making sure that fans can't bring themselves to miss a single one of them). In as much as their in-print business model most resembled Marvel's, it only made sense for the fledgling DCEU to try this starting with 2013's divisively received Man of Steel. Universal tried reviving their old horror movies — whose interwoven plotlines, characters and settings comprised the original shared cinematic universe way back in the 1930s — by way of their new Dark Universe, starting with 2015's critically reviled Mummy remake. Legendary Pictures tried to import Godzilla's stable of city-sized kaiju into their self-titled Kaijuverse with 2014's Godzilla (which, with the addition of this summer's Godzilla: King of the Monsters, has largely succeeded, although I appear to stand alone in that assessment).
Never one to be left out of the game, Sony had a mind to join into the MCU-inspired fray too. The only problem was that they didn't have a set of franchises that they could logically string together into a cinematic universe all their own. Its not like they owned their own comic publisher, or a colorful casts of kaiju, or a collection of recognizable horror icons. They just had some sporadically popular movies with no conceivable connection to one another.
And that, Ladies and Gentlemen, is where MIB 23 came to into the picture. You see, if Sony didn't have a cinematic universe ready and waiting for them to market to moviegoers the world over, they'd just cobble their own together out of whatever spare parts they had lying around the Sony lot at the time. And the best thing that they could come up with out of a gaggle of movies like Spider-Man (2002), Casino Royale (2006), Ghost Rider (2007), The Karate Kid (2010), Salt (2010), The Green Hornet (2011), The Girl with the Dragon Tattoo (2011) and The Equalizer (2014) was to mash together buddy cop comedy 21 Jump Street (2012) and Men in Black.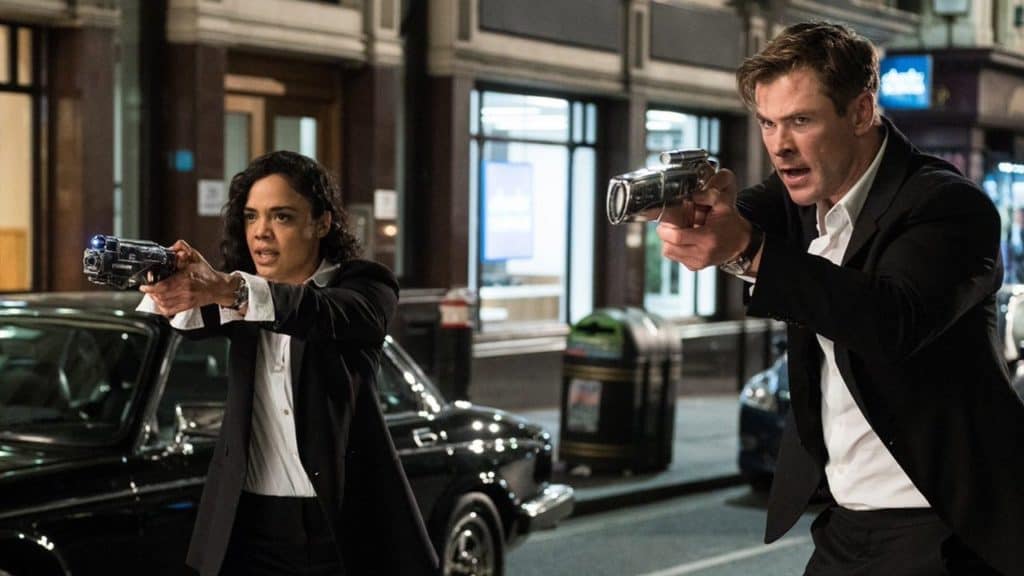 Seriously. MIB 23. It almost happened.
Honestly, though, looking at the movies that they actually went ahead and made out of Men in Black and what I'm beginning to worry they're doing with the soon-to-shoot 24 Jump Street, I kind of wish that they would have just gone all-out with this absolutely crazy idea. The movie doubtless would have been terrible, but what an incredible piece of pop-craziness it would have been (rather than the safe, sanitized and largely predictable films that we've gotten out of these franchises on their own). Sometimes all you really need (or want) is for somebody to do something just crazy enough to work. After all, that is 100% how we got The Avengers (2012): a movies that by all conceivable measures at the time should have crashed and burned and been a Razzie-worthy footnote in blockbuster filmmaking. Instead, we got the new standard of it. I'd much rather suffer through crazy blockbusters that try something different but fail than through one hundred safe, polished and ultimately milquetoast sequels that opted instead to do the same thing they did the first (and second, and third) time around.