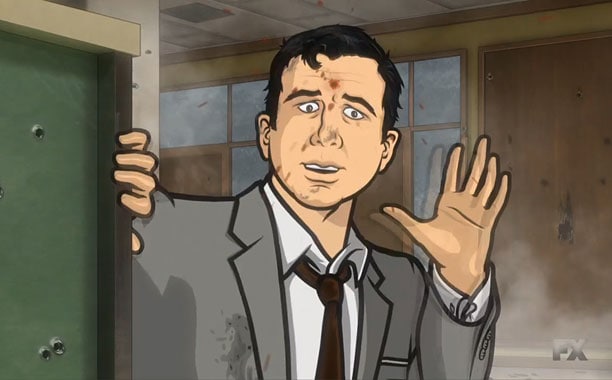 Archer season five was an interesting experiment for television's only animated spy show, dropping the "spy" part and becoming a country music, drug running tale of spys without an agency living on the run. But lest we forget, it also marks the end of Brett Bunsen's life, killed during the FBI's raid on ISIS headquarters. In memoriam of his death, we've ranked the funniest bullets Brett ever took, from his first wound in the show's pilot, to his death in Archer's season five premiere.
8. Wound #3: "Movie Star"
Although this one is funny, it finds itself on the bottom of the list because it was delivered by a non-ISIS member, actress-turned-double-agent Rona Thorne, who shoots Brett while flirting with Archer and testing her machine gun skills. Even Brett doesn't seem to mind this one that much, honestly.
7. Wound #7: ISIS training clips
In one of Archer's ISIS training clips, we can hear Brett get shot off-screen when a trainee drops a gun. The best part of this one? There's a long delay between the gun dropping and Brett getting shot, a great punchline to what was a long-running joke by this point.
6. Wound #5: "Drift Problem"
Archer shoots Brett. A lot. Of all his injuries sustained from bullets, Archer shooting Brett is going to dominate the upper tier of this list – and in this one, it's really only Archer's new car (with some help from Lana). When Archer gets a brand new car as a birthday gift, Lana decides to demonstrate its bulletproof qualities, letting off a couple rounds and hitting Brett in the leg. Like many jokes on Archer, this gag is a self-referential joke (here, it's from the pilot) – but the second time around, isn't quite as funny or ironic.
5. Wound #8: "White Elephant"
Oh, poor Brett. The only person who dies during the FBI's raid on ISIS, Brett's most recent wound turned out to be the fatal one, finally putting the butt of office jokes (not aimed at Cyril, of course) out of his misery once and for all in the season five premiere. It's too bad: I would've loved to see Brett and Pam going on coked-out adventures together.
4. Wound #4: "El Secuestro"
The unfortunate recipient of a Cyril bullet (about the only person good or bad whose been hit by one), Brett's fourth wound occurred during the agency's attempts to protect its most monetarily valuable asset, Cheryl (who is targeted for a kidnapping, and fools the kidnappers into thinking she's Pam). This injury is really a byproduct of Cyril's idiocy; had Cyril not tried to negotiate with ISIS as a terrorist who kidnapped Cheryl (because she stole $3,000 from his 401K), he never would've needed to shoot the gun that gave Brett his most grave injury (save for the one that kills him, of coure).
3. Wound #1: "Mole Hunt"
Brett gets shot in the pilot when Archer demonstrates how bulletproof the ISIS mainframe door is. The one that started it all is simply a classic – doesn't try to be too clever, and introduces us to the only character in ISIS sadder than Cyril Figgis.
2. Wound #6: "Legs"
The "magic bullet" wound is another ricochet-related incident: but it's the sheer amount of surfaces the bullet bounces off of before lodging itself in Brett's flesh that ranks this one so high on the list – not to mention Brett's hilarious description of the "massive bleeding".
1. Wound #2: "Diversity Hire"
Our winner comes in the ISIS locker room, where Archer delivers one of the funniest physical gags of the series. Essentially, he gut shots Brett to make a point: when Archer's new rival Conway Stern and Archer get into an argument, Archer displays the "stopping power" of the small gun he carries in his pants by shooting Brett while he puts his pants on. The punch line is what seals it at the top of our list: "See? He was putting on his pants, and I stopped him."
Image via FX
Tell us what's wrong with this post? How could we improve it? :)
Let us improve this post!