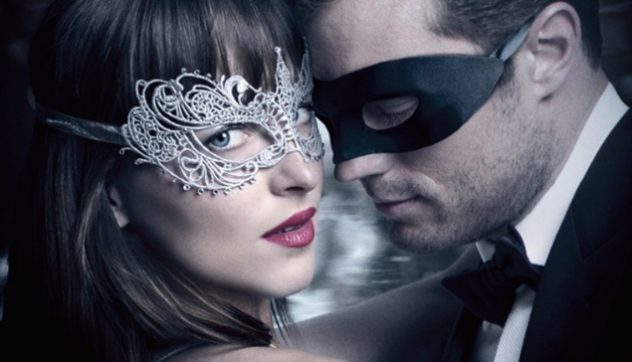 Fifty Shades Darker was of course the continuation of the relationship between Christian Grey and Anastasia, but with an emphasis on Christian's past and their relationship as it picks back up and continues. This time Ana gets to determine the course of the relationship and is not shy about telling Christian what she wants and what she doesn't. She's still on the fence with some parts of their relationship and it's kind of obvious that she doesn't approve of some of the people that he still hangs around, but as they continue to explore one another throughout the movie it becomes obvious that Christian is obsessed with her in a way that he's never been obsessed with another woman, enough so that he starts allowing Ana more freedoms than any woman he's ever been with. From that however more problems still arise as she continues to discover more and more about his past.
Here are some of the best songs from the movie.
5. Bom Bidi Bom
You could say that those that are super-rich seem able to afford the kind of lifestyle that would allow them to be this, different, when it comes to their love life, but even those that don't have a lot of money manage to get just as inventive as Christian and have just as much fun doing it. But given that he has the kind of fortune that can build him the red room he's the kind of guy whose tastes seem to run towards the eccentric no matter how he appears when he's around others. He's kind of one of those guys that might be a really good person but is definitely someone different when he's alone with the woman he cares about.
4. No Running From Me
The fact that Ana wasn't like any of the other women he'd been with in the past was no doubt one of the many things that drew him to her in the first place since we almost always want what we can't have, or at least can't have easily. Ana cared deeply about Christian but she wasn't about to give her freedom to him to be who she wanted to be. In fact she even managed to get miffed when it seemed like her rise through the ranks at her job might have been Christian's doing, as she wanted to ascend on her own merit. You can't blame her for being just a little suspicious since Christian seemed to want to give her everything.
3. Lies in the Dark
The funny part about this movie, and the other two, is that people no doubt went to the theater expecting to see everything they'd read about in the book. Even without reading it there have been enough people that have and will gladly talk about it that were utterly disappointed when it came to seeing it on the big screen. But what you have to realize is that if they were to show everything in the movie that happened in the book they might have to slap an NC-17 or even X rating on the movie and hope that enough adults would go to see it as a result. Plus, if it did get that kind of rating it seems that a lot of people might just pass it off as a high-toned adult movie.
2. Not Afraid Anymore
The more that Ana gave in, the more it was obvious that Christian was willing to give more and more to make her happy. A lot of women would likely take all he had and keep taking but Ana only took enough to make her happy and to make sure that she could make Christian happy in the process. It was kind of a complicated process to watch the entire thing play out, but now that they're together one could only imagine that things were going to go, well, not happily ever after given the number of enemies they have, but at least smoother than they'd been before they had decided to finally give into each other.
1. I Don't Wanna Live Forever
People that went to this movie no doubt got kind of bummed to see that not everything was added in, and yet they likely went to see the third movie as well. This one was kind of amusing in some spots since there were moments when the people that really deserved to be kicked or slapped finally got their comeuppance, but unless you're a true lover of romance and happen to like when people hem and haw about this or that in a relationship then this is best left to the romantics that happen to like sitting down to watch a couple wonder if they should be together or if it just won't work.
People like it so obviously the movies did well enough.