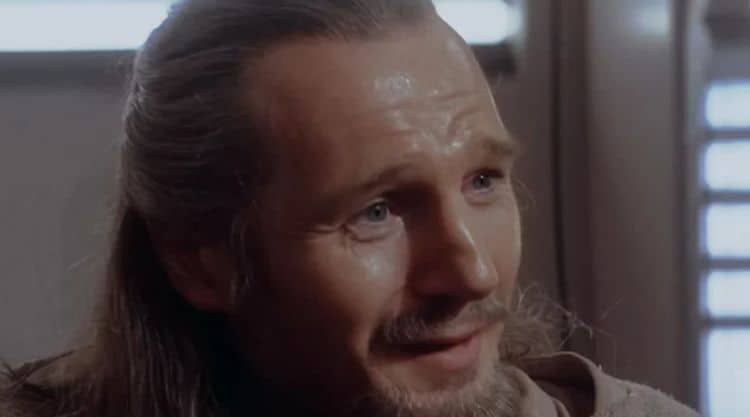 Liam Neeson is arguably one of the most well-known actors of his generation. Over the course of his career, he has shown that he has what it takes to play a wide variety of characters. At this point in his career, most people know him best for his role in action movies, but Liam has also stepped into the science-fiction world quite a few times over the years. In 1999, he played the role of Qui-Gon Jinn in the film Star Wars: Episode I – The Phantom Menace. He also reprised the voice role of the character a few more times throughout the years. In the time since, many have wondered if he would ever return to the film franchise. Fans out there will probably be happy to know that the answer is yet. However, there is one condition. Keep reading to learn more about the condition that Liam Neeson needs to return as Qui-Gon Jinn in Star Wars.
Who Is Qui-Gon Jinn?
If you're not a big Star Wars fan, then you may not even know who the character Qui-Gon Jinn is. According to Star Wars fandom, "Qui-Gon Jinn was a Force-sensitive highly respected, yet maverick and unconventional Human male Jedi Master, who lived during the last decades of the Galactic Republic and was most notably responsible for discovering Anakin Skywalker, the Chosen One of the Jedi prophecy, and bringing him into the Jedi Order. "
Neeson's portrayal of Qui-Gon in the 1999 film is probably one of the movie's biggest highlights. Although there were other high-profile actors who were considered for the part, most people would agree that Liam Neeson was the perfect person. In fact, many reviews of the film praised Neeson's work and he has certainly made it a tough act to follow.
Here's How Liam Neeson Will Agree to Return to Star Wars
Being part of the Star Wars franchise is something that many actors dream of. In fact, there are probably a lot of people who would be excited to participate in any capacity they were allowed. However, Liam Neeson is only interested in returning to Star Wars if he can do it the way he wants. According to an article from Variety, Neeson has said that he will only do another Star Wars project if it's a film. He doesn't have an interest in being part of any Star Wars TV shows.
Neeson said, "…I'm a bit of a snob when it comes to TV, I must admit. I just like the big screen, you know? Qui-Gon, I can't believe it's 24 years since we made 'The Phantom Menace,' I just cannot believe where the time has gone. It was a terrific experience, shooting that film in London."
In a separate interview with Collider, Neeson revealed that he didn't even realize there were so many people who wanted to see him play Qui-Gon Jinn again, but that he appreciates that people are still thinking about him after all these years. Once again, however, he mentioned that he is open to the idea of reprising the role of his condition is met. Just knowing that he's open to the possibility is enough to get lots of people excited.
What's Next for Star Wars
It's been well over 40 years since Star Wars was introduced to the world. During that time, the franchise has gone through lots of changes. In recent years, one of those changes has been a shift towards more small-screen projects. This is especially true since Disney purchased the rights to Star Wars in 2012. The launch of Disney + in 2019 has opened up even more opportunities for TV content. The streaming service has already given us shows such as The Mandalorian and The Book of Boba Fett. While this is a great thing for TV fans, it's not so great for people who want to see Liam Neeson play Qui-Gonn again. That said, however, there are a few Star Wars movies in the pipeline but Liam Neeson hasn't been cast in any of them.
While the idea of him returning to Star Wars is a great one, it doesn't seem very likely in reality. Neeson currently has several projects in the works so it would be pretty difficult for him to squeeze anything else in. Plus, the fact that he's almost 70 years old means that he may no longer be the best fit for the role of Qui-Gon. However, even if Neeson never returns to Star Wars in any capacity, nothing can take away from the fact that he left his mark on the franchise.
Tell us what's wrong with this post? How could we improve it? :)
Let us improve this post!