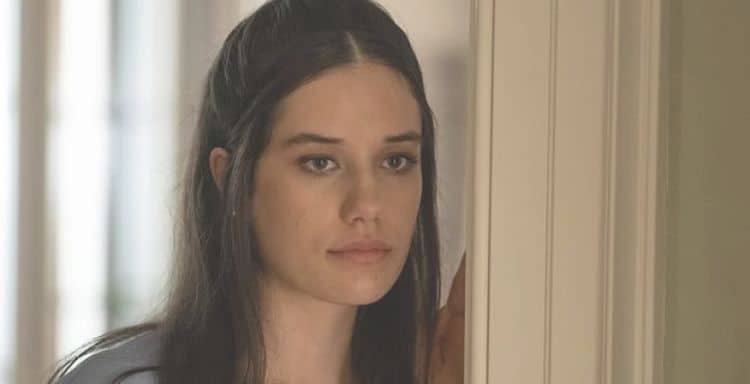 If Ella Bleu Travolta's last name sounds familiar to you, that's because she's the daughter of legendary actor, John Travolta. Although she largely avoided the spotlight for many years, she has decided to follow in her famous father's footsteps with a career in acting. Although her resume is a little thin at the moment, that won't likely be the case for much younger. It was recently announced that Ella was cast Alice in the upcoming movie Get Lost which is a re-telling of the classic story of Alice in Wonderland. The role is the perfect opportunity for Ella to get herself out there while also establishing her own career. Keep reading for 10 things you didn't know about Ella Bleu Travolta.
1. She's Always Loved Performing
With two parents in the entertainment industry, it was almost inevitable for Ella to not follow the same path. She developed an interest in performing at an early age and she loved to express herself in a variety of ways. Not only does she love performing, however, she is also good at it.
2. Her Dad Is Her Mentor
Some people who have famous parents do as much as they can to distance themselves. Ella, however, fully embraces the fact that her father is a Hollywood legend and she's thankful to have him as a resource. He has been a mentor to her over the years and she knows she can always turn to him when she needs advice about her career.
3. She Has A Large Social Media Following
Despite the fact that Ella doesn't have much acting experience, she already has a pretty significant fan base. She has 480,000 followers on Instagram and she will have even more once her acting career really starts to take off. Surprisingly though, she doesn't seem to be interested in using her social media presence as a way to build brand partnerships.
4. She Loves To Travel
Thanks to her parents, Ella grew up with no shortage of opportunities. She has gotten to travel to places all over the world and she always looks forward to the opportunity to have a new experience and be exposed to different cultures. Some of the places she's been include Australia and Austria.
5. Oprah Was There When She Lost Her First Tooth
Being surrounded by celebrities has simply been par for the course for Ella for her entire life. During an interview with Lena Waithe on Jimmy Kimmel Live, Ella shared that she was on a boat with Oprah when she lost her first tooth. There aren't too many people who can say their experiencing losing their first tooth was so noteworthy.
6. She Was A Member Of Team Jacob
Back when the Twilight Saga was hot, there was a never ending debate over Team Jacob and Team Edward. The decision wasn't a difficult one for Ella, however. She was a very proud member of Team Jacob. While talking to Lena Waithe, she shared a funny story about how her fletather accidentally embarrassed her one evening when Taylor Lautner and his family came over to the Travolta house. Apparently, Ella has been researching the Lautners on the internet, John casually let that detail slip.
7. From Paris With Love Is One Of Her Favorite John Travolta Movies
John Travolta has earned nearly 90 acting credits over the course of his career, and I think it's safe to say that most people have seen at least one of his movies. For those who have seen several Travolta films, picking a favorite can be nearly impossible. For Ella, one of her favorites is the 2010 movie To Paris with Love.
8. She Made Her Acting Debut At 7
Ella has always been the kind of person who knows what she wants, and when she was just 7-years-old she decided that she wanted to give acting a try. Not long after coming to that conclusion, her first film role came along. She played opposite her father and the late Robin Williams in the 2 movie Old Dogs.
9. She's All About Family
Ella comes from a very close knit family and she has always had a very tight bond with her parents and siblings. Sadly, however, the Travolta family has suffered some tragic losses. In 2009, Ella's older brother, Jett passed away while on vacation with the family. Her mother, Kelly Preston, passed away in 2020 after a battle with breast cancer.
10. She Only Has A Few Acting Credits
Despite getting into acting at a very early age, Ella doesn't have much experience. After making her on screen debut, she took a hiatus from acting for a decade. At the moment, she has just three on screen credits. Now she's back and she doesn't plan on going anywhere any time soon.