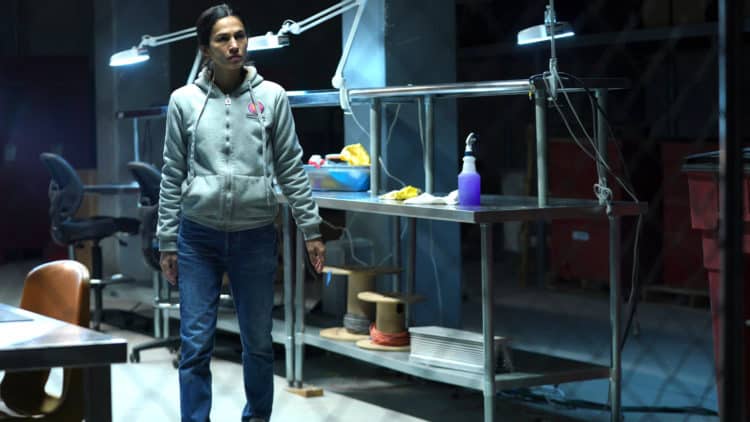 If you think you're getting a gritty crime tale where civilians accidentally fall into bed with mobsters like Ozark, then think again. The Cleaning Lady, part of Fox's freshman series's lineup is indeed entertaining to say the least but it won't have you gripping the edge of your seat. Elodie Yung plays the lead character Thony De La Rosa, a young mother from Cambodia living undocumented in Las Vegas to save her son who has a rare but serious autoimmune disease. The treatment her son Luca needs to save his life he can only get in the States. Thony lives with her sister-in-law Maria another undocumented immigrant and her two children. Her husband is stuck back in Cambodia trying to get a work visa to come to the United States. Maria and Thony both work crappy jobs as cleaners for different events. The two are like sisters, when one of the bosses comes gets a handstand with Thony at an event their working on the pilot episode, Maria comes to her defense nearly accidentally killing man. We learn in that moment that Thony isn't your average cleaner. She uses a bunch of nearby tools to perform a minor surgery on the guy, saving his life and Maria from a jail cell. It turns out that Thony is a licensed doctor back in Cambodia.
The plot takes a major turn when Thony is cleaning at an underground MMA center. She witnesses a murder and she would have gotten away scotch free of her phone hadn't rung. She tells the big bad wolves that she has to get back home to her son (as if they really care). The key power player, Arman spares her life when Thony offers to clean up the crime scene selling herself as somewhat of a. Expert when she suggests that they use warm water and certain type of chemical to get rid of any traces of blood. After Thony cleans the murder scene until it's spotless, Armando and his guys drop Thony home as if nothing happened. Thony might be a strong mama bear and pretty resourceful but she's also naive or delusional because she actually believes that her run in with this criminal organization was one and done. Thony realizes Arman's right hand man has been following when she takes Luca to doctor to sign him up for the treatment that he needs. When the receptionists finds out that they are undocumented she turns them away. Thony demands a meeting with his boss. When Thony sees Arman's he hands her an envelope filled with cash, it's her payment for her services the other night. Thony insists that it was her first and last working for them and that she has a sick son that needs treatment and the she'll be returning back to Cambodia. Once your in, your in and there's not enough enough cleaning supplies in Vegas to clean up the mess that she's got herself into.
Arman tells Thony that working with him gives him a reason to keep her alive and hands her a burner phone. Thony is now oncall as their personal cleaner. Arman even calls in a favor with the doctor that works for them to get Luca an appointment treatment center that turned them away. It's obvious that there is undeniable chemistry between the Thony and Arman. Yet Thony is a married woman and she seems like a good person. However, a forbidden romance between the two characters can spice up the drama. While the plot revolves around an mother trying to save her kid's life it's a story we've seen a thousand times before. Unfortunately, we weren't actually sold on the main character's new involvement with this crime family. Who are these guys? What do they exactly do? The writer's fail to establish crucial key aspects like the aforementioned which has a major impact on the flow of the storyline.
The first episode gives us a break down of several different subplots which could have been slowly introduced throughout the season. For instance, we find out the legal status of other characters way too soon. Thony also makes it on to the FBI's radar way too soon. The writer's fail to let some development breathe which makes the show feel very much rushed. Yung gives a great performance in the adaption of the Argentina drama La Chica Que Limpia but is it worth a watch? The Cleaning Lady is interesting enough to watch the first couple of episodes. However, if the writing and the flow doesn't improve as the show progresses the show will be quickly forgotten.
Tell us what's wrong with this post? How could we improve it? :)
Let us improve this post!