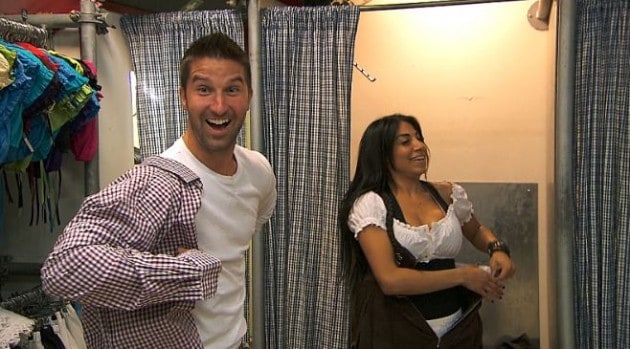 After a two-week hiatus, The Amazing Race returned last night with more drama and fighting than ever before this season. While a handful of teams have remained strong and have avoided the pitfalls of the race, others are beginning to crack under the pressure as the stress gets to be too much. The further into the race they go, the more comfortable the blind date couples get with each other, leading to more fights. At the same time, the established couples have shown that the strong bond that they had going into the race is an advantage, as they already know how to communicate effectively with each other. While the majority of teams left are still blind date couples, it seems that the tides are turning quickly.
This leg of the race took the teams to Germany, all arriving at the same time and leveling the playing field. After a quick stop to change into laderhosen, the first challenge many teams had to face was driving stick shift. For the Olympians, Steve and Aly, this was no problem as they found the navigation system in the car and raced ahead of the other teams. The Ford Focus product placement in this episode was heavy, as they then used a feature of the car to complete the next challenge, driving through an obstacle course in reverse.
With that task completed, Aly and Steve held onto first place as they chose to carry and serve steins over stacking and climbing stacks at the detour. Their strength from all the Olympic training makes this task easy for them as well, and it didn't take long for them to get to the roadblock. Aly serenaded her way through that easily, giving the Olympians an easy first place finish. They'll be hard to beat as the competition continues, with their athleticism and strong communication.
Another established couple, Matt and Ashley, took home second place, proving that there's something to be said for knowing your partner going into the race. Even Mike and Rochelle, who came in seventh place, have stayed strong and communicated effectively to ensure they remained in the race. They may not be frontrunners, but their strong bond could take them far as other couples continue to fall apart.
Some of the blind date couples didn't fare as well, with Hayley continuing to needle Blair about everything and anything. It's amusing to watch as Blair is constantly pushed to his limits, trying to tolerate her behavior and be successful in the race. They've done surprisingly well despite her attitude, landing in fifth place this week.
Despite a mishap with their fanny pack, which they had accidentally left in Jeff and Jackie's car, Laura and Tyler continued to communicate well and not let this error tear them apart. They seem to have a lot in common, both competitive but understanding that bickering will get them nowhere. Jelani and Jeremy also ran a fairly smooth leg, though they agree with Laura and Tyler that the main focus of the race should be winning, not romance.
Jeff and Jackie, the blind date couple with the most promise for romance so far in the race, even gave into the stress of the race this week, leading to a big fight. Jackie feels as though Jeff is always the one making decisions, forcing her to do whatever he wants and trying to silence her opinion. The two were able to work it out and apologize, but not without showing some major cracks in their communication skills. Nonetheless, they ended up landing a third place finish this week.
From the start, it was clear that no sparks would fly between Bergen and Kurt, who despite looking eerily similar, couldn't be more different in terms of personality. Bergen grew up learning that he had to work hard for everything he got in life while Kurt was handed a lot of what he got. Once Kurt realized that he wouldn't find love on the race, he seemed to shut down a bit, not caring if they won since he doesn't really need the money. For Bergen, the money was the main reason behind joining the competition so it was extremely difficult for him to work with a partner who simply didn't care. Unsurprisingly, their personalities clashed, ultimately causing their demise in the competition.
[Photo via CBS]
Tell us what's wrong with this post? How could we improve it? :)
Let us improve this post!