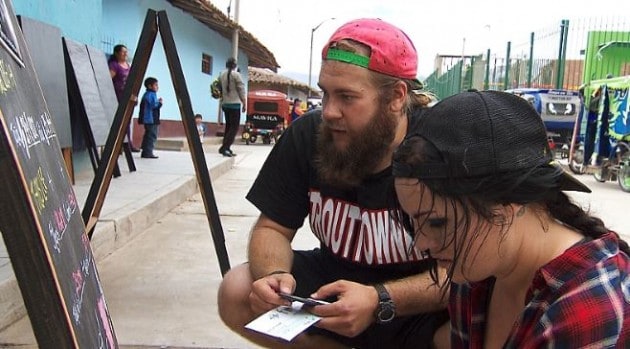 This season of The Amazing Race is almost done, with only four teams remaining after this week's episode. By the end of next week, we'll know who the final three are, and those teams will race for the one million dollars in the season finale. At this point, it's anyone's game to lose, and stupid mistakes cannot be made if the teams want to go all the way. Smart strategy and strong communication, combined with just a little bit of luck, will be what it takes to win. The question is, which teams will crumble under the pressure and which will rise to the challenge?
As per the status quo, Hayley and Blair argued their way to success this week. They've been the most entertaining part of the season, and at this point, you can't help but hope that they win. Self-declared BFFs, the two continue to have trouble communicating, this week having difficulty finding the first clue of the leg. Almost all of their arguments have to do with directions, and more often than not, it's Blair taking them one direction while Hayley thinks they should go somewhere else. When Hayley ends up being correct, she then blames Blair for never listening to her and berates him. They followed this same pattern in this week's episode but were able to once again put it behind them, and ended up taking first place thanks to Blair's knowledge of Spanish. I'm still not entirely sure how they continue to do so well, but at this rate, I wouldn't be surprised to see them win it all. And who knows? Maybe romance isn't completely out of the question down the road.
Jelani and Jenny have been much less exciting to watch, and this week didn't bring anything notable for the blind date couple. They managed to take second place on this leg because they made a smart move to get on an earlier flight with Hayley and Blair. Otherwise, they ran a solid leg with no problems, and because of their head start, they easily slid their way into second. No romance will ever develop between them, but they will remain friends after the race. For them, it wasn't ever about the relationship developing, though, as both are competitive and care most about winning.
Mike and Rochelle remain the dark horse team of the season, as no one ever expected them to make it this far. They ended up on the second flight with the remaining two teams this week but persisted, not giving up despite how difficult the challenges were for them. These two believe in treating everyone how they would want to be treated, and the positive energy they put out into the world always comes back to them. They have a solid basis for their relationship,and after this week, they are the only established couple remaining because of that.
Laura and Tyler made a few rookie mistakes this week that could easily have gotten them eliminated if they hadn't pulled Matt and Ashley down with them. From the start, they ran a sloppy leg, beginning with not asking if there was an earlier flight they could get on to Peru. Instead of being one of the two teams arriving early, they were with the group of three teams arriving the next morning. They then struggled to find the next clue, not only going the wrong direction themselves but leading Matt and Ashley in the wrong direction as well. After discovering their mistake, things went well for them during the rest of the leg, but these two mistakes took them from possibly being one of the top two teams to being in the bottom two. They can't keep making these kind of mistakes if they want to make the final three.
Unfortunately, the race ended for Matt and Ashley this week, as they were not only led astray by Tyler and Laura, but also had to face a Speed Bump. They simply couldn't make up that lost time, no matter how hard they tried. For the newly engaged couple, being so close to the end and being eliminated was disappointing, but they got a lot more out of the race than most do. Not only did they get to experience so many new cultures, but they also strengthened their bond, committing to spend the rest of their lives together by getting engaged. They may not have won the race, but they won in all the other ways that count.
[Photo via CBS]