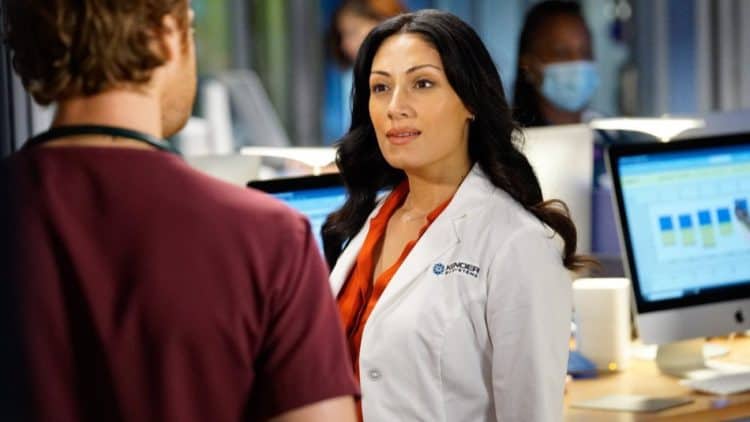 Tehmina Sunny's career is a great example of just how much hard work can pay off. In the 15 years since she made her on screen debut, Tehmina has gone from minor guest roles to major recurring appearances. Many viewers will know her best from her role as Regan Fried in the TV series Pandora. More recently, she earned a recurring role as Dr. Sabeena Virani on the popular series Chicago Med. Landing a job on Chicago Med will give Tehmina a chance to share her talents with a wide audiences and many long time fans are excited to see what she's going to bring to the series. Keep reading for 10 things you didn't know about Tehmina Sunny.
1. She's Originally From London
Tehmina was born and raised in London, but her heritages traces back to India. Her love for acting began in London but she eventually began traveling between the UK and Los Angeles to take acting lessons. She ultimately decided to permanently relocate to the Los Angeles area.
2. She's A Musician
Before she got started on her journey to becoming an actress, Tehmina was focusing on another area of the arts. She plays the piano, the violin, and the viola and is also a singer and song writer. Eventually, her love for acting began to grow and she decided to focus her attention on that. At the moment, she has no plans to return to music.
3. She's Trained In Martial Arts
Tehmina is the type of person who's good at so many things it's almost hard to believe. In addition to her talent as an actress and a musician, Tehmina is also a trained martial artist who has been practicing taekwondo for several years and she's won medals for her skills.
4. She Studied Business Information Systems
Tehmina's path to becoming a professional actress was a bit different than most people's. She didn't go to drama school and her collegiate studies had absolutely nothing to do with the arts. She attended the University of Leeds where she earned a degree in Business Information Systems with a focus in Computer Science and Artificial Intelligence. The fact that Tehmina obtained a traditional education made her parents feel a lot better about her decision to get into acting.
5. She Speaks Several Languages
Tehmina is very proud of all of the cultures that have come together to make her the woman she is, and she feels a strong connection to her roots. On top of speaking English, she is also fluent in Hindi and Gujarati, however, English is the only languages she's acted in.
6. She's Passionate About Health And Fitness
Taking good care of her body and her mind are two things Tehmina is very passionate about. While she doesn't believe in dieting, she is very mindful about what she puts into her body. She also likes to stay active and has incorporated exercise into her regular routine.
7. She Enjoyed Working With Ben Affleck
So far in her career Tehmina has already gotten the chance to work with some big names, one of which is award-winner Ben Affleck. When talking about her experience working with Ben Affleck, Tehmina told Asian Image, "He is a great director, very down to earth and friendly. Hats off to Ben for not only directing, but also producing and leading. I really enjoyed my time on the project."
8. She's An Avid Traveler
Most people would agree that traveling would be at the top of their list if they had more time and money. Tehmina has been fortunate to have. lifestyle that has afforded her a good amount of both. She has done lots of traveling over the years. Some of the countries she's visited include Belize, Mexico, and Italy.
9. Her Dream Is To Be A Bond Girl
Tehmina's resume is full of lots of great roles, but like any good actress she's already thinking about the roles she wants to do in the future. During her interview with Asian Image, she revealed that one of her biggest dreams is to get the chance to play a Bond Girl. There are probably a lot of people out there who would agree that she would be perfect for the role.
10. Charlize Theron Is One Of Her Biggest Influences
Every actor can name at least one other actor who has played a big role in how they've chosen to approach their own career. For Tehmina, that person is Charlize Theron. During an interview with Noel Phillips, Tehmina said, "Charlize Theron has influenced me. I love how she transforms herself to each role she takes."