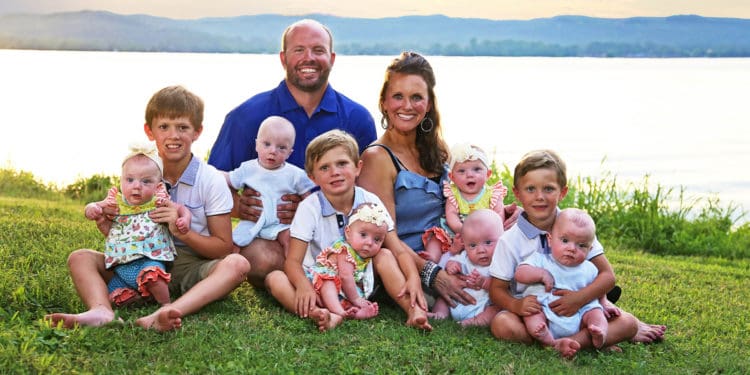 For the uninitiated, Sweet Home Sextuplets is the TLC documentary series that follows the lives of the Waldrop's, a close-knit family dealing with the trails and tribulations of a high-risk sextuplet pregnancy (and its aftermath) while simultaneously raising three older boys. Since its launch in 2018, America has taken the family of Alabama sheep farmers to its collective heart, with millions of viewers regularly tuning in to witness the weekly goings- on of Courtney, Eric and their giant brood. The second season of the popular show premiered on May 28th, 2019, and if early viewing figures are anything to go by, it's already set to be just as successful as the first. Read on to discover more about the show and its starring family.
1.The pregnancy was a surprise
The discovery that Courtney was carrying sextuplets came as a huge surprise to the Wallops, and not just because of the rarity of a multiple pregnancy. For years, Courtney had struggled to conceive, even suffering several heartbreaking miscarriages after the birth of oldest son, Sailor, in 2008. Desperate to expand their small family, the couple eventually resorted to fertility treatment in their efforts to conceive. Happily, the treatment proved successful and in 2012, the Wallops welcomed twin boys, Wells and Bridge, into their midst. Tragically, Courtney suffered another miscarriage in January 2017. "It was devastating because I can get pregnant so easily, I just can't hold on to them," Courtney told PEOPLE. "It was upsetting, but we had experienced it before and I knew I had a medical issue that contributed to it." Fortunately, Courtney did manage to keep hold of the next pregnancy, and the rest, as they say, is history.
2. Eating for six was a challenge
Eating for two might be all well and good for average pregnancies, but in Courtney's case, she faced the much bigger challenge of having to eat for six. 11 weeks into the pregnancy, Courtney was clearly finding the task of scoffing for multiple mouths a little much, and took to Facebook to vent her frustrations. "Please pray that my appetite will allow me to eat like I've never eaten before," she appealed. "I'm determined I can do this!!!!"
3. It took a team of 40 to deliver the babies
An average delivery usually requires little more than one or two pairs of experienced hands, but a sextuplet labor is a different kettle of fish entirely. As PEOPLE reported, the Wallop sextuplets were welcomed into the word by a team of around 40 labor and delivery nurses, neonatologists, anesthesiologists, maternal fetal medicine specialists and surgical assistants…. not to mention Courtney herself, of course!
4. They were the first sextuplets to be born in Alabama since 2011
We all know sextuplets are rare (after all, how many do you know?), but just how rare might come as a surprise. The Wallop siblings were the first sextuplets to be born in Alabama for 6 whole years. The last batch of 6 to be born in the state were the Carroll's, who came along in June 2011. Fifty-one staff were present to witness the birth of the 5 girls and 1 boy, which required a massive amount of preparation and orchestration to reduce any potential risks. As an average, only about 1 set of sextuplets are born each year in the US, making both the Carrols and the Wallops members of a very elite club indeed.
5. The family had a long wait to bring the babies home
A sextuplet pregnancy isn't like any other pregnancy, either in the size of its litter or in the length of its term. The average gestation period for an average pregnancy is 40 weeks; for sextuplets, this reduces to just 30 weeks. Courtney's pregnancy followed the recommended 30 weeks, but as so often happens with premature births, there were a number of complications to the delivery. As a result, the proud parents had quite the wait before they could take their new offspring home: 53 days in the case of the girls, and 72 days for the boys.
6. The sextuplets have some seriously unusual names
Worried the sextuplets would struggle to forge an identity away from their siblings, Courtney and Eric decided to give them the best chance of establishing a distinct personality by bestowing each with a very distinctive (and unusual) name. The thee Waldroop boys go by Layke Bryars, Blu Wellington, and Tag Bricker, while the girls go by Rivers McCall, Rayne McCoy, and Rawlings McClaine.
7. They already have their own personalities
Any worries Eric and Courtney had of people being unable to tell their babies apart have proven groundless… at less than a year old, the sextuplet's already have their own unique personalities. According to professional photographer Ashley Sargent, who recently organized a photo session for the family, baby Rawlings in particular has quite the distinctive character. "She's gonna be the goofy one of the bunch," Sargent said. "Every time I photographed her individually, she fights going to sleep and makes some of the goofiest faces! I think she's going to be the entertainer."
8. The older boys are adjusting well
With so much (understandable) focus on the sextuplet's, it's easy to forget the Wallop's were already a sizable family by the time the new additions came along. Before the sextuplet's were even a glint in Eric's eye, the senior wallops were being kept busy by their boys, Sailor, 11, and twins Wells and Bridge, 7. According to Courtney, the lads have adjusted well to their new siblings: "I think our three boys will do really good," she shared. "They've adjusted well and are really not acting like it's bothered them whatsoever." Eric agreed, adding "They just carry on with their lives. They come through, kiss them on the head, and they're right on playing."
9. They're growing up fast
As babies are wont to do, the sextuplets are growing fast… and getting into all kinds of mischief in the process. Despite the family describing the chaotic experience as "fun-crazy", it's clearly more than a little exhausting at times. "We love every second of it but it is something, having to feed around the clock," Courtney told Today. "It's a different kind of exhaustion now," Eric added. "They're doing great, even in those moments where we think we're going to lose our minds."
10. Raising a family has strengthened Eric and Courtney's relationship
With so much time spent running around after their massive brood, Eric and Courtney would be forgiven for occasionally neglecting to find time for each other. However, the loved -up pair, who've been together for 19 years, claim the experience of raising a family has actually helped strengthen their bond as a couple. "I know that people would just say I'm just saying this, but honestly I would say that our relationship is stronger now than ever," Courtney told Today. "He's my rock and he gets me through. We have to be there for one another."