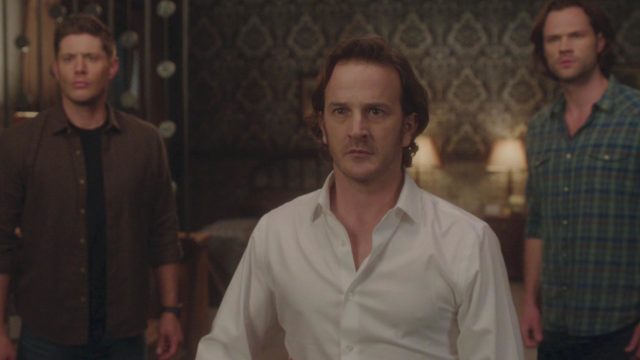 Ever since Supernatural revealed that Gabriel was alive, fans had been wondering what exactly he had been doing in the intermediate years. Of course he appeared to Castiel in a "dream" a few seasons back, but other than that there had been very little explanation. "Unfinished Business" finally filled in all of the gaps and brought the Gabriel story full circle, tying in all of his previous appearances from being the Trickster, to Loki, to reclaiming his identity as the archangel Gabriel. It was revealed before the episode that Gabriel would "eventually" join the good fight, but he obviously had some business to take care of first. Richard Speight, Jr. not only directed himself (in dual roles!) in the episode, but had an excellent opportunity to show off some chops and he did not disappoint.
It's not often that the brothers Winchester are turned into supporting characters on their own show, but the creative team on Supernatural has always had a really good sense of the characters fans want to see more of and delivering those stories. "Unfinished Business" definitely put Sam and Dean on the backburner to showcase Gabriel, but finally brought good ol' Gabe's story back into the limelight. Speight has long been a fan-favorite in the Supernatural world, so they had to know they'd have a hit on their hands. What works especially well about this episode is bringing Gabriel's story full-circle. His introduction on the show was as "The Trickster", a role that Speight embraced along with fans. Then, come to find out that this particular Trickster survived his first meeting with the Winchesters and turns out to be Loki, the Norse God, king of ALL Tricksters, but then actually also the archangel Gabriel who was killed by Lucifer. Confused? You're not alone. One of the primary feats of "Unfinished Business" was clearing up Gabriel's character and what side he chose, while explaining some of his character traits, history, and where he'd been in the gap years between appearances on the show. It was wild and a little chatty, but mostly it was a fun and enjoyable story. I'm beyond excited to have Gabriel join the good fight for realsies.
In the B-plot, which exciting but decidedly less so, Jack and Mary continue to navigate the alternate universe where Michael is inching toward creating a rift and going after Earth Prime. Jack, Mary, and their band of warriors happen upon the alternate universe version of Kevin Tran (gotta hand it to Supernatural, lots of fun and familiar faces this season). This part was fun and held a lot of exposition until Kevin Tran went full kamikaze on the group of freedom fighters, leaving only Jack and Mary standing. This mostly left me with questions rather than answers, like "When do I get to see Bobby again?" and "Where are Ketch and Charlie?" I'm hopeful that we will see all of our faves one last time before the end of the season.
Here are a few other thoughts:
Really my only strike against this episode was that it felt a little talky. There was a lot of exposing plot via dialogue and not via action or visually. Still, there were some fantastic moments.
Richard Speight directing himself acting against himself has to be one of the greatest things that's happened on this show.
I really liked the feel to Gabriel's revenge story. It felt a little Tarantino-esque in the beginning, and the music choices really amplified what the director was trying to do. I don't always comment on the direction of episodes, but Speight did a particularly wonderful job, especially with the Winchester Bros and Gabriel.
Characters I would still like to see back in the alternate universe: Ash, Jo and Ellen Harvelle, Garth, Gordon the Vampire (I know, there's no way we could get Sterling K. Brown now, but a man can dream).
Overall, I very much enjoyed this episode, and I'm very glad that Gabriel has returned to "Team Free Will 2.0".
What did you guys think? Did you enjoy the episode? Let us know!
Supernatural airs Thursdays at 8/7c on The CW
Tell us what's wrong with this post? How could we improve it? :)
Let us improve this post!