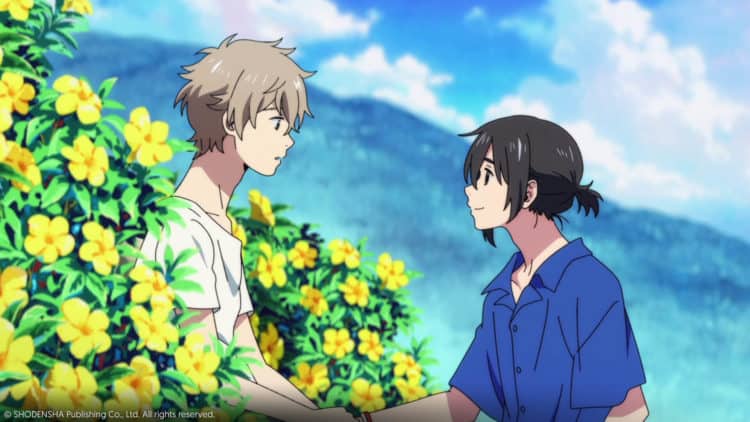 Studio Hibari, best known for their hand in works like Akira, Castle in the Sky, Kiki's Delivery Service, and Spirited Away, is set to release a brand new feature film on Funimation on July 9. The film, titled "The Stranger By The Shore" or "L'étranger de la Plage" is a brand new anime film from Studio Hibari based on a manga series from Kanna Kii. Without giving too much away just yet, The Stranger By The Shore follows two young men, Shun and Mio, as they struggle to get on the same page about their relationship and life in general. I got a chance to preview the film before its official release, and I'm here to talk to you about what I thought of it! I will warn you that there are spoilers for The Stranger By The Shore, so if you would prefer to avoid those, I would wait until after you've seen the movie.
What's it About?
So, what's The Stranger By The Shore all about? I'll give you a brief summary – if you want all the details, then I highly suggest you watch the movie when you can. The Stranger By The Shore begins with a boy named Shun, who is essentially stalking a boy named Mio, because he likes him. Eventually, Shun works up the courage to talk to Mio, but is immediately dismissed when Mio tells him that he's being creepy. Sometime later, Mio ends up coming over to Shun's house and apologizes, and they begin to form a friendship together. Shun finds out that Mio is all alone, because his mother passed away, so he lives all by himself. Mio then soon reveals that he has to go to an orphanage on the mainland, because kids can't do anything on their own, which destroys Shun. They part ways for the time being, until Mio returns three years later as a new tenant in Shun's building. Mio is ready to get back together with Shun and nearly kisses him, but Shun avoids him. It looks like Shun wants nothing to do with Mio after he's been gone, and it seems like this is due to some sort of resentment, probably from Mio leaving, but ultimately Shun is just upset that he ruined Mio's chances of living a normal life, and falling in love with a normal girl. He says that two men loving each other can lead to nothing good, but they end up making it work. Shortly after everything seems to be going okay, Shun's former fiancée, Sakurako, shows up demanding that Shun return home, due to his father's declining health. This comes as a shock to Mio, but it is eventually explained that Shun needed to fake a relationship with a girl in order to preserve the relationship with his family, and Sakurako was his childhood best friend. Shun refuses to go see his father, because when he came out to his parents, they were angry and disgusted, so he wants nothing to do with him, and is worried about leaving Mio behind. Mio eventually persuades Shun into leaving, but then Shun decides to ask Mio to come along, because he isn't afraid to go see his family with another man, nor is he ashamed about it. The movie ends with Mio going to see his parents' graves with Shun, and then rushing off to catch the ferry to the mainland. There's a lot of other details that are important to the story, but I can't give away everything, can I?
Is it Any Good?
You may be asking yourself now, is The Stranger By The Shore any good? The answer is yes – a resounding yes. Typically, I watch a lot of Shonen anime, I've seen a few movies here and there that don't fall into that category, like Weathering With You (another fantastic movie), and Howl's Moving Castle (a classic Studio Ghibli movie), I usually like a lot of action, but I found myself instantly hooked on The Stranger By The Shore. The characters are great, their stories are heart-warming – albeit sometimes aggravating (just because Shun was kind of a jerk for a lot of the movie) – and the animation is breathtaking. The soundtrack for this film is also spot-on and enhances every aspect of the movie.
The Stranger By The Shore is a fantastic film about not being afraid to express yourself and most importantly not being ashamed of who you are. The Stranger By The Shore will be streaming on Funimation on July 9, and I highly recommend checking out this fantastic LGBTQ+ anime film as soon as you can!