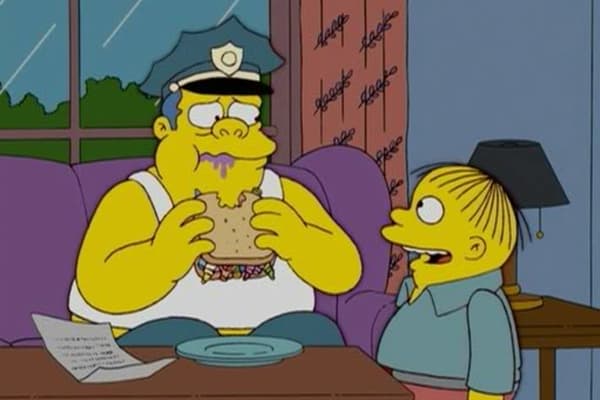 If you're a Simpsons fanatic you might have known this little bit of information. However, if you're a casual watcher like myself trivia like this is kind of cool to find out, especially because it's over 20 years old. As most of you know Chief Wiggum and Ralph Wiggum are father and son. But did you know it wasn't always this way? Turns out that Ralph Wiggum was not canonically made to be Chief Wiggum's son until season 4. The two characters were developed independently and only later the writers decided to make them father and son.
Here's the full story on The Simpsons Wikia
In Ralph's first credited appearance in the show was the episode "Moaning Lisa", he was considerably different in both appearance and behavior from his later appearance, although he also briefly appeared in the first episode Simpsons Roasting on an Open Fire. Ralph's signature use as a character in the show is to deliver either an odd bit of behavior, or dialogue which either perplexes others or merely gives the audience a quick laugh. Originally intended to be a "Mini-Homer", Ralph eventually took on a life of his own. The staff figured that he'd also fit perfectly as the son of Chief Wiggum, a fact made canon in "I Love Lisa", (although he is referred to by his last name of Wiggum in "Kamp Krusty" before). Ralph was named after comedian Jackie Gleason's character on The Honeymooners Ralph Kramden. Matt Groening considers any lines for Ralph "really hard to write."
The more you know…….And of course there's this video
Tell us what's wrong with this post? How could we improve it? :)
Let us improve this post!