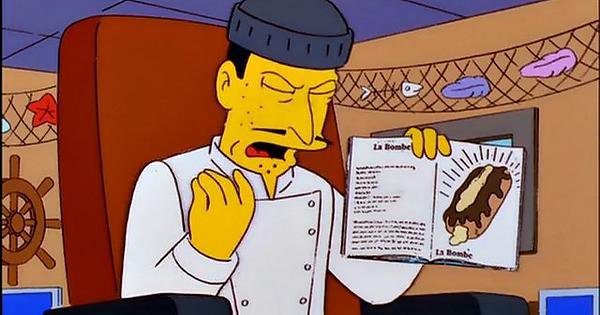 That is a LOT of butter. One might imagine it would be just as good to toss a stick of butter in a bowl of sugar and roll it around before consuming it, since aesthetics aside, this appears to be what's going on with this dish. As always, Bingeing with Babish is a treat since we get to watch a master at work and the fact is that every time we get to watch this guy it's amazing and definitely worth building up an appetite. This dangerous delicacy seen on The Simpsons is a sweet treat that's bound to clog the arteries if one decides to partake of too many of them since looking at all that butter is enough to make a person's stomach heave just a little and their bowels to seize up in fright. But there's no doubt that it's tasty, and perhaps even addictive since it's bound to entice a person with the delectable.., okay, maybe that's enough for now. The point is that the chocolate eclair has been a pretty common staple for a long time when it comes to pastry sweets, and while it's a lot of work to get it right and does require a lot of effort to make it, plenty of people happen to enjoy this goodie since it might only require half of one to give someone a serious sugar buzz.
As always, watching Babish do his thing is pretty impressive since the guy has the kind of patience that a lot of us wish for and simply don't have since, let's face it, life moves at the pace we set, and sometimes that pace is fit to send a hummingbird into fits of anxiety. But baking and cooking do tend to take a lot of time and most of all, a patient and dedicated individual that is all about getting it right, not just right now.
The chocolate eclair in The Simpsons was meant to be the end of Homer Simpson, and for some people, the last eclair that Babish made in this video possibly could be the end for some folks whose bodies aren't as tolerant as others. For those that aren't big on butter or sugar, this likely wouldn't be such a great thing to eat since it could cause a serious list of problems that wouldn't be easy to deal with. But for those that have no such issue, it's fair to say that this would still be too much since one of the big eclairs would fill a couple of people up. It's funny to think that if not for his daughter Lisa, Homer would have eaten the eclair (yes, I know it's fiction, just go with it). Telling her dad it was low-fat saved the day since how dare anyone serve Homer something that's low-fat and possibly healthier for him, I mean really. The humor of it is pretty easy to see and enjoy though, much as it is with every Babish video since the guy definitely gets into what he's doing and passes that joy along to his viewers through his sarcastic and snarky comments that help to narrate what he's doing and how even he doesn't get it perfect all the time.
It feels as though Babish wouldn't be as amusing if he were any more of a perfectionist since while he definitely knows what he's doing and has his own exacting measures and practices, he still puts on a good show and makes it entertaining in a way that inspires a lot of people and makes it easy to keep watching even if cooking isn't your thing. That's the mark of an individual that knows how to cater to their viewers while maintaining the kind of standards that have made them as great as they are, since getting people into what you're doing is a great way to keep the viewers watching and hoping to see more in the days to come. Plus, taking recipes that have been seen on TV shows and in movies is even better since the familiarity this brings is appreciated by a lot of viewers that tend to note that Babish is sticking pretty close to the recipes that were likely used.
There are some dishes that have been more of a joke as Babish has taken them literally, such as the crayon sandwich from The Simpsons and the 'nachos' from Spongebob Squarepants. But to his credit, he's made every presentation fun and engaging in a way that gets people into the idea and gets them thinking, possibly, if they could replicate the recipes they see. Granted, a person would need a pretty well-stocked kitchen to make some of these recipes, but it would still be fun to try, and Babish has made it easy enough with his presentations and cookbooks.
Tell us what's wrong with this post? How could we improve it? :)
Let us improve this post!