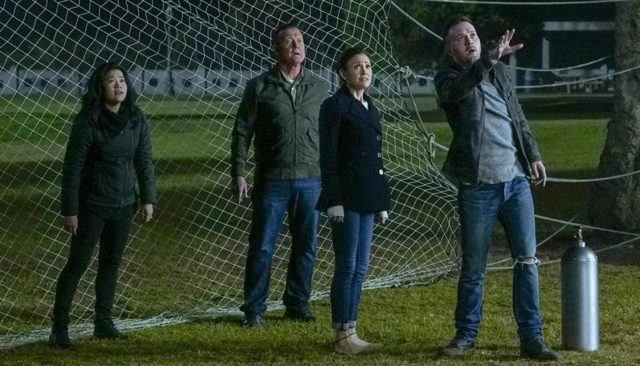 We have become dependent on technology. So much so that we need it for every aspect of our lives. In this week's episode of Scorpion, things get a little old school as the team helps land a missing seaplane after a solar storm hit Los Angeles. Walter also plays babysitter, to an extent, as he helps Sylvester host a science show for children.
It was refreshing, in a sense, to see Team Scorpion use maps, books, and old equipment to save Rachel and Griffin. That without depending on technology or getting information from the Internet, they can still do what they do best. The part where Walter modified Birdroni to a communications device was brilliant. Things got a bit awkward when the teens heard the private conversations between the team. Maybe they should take their comms out before having said conversation.
I felt a bit sorry for Ralph as he tried to impress Patty. The young genius wanted the young woman to see him as a man and not like a child. Ralphy-boy, you are thirteen. You're supposed to be a kid even though you are a genius. At least the boy will be able to help Patty with Sylvester's re-election campaign. Perhaps things will work out between the two of them. I hope Paige wouldn't get all overprotective mother on her son. Emphasis on the hope.
Back to the mission, the team decides to use a large net to cushion the plane as it crash-lands. That plan quickly backfired as the plane is still too fast to land at a safe speed. Walter then suggested that the teens should jump out of the plane and onto the net. Griffin didn't want to go through with it due to fear, but Agent Gallo talked sense into the young man. They were both afraid of telling their significant others that they love them. That they will reject them after they pour their hearts out. It turns out; they were freaked out over nothing as their respective ladies affirmed their affection for them.
In the end, the solar storm passed, and Southern California got their power back. Walter's science show is off to a good start. Though the rest of the team didn't seem to think so as they didn't offer any positive feedback. Guess you should just stick to saving the world then, eh, Walter-boy?
Final Thoughts:
Kudos to Sylvester for putting Paige in her place. The liaison was being a bully to Florence due to her insecurities about Walter's coma dream. I commend her for apologizing to both Florence and Walter for her behavior towards the end of the episode.
My heart went out to Quintis as I watched the episode. Happy is desperate to have a baby, but things kept getting in the way. Hopefully, she will get her wish, and one day, we will see little Quintis babies running around.
Walter and Paige's romantic liaison is also halted when Meatball informed them that his Dad wouldn't be able to pick him up. This is a glimpse into the future when Waige ties the knot and decides to have kids.
Photo via CBS
Tell us what's wrong with this post? How could we improve it? :)
Let us improve this post!