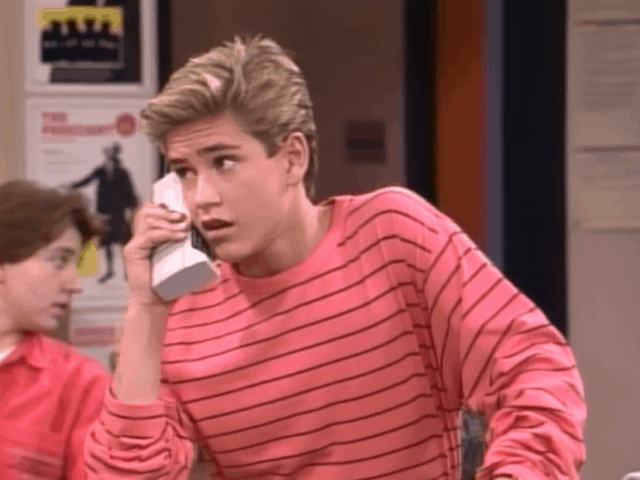 There has been a lot of success lately with the return of classic series like Roseanne and Fuller House. One of my personal favorite series from the 1990's was Saved by the Bell. Most of the cast has gone on to be successful (we won't mention Dustin Diamond), so it is unlikely a reboot will happen. At least, we can re-watch the classic episodes. Zack Morris was the main character of the series and got the gang into a lot of trouble. Here are our five favorite schemes from the blonde-haired heartthrob.
Screech's Spaghetti Sauce
On Saved by the Bell we saw the gang in Driver's Ed, Home Economics, and even a News Production course. During this episode Screech prepares his family's special spaghetti sauce. When Zack finds out it actually tastes good, he thinks its an excellent idea to start selling it using supplies at the school. Bad news is that the recipe was stolen from a cookbook. The gang is forced to stop production on the sauce.
Swim Team Calendars
Zack Morris was always a sucker for a pretty lady, so when the teens makeover the school store he decides to show off all the hot girls at Bayside High. He sends Screech over to the pools to take pictures of the swim team to make a calendar for profit. He even attracts the eye of a famous fashion model, who picks Kelly to venture off to Paris. Since there was only 11 girls, Zack uses Mr. Belding's head on Jessie's body to wish everyone a Merry Christmas from Saved by the Bell.
Selling Lisa's Clothes
Any Saved by the Bell fan knows that Lisa loves to shop. So when her parent's gave her their credit card for getting good grades, we knew it would end in disaster. Lisa maxes out the credit card! In order to pay her dad back, Zack thinks its a good idea to auction off her clothes to the student body. When Mr. Belding shows up, he believes she is donating all the items to the clothing drive conveniently held at the same time.
Dishing Out Bad Advice
In season two of Saved by the Bell, Zack has the bright idea of utilizing Lisa to provide advice to teens. Things works out well at first, that is until Zack gets greedy and fires Lisa for wanting a fair share of the profits. Zack ends up mixing up the phones and confesses his love to the wrong Kapowski sister. Lucky for us, he still got Kelly in the end. Here is some advice Slater received:
Subliminal Messages
After hearing a lecture on subliminal advertising, Zack thinks it is a good idea to put messages in a mix tape for Kelly to get her to ask him to the Sadie Hawkins dance. He also helps Screech send one to Lisa, who temporarily becomes smitten with the geek. Once the rest of the gang finds out, they hatch a plan that has all the girls (and Slater) pining over Zack. This has to be one of my favorite episodes of Saved by the Bell, aside from "Jessie's Song."
Which of Zack's schemes was your favorite on Saved by the Bell? Let us know in the comments section below.
Photo by NBC
Tell us what's wrong with this post? How could we improve it? :)
Let us improve this post!