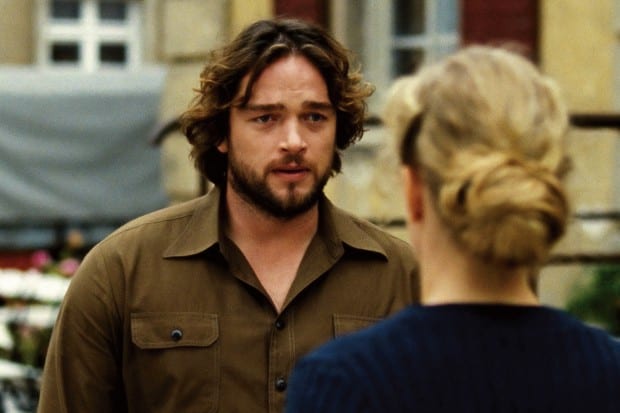 When Ronald Zehrfeld made his first on screen appearance nearly 20 years ago, he probably never could have imagined that one day he's become an international star whose work has reached countless people. But that's exactly what happened. After years of starring in German films and TV shows, he got the opportunity of a lifetime when he was cast in the Netflix series, Barbarians. The series, which was originally filmed in German, has been subbed in several languages and released all over the world. Ronald's performance has been getting lots of attention and people can't wait to see more of what he has to offer. Continue reading for 10 things you didn't know about Ronald Zehrfeld.
1. He Wanted To Be An Olympic Athlete
Ronald isn't the type of person who grew up wanting to be an actor. Instead, he had very different dreams. When he was younger, his goal was to be a judo practitioner who could eventually represent Germany in the Olympic Games. Although that dream didn't come true for him, he still gets to represent Germany in other ways.
2. His Friends Introduced Him To The Idea Of Acting
Ronald's love for acting started in a very interesting way. He told Discover Germany, "During the 1990s, some of my friends took me to see a couple of performances of incredibly innovative theatre groups. I was spellbound by the plays and the creative atmosphere, and kind of stuck with the subject."
3. He's A Formally Trained Actor
Once Ronald was bitten by the acting bug, there was no way he could envision himself doing anything else. He decided that he wanted to take acting seriously and he applied to drama school and was accepted on the second try. He studied acting at Ernst Busch Academy of Dramatic Arts in Germany.
4. He Goes With His Gut When Picking Roles
Picking the right roles is an important part of any actor's success. After all, just one role can make or break someone's entire career. For that reason, some actors have a process they use to help them decide whether or not a role is right for them. Ronald, on the other hand, simply trusts whatever his gut tells him to do.
5. He's Won Several Awards
American viewers who aren't familiar with Ronald's work may not realize just how accomplished he really is. In fact, some people in Germany refer to him as "the German Russell Crowe". Like Crowe, Ronald's career has also been filled with accolades. He has won multiple awards including a German Film Award in 2016 for Best Supporting Actor.
6. He's An Advocate For Clean Drinking Water
Ronald has built a decent social media following over the years and he has used his platform to support human rights. Recently, he shared a post advocating for the importance of clean drinking water. In the post, he encourages his followers to support the campaign Water Is A Human Right.
7. He's A Cyclist
Physical activity isn't just about staying in shape, it's also a good way to release stress and tension. Ronald likes to stay active, but his kind of activity doesn't always come in the form of a trip to the gym. He enjoys staying active in other ways including going bike riding.
8. He Loves How Acting Gives Him A Chance To Explore Different Sides Of Himself
There are lots of things that Ronald likes about acting, but his favorite thing is that it gives him the chance to learn about himself in different ways. While talking to Discover Germany he said, "I think that there is no other profession that enables you to get to know yourself and others in quite the same, intense and thorough way. As an actor, you may, lawfully, sound out your own abysses. You may act out your 'dark side'. If you are lucky, you get the chance to steadily broaden the spectrum of your art."
9. He Loves Nature
Ronald is a star, and he's quickly becoming an even bigger one, but he has always remained humble and he is the kind of person who truly finds joy in the simple things. When he isn't busy with working, he enjoys spending time outdoors enjoying the beauty of nature and exploring his surroundings.
10. He's A Father
Ronald has never been the type of actor who likes to put his personal life on display, so there isn't much information out there regarding his private life. One thing we do know however, is that he has at least one daughter although there's no information on her name or who her mother is.
Tell us what's wrong with this post? How could we improve it? :)
Let us improve this post!