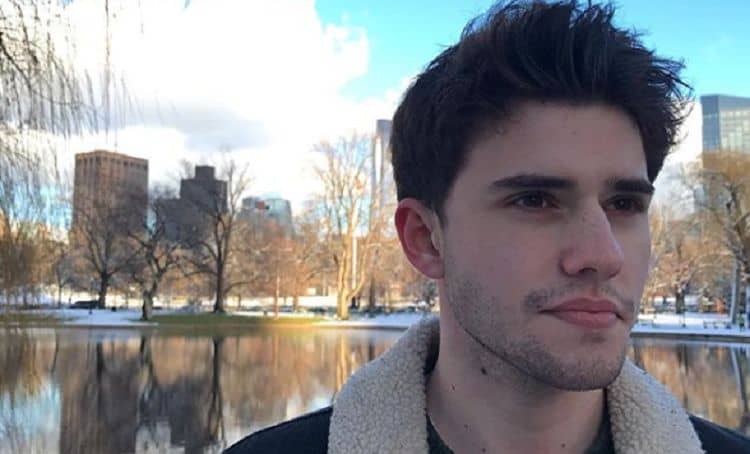 With a name like Rhys Matthew Bond it almost seems like the young actor was destined to be a star. Rhys has only been acting professionally for six years. But in that time, he's shown the world that he's here to stay. The 21-year-old actor has had a handful of roles since making his debut in 2014 and he is on his way to becoming one of the newest heartthrobs in the industry. He is most well-known for his role as Nick Radford in the Hallmark series, Good Witch. Continue reading for 10 things you didn't know about Rhys Matthew Bond.
1. He Has A Close Relationship With His Sister
Lots of older brothers don't like being bothered with their younger sisters, but Rhys isn't that type of person he has a very close relationship with his sister, Zoe, and the two seem to really enjoy spending time together.
2. He's A Feminist
Rhys considers himself a feminist and believes that society needs to do a better job at teaching people to appreciate and respect women. In 2017, he posted a photo of himself holding a sign that said "Real Men Are Feminists". A portion of the caption read, "It's time we actually start educating the youth on why they should be respectful instead of allowing them to find out the hard way. It's time for things to change."
3. There Is A Petition To Get Him Verified On Instagram
Having a verified account on Instagram lets users know that your account is official. This stamp of approval is reserved for celebrities and other public figures because they're most likely to be impersonated by false accounts. One of Rhys fans started a Change.org petition to have his account verified. Unfortunately, the petition only got 15 signatures and his account is still not verified.
4. His Dog Has An Instagram Account
Rhys is a dog lover who loves spending time with his German shepherd, Spencer. He posts a lot of pictures of Spencer on Instagram, but the dog actually has his own account. So far, Spencer has racked up nearly 8,000 followers.
5. He Looks Up To Robert DeNiro
Rhys is a student of the acting craft and loves to observe as much as he can. As a young actor, there are a few legends that Rhys looks up to. He cites Robert DeNiro as one of the biggest inspirations of his career. He is also a fan of Christopher Walken.
6. He's A Kurt Cobain Fan
Rhys is a big fan of music, and he loves listening to songs from lots of different eras. He says that Kurt Cobain is one of his favorite artists from the past. Although Kurt Cobain died four years before Rhys was born, Rhy still enjoys listening to Cobain's now classic work. When it comes to newer music, Rhys is a fan of the German guitarist, Clemens Rehbein , who is a member of the bank Milky Chance.
7. He Doesn't Have A Favorite Role
Lots of actors have roles that they enjoyed playing more than others. However, Rhys doesn't have a favorite. He says he is very thankful for every opportunity he's been given and can't pick one over the others. But as his career progresses and more roles are added to his portfolio, this answer might change.
8. He Studied Acting In School
There's no one way to pursue a career in the acting world. While some people choose not to receive a formal education, others are believe that formal training is a key ingredient to success. Rhys chose to take the path that includes acting classes. He said, "I was a Drama Major at a Fine Arts School and took some acting classes outside."
9. He Encourages Up And Coming Actors To Embrace Rejection
No matter what you do, rejection will always be a part of life. However, actors have to deal with rejection more often than most people. Rhys says that in order to be successful, people who want to act must "get used to rejection". When you're hoping to land a role, it's important to be able to hear the word no and keep pushing forward
10. He Hopes The World Becomes A More Accepting Place
Even though Rhys is only 21, he has a very mature way of seeing the world. He understands that there are a lot of things that need to be fixed and he believes that kindness and acceptance are some of the key elements of making the world a better place.
Tell us what's wrong with this post? How could we improve it? :)
Let us improve this post!