I've seen the pilot episode for the new CW show The Beautiful Life and I'm digging it. This article will contain some spoilers for the episode, though I try to be vague about the important plot points.
We open at the Zac Posen show during New York Fashion Week (Mr. Posen himself makes a cameo). Posen seems to be going for an 18th century Victorian look here that's completely over the top, but I admit that high fashion sometimes confuses me. It's Raina's (Sara Paxton) first runway show and she's very overwhelmed, until she steps out there and struts her stuff. Backstage at the show we're introduced to the other main characters, including the somewhat annoying Marissa (Ashley Madekwe) and the boys: Isaac (Corbin Bleu), Egan (Jordan Woolley) and Cole (Nico Tortorella).
Mischa Barton is back on television as Sonja Stone, a pill-popping model who is trying to launch a comeback after disappearing off the scene for six months. The other models speculate that she was detoxing in rehab and we all think that as well, until later in the episode. She arrives late at the Posen show and is set to model his signature dress until all hell breaks loose because she's gained two pounds (yes, TWO WHOLE POUNDS). I know, it's all very shocking. Posen sends Raina out in the dress and suddenly she's the new It girl.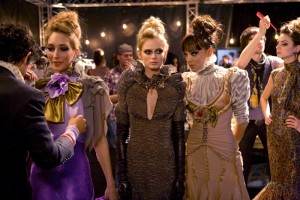 Enter Chris Andrews (Ben Hollingsworth), who's on vacation from Iowa with his family. He's very earnest and cute and when a modeling agent (Simon) acts like a jerk to a waitress he tells him off. This captures Simon's attention and he proposes that Chris come by the agency.
The whole gang reconvenes at the agency, where we see that Elle Macpherson (playing Claudia) had landed a gig as one of the ladies in charge. Cue the backstabbing as all of the other girls are jealous of Raina's new-found success and Sonja attempts to wrestle the new Versace job from Marissa and the other girls. Chris meets Raina and then gets stripped down and looked over by the people in charge.
Chris sends his family back home while he gets photographed for some test shots. Raina notices how uncomfortable he is and helps to relax him (no, not like that). Later, Chris meets the other male models (Isaac, Egan and Cole) when he gets set up in their shared house to stay for a while (turns out the girls are living there too).
Cut to the party that evening, where Sonja shows up in the new Versace dress in an attempt to impress the photographer (Franco) who's shooting the campaign. He's happy to book her, but only after she takes a spin on his casting couch. She's got too many morals, though, and bails on him.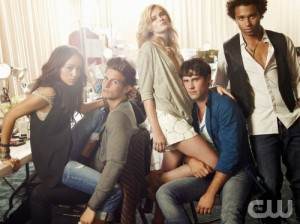 Everyone's got secrets. Raina left some sort of weird family situation with her father behind. Simon's gay and might not be as eager to launch Chris'career as he is to get into his pants. Sonja's got a little secret too (a very little secret). I won't spoil it, but read between the lines. There's a reason she disappeared for six months. Raina discovers Sonja's secret when she tries to reach out to her and then proves that she's actually got a heart.
There's something about this show that distinguishes it from the rebotted 90210 and Melrose Place. I can't quite put my finger on it, but I like it. Sure, it may seem like another show staffed with beautiful, rich people, but it's not as insipid as many other teen dramas these days. The cast is attractive and are decent actors. The characters are interesting and I love taking a peek into the scandalous lives of models. The clothes are gorgeous. I predict producer Ashton Kutcher has a hit and I will most definitely be tuning in every week.
The Beautiful Life premieres on Wednesday, September 16. Check out a trailer below.