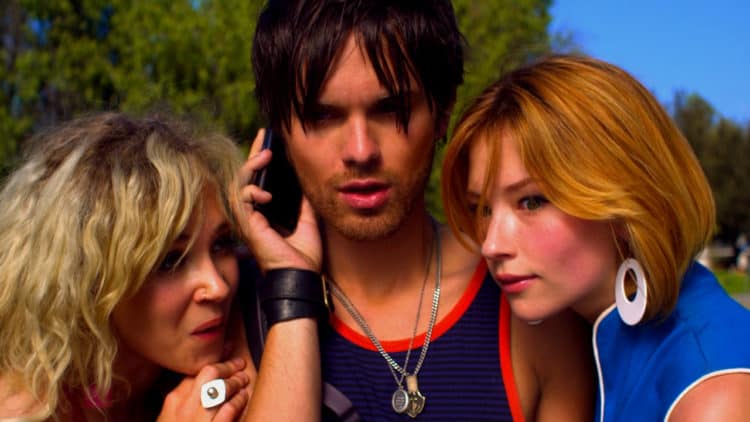 Cinema is riddled with the names and filmographies of sorely underrated filmmakers, and when it comes to indie filmmakers, Gregg Araki tops this list. As one of the early pioneers and seminal names of the New Queer Cinema movements of the late-1980s and 1990s, Araki's movies are equal parts dramatic, comedic, quirky, singularly weird, and moving. He is a director of both uncompromising vision and a searing audacity when it comes to executing his vision–no matter how much the subject matter makes audiences recoil. Like David Lynch, Araki's films are not always easy to sit through, both in terms of narrative complexity and subject matter, but seeing an Araki film through to the end is a rewarding experience, if for any other reason, there are very few filmmakers bold enough to say or show the squeamish thoughts and actions that stay buried behind closed doors. Let's take a look at his films from best to one viewing is enough.
Mysterious Skin (2004)
Araki's best film arrived towards the end of his filmography thus far, and it is one of the most harrowing and realistic depictions of child abuse ever put on screen. Based on the 1995 novel by Scott Heim, Mysterious Skin explores the story of two very different adolescent boys growing up in a small Kansas town in the 80s and 90s. The secret that later gets revealed to one of them (we the audience already know what's coming) is not easy to get through, but Araki's sensitive and wholly dramatic filmmaking is at peak form.
The Living End (1992)
Araki's first film to be given a legitimate theatrical release is also one of his most polarizing. The film depicts two gay men who cross each other's paths at equally dismal moments in their lives. In what can best be described as a nihilistic road movie where the destination doesn't matter, the film is dark, sexy, poignant, and insightful in its depiction of the ravages of the AIDS virus at a time when receiving a diagnosis was bleak news.
Totally F***ed Up (1993)
Araki's follow-up to The Living End is equally as good, but not quite as unique as its predecessor. Totally F***ed Up is a Robert Altman-esque, 16mm dramedy about the daily lives, trials and tribulations of 6 LGBT friends in California. The film contains some of Araki's best attempts at early comedy that is tempered with some searingly dramatic scenes as well. This is the first entry of the director's Teenage Apocalypse Trilogy."
The Doom Generation (1995)
Starring an early career Rose McGowan–who is simply superb, as well as Araki veteran James Duval, The Doom Generation marks the second entry in the Teenage Apocalypse Trilogy and like The Living End, is another road movie. This movie is pure black comedy until Araki's heavy and hard-hitting dramatizations take over in the film's violent and depressing conclusion. The film is also memorable for its scenes of graphic violence that are presented as slapstick humor, which is a bit better in my opinion than the same effect found in Natural Born Killers (1994).
White Bird in a Blizzard (2014)
With Shailene Woodley in the lead, Araki's most recent film to date is based on the 1999 novel by Laura Kasischke, White Bird in a Blizzard. Like Mysterious Skin, Araki is adapting another's material to the screen, and he handles the highs and lows of Kasischke's novel with great mastery. The film received the most attention for its twist ending, which is indeed shocking, but the rest of the film is filled with perfectly-directed scenes, atmosphere, and of course, a selection of stellar music handpicked by Araki.
Three Bewildered People in the Night (1987)
Araki's first film is not widely available, but is a captivating film that is beautifully filmed by a first time director. The movie is rather rudimentary in how it explores the disintegration of one relationship and the forming of another, but is certainly worth seeing if only to experience Araki's first foray into filmmaking.
The Long Weekend (O' Despair) (1989)
Araki's second feature is also not easy to find, but is likable enough. The movie is about three different couples, each couple being of a different sexual orientation: gay, lesbian, and heterosexual. Araki's screenplay is what really stands out here and is a perfect display of his deadpan, dark humor that would follow.
Nowhere (1997)
Many Gregg Araki fans may actually rank Nowhere at the bottom, but the film is unique enough to still stand out to me. Yes, the screenplay is terrible, but there is something freeing and illuminating watching Araki literally go all out as if he were Jackson Pollock with a camera. Definitely not for the squeamish.
Smiley Face (2007)
Smiley Face is an odd entry in the Araki canon. Anna Faris plays a pothead, and the entire film revolves around her many encounters and strange circumstances as she roams around stoned out of her mind. Araki wanted to direct this one since he longed to do a full comedy after the heavy tones of Mysterious Skin. It's okay enough, but just not very memorable or even really that funny.
Kaboom (2010)
2010's Kaboom marks the return of Teenage Apocalypse Trilogy-era Araki, but not with as much bleak nihilism. Maybe a return to nihilism would have helped because this one is something of a misfire. It feels repetitive and almost like a regurgitation of Araki's 90s oeuvre but with much less bite and snark.
Splendor (1999)
Coming in the last is undoubtedly the late-90s, Splendor. Much like the leap between Mysterious Skin and Smiley Face, Splendor was Araki's attempt at changing pace and trying something completely new: a romantic comedy. Gone are the outlandish and cool visual pyrotechnics of the Teenage Apocalypse Trilogy, which is fine, but the main problem with this rom com is that it is not the slightest bit interesting or engaging. The movie is about an open relationship between two men and a woman, which is an intriguing premise, but there is nothing in the writing, acting, and unfortunately, directing departments that stands out.
Tell us what's wrong with this post? How could we improve it? :)
Let us improve this post!