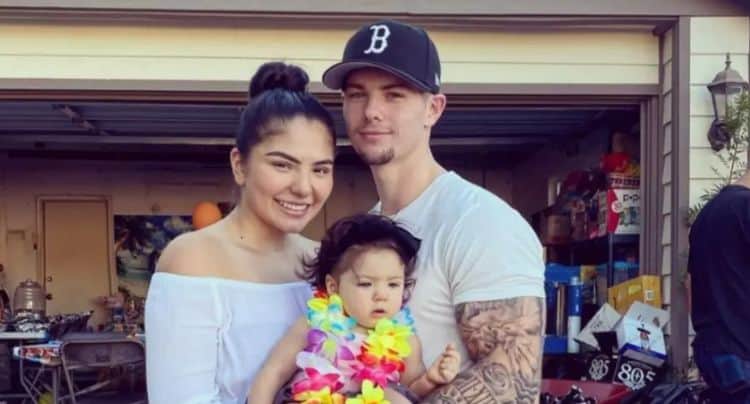 Despite what television tries to tell you, there is nothing glamorous about being 16 and pregnant. Rachelle Perez might not have been a 16-year-old teenager when she got pregnant with her child, but she was still a teen when it happened, and it was difficult. Having a baby is nothing to take lightly. It doesn't even matter what age you are in terms of how much it changes your life. However, when you're a teenager who hasn't even had a chance to live your own life, it's even more difficult. Rachelle Perez and her baby daddy are two of the stars of the most recent season of the hit show, and it seems people want to know more about her.
1. She's 20
She wasn't 16 when she got pregnant, but she was approximately 18 or 19 when it happened. We aren't sure exactly how old she was at the time, but she and her baby daddy have been together 1.5 years, which means she got pregnant almost right away.
2. Her Baby's Daddy is Older
The young man with whom she shares her daughter is Chase Keough. He is 23. He graduated from high school back in 2015, which is a few years before she graduated. We can say that he is working hard to make his dreams come true. He's a personal trainer, and he's taking care of his family.
3. Her Parents Were Not Happy With Her
Find us a set of parents who are happy when their teenage daughter tells them she's expecting a baby out of wedlock, and we will show you that pigs fly. Her parents were not happy when she came to them with her news, and they didn't take it well. They are, however, warming up to her baby now that she's here.
4. She's Graduating College
She may be a young mom, but she's working very hard to ensure she has an education so that she can have a good life. She says she's about to graduate college with her degree in psychology, which is great news for her. We are very happy to hear that having a baby did not derail her from getting her education and from doing the best she can for herself, her daughter, and her future.
5. She's Dealt with Postpartum Depression
Sadly, this is a very real health condition that many women experience when they have a baby. It is not something that any new mom should be ashamed of or try to hide. Seeking help and being honest about your feelings is the best thing you can do for yourself. Finding help can help anyone deal with the myriad of emotions a new mom feels with so many hormones going through her body in such a fragile time.
6. She's the Youngest Child
Rachelle Perez is the youngest of five kids. She is the baby, and her family didn't want the baby to have a baby. It seems that almost all of her siblings ended up having their own babies when they were very young, and her parents did not want the same from her. They wanted to see her wait to have a baby.
7. She Got Pregnant a Month After They Met
According to some rumors on the internet, she was only dating her boyfriend, Chase, for a month when they got pregnant. And, we get the feeling it was less problematic than that they were only dating a month than it was that they'd only known one another for a month. That is just not much time to know someone before making the decision to share your lives forever.
8. She Has Some Issues in Her Relationship
It seems that she was with a man who didn't do much in terms of respecting her when we saw them on television. He called the baby fat after seeing her ultrasound photo for the first time, then he blamed his girlfriend for the fact that the baby's ultrasound photo didn't seem to look more like him. He seemed controlling, irrational, and pretty angry and resentful.
9. She Feels Their Baby Brought them Closer Together
**Disclaimer: This is in no way a confirmation that getting pregnant and bringing a baby into this world will improve a relationship that has issues, so please do not think that having a baby will fix all your problems.
Rachelle feels that having their baby with them has made them a stronger couple. They've learned to co-parent and to be together in a much more mature way since meeting her daughter. She also feels that her parents are close to her now, too, since she had the baby.
10. She's A California Girl
From what her biography on the show says, she is from LA. She was born and raised there, and that is where she and her boyfriend live with their baby. Her family seems to still be there, too, which is nice for them to be able to spend more time together.