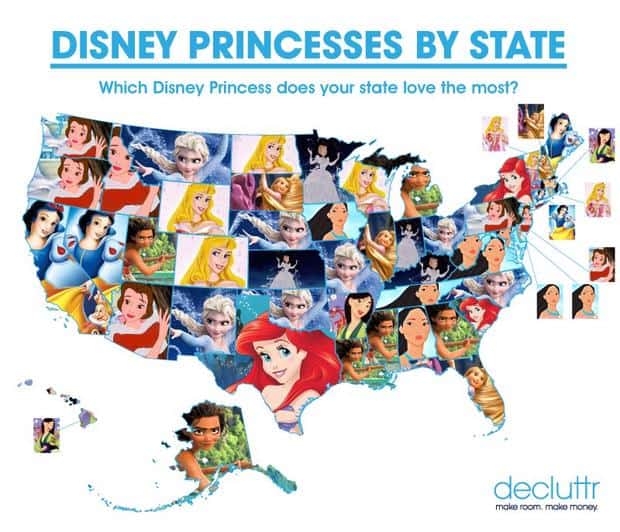 Disney Princesses have been catching our eyes all the way back to 1937's Snow White and the Seven Dwarfs hit the big screen. In the near century since that time Disney Princesses have essentially become a global phenomenon. There are dozen of cultures, genres, sub-cultures, factions, you name it, that are obsessed with the Disney Princess. There are those who like princesses as they are. Then there are those who like to use photoshop to see what it would look like if Disney Princesses were superheroes, wore bikinis, were men, were little kids, were action movie stars, were celebrities, and about 6,000 other possibilities. But today we get a chance to see just how popular these ladies are in America. The map above shows how America's most popular Disney princesses vary from state to state. According to Mental Floss,
Using data from Google, decluttr identified the most-searched-for princesses in all 50 states. Elsa from Frozen (2013) was the most popular, taking the top spot in eight states. She's followed by Pocahontas who's the favorite princess in seven states, including her home of Virginia.
Newcomer Moana (2016) also makes a few appearances. Though the Polynesian princess lost Hawaii to Mulan, she did claim Alaska a few thousand miles to the north. Belle, who returned to the big screen this month for the live-action remake of Beauty and the Beast, is the most beloved princess in six states. Considering her latest movie has already broken records, Belle's popularity won't likely fade anytime soon.
Save