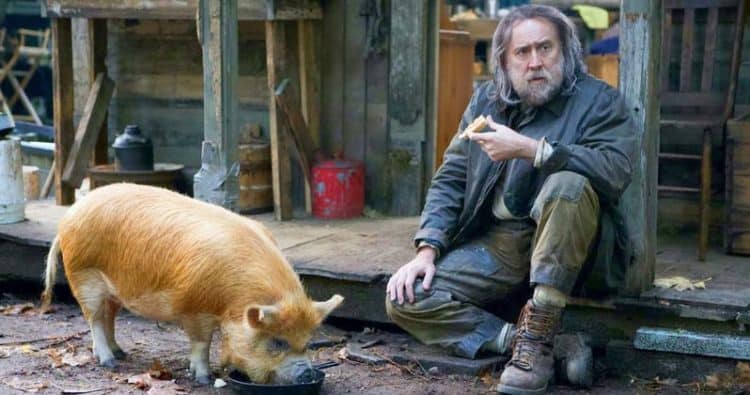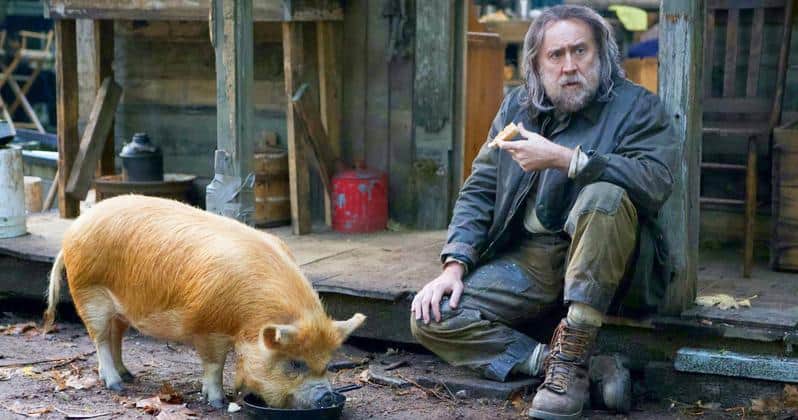 Nicolas Cage has made his return to the big screen with the hit, Pig. The mystery thriller movie is directed and written by Michael Sarnoski and co-produced by Nicolas Cage. The film follows Rob, a truffle hunter, who leaves his house in the woods to find his pig after it was stolen one night. It is an odd yet fulfilling take to the life of a man haunted by grief. Let's take a more in-depth look at Pig and all the superb acting and scenes we saw in the movie.
Plot
The 92-minute film begins with Nicolas Cage's character Rob, who lives in a cabin in the woods with only his beloved pig, Apple, to keep him company. From the very beginning of the movie, we see the deep bond Rob has formed with his four-legged pet. He sustains his secluded and run-down life in the woods as a truffle hunter. Rob's only customer is Amir, played by Alex Wolff, who comes off as a know-it-all well of kid. Rob's quiet life is turned upside down when intruders knock him out and steal Apple. He now has to enlist the help of Amir to search for her around Portland. From the movie's trailer and synopsis, you can think the story borrowed a few things from Keanu Reeves' John Wick. From the plot centering around a grieving man to the beloved pet that is taken from him. John Wick embarks on a dangerous revenge mission filled with blood and mayhem.
On the other hand, Pig is far from this; even though Rob is suffering similar grief, his pet being taken from him doesn't lead him to a killing spree. Instead, Cage's movie tells the story of a once-great man whose grief isolated him from everyone, and now, Apple, the only thing he loved and cared for, was also taken from him. The strange pair go from one place to another in the city as they ask around for any information about Apple. A few intriguing parts of the film are the breathtaking scenes of the forest and a secret underground fight club of chefs. In Portland's restaurant scene, it seems not everyone is who they say they are. The film's themes of grief and death give a different perspective on how those left behind are affected by a loss. It sorts of nudges the viewer to understand everyone's point of view in the movie, including the supporting characters. The feelings of failure and regret that many people have for not doing things differently in life feature many of the film's scenes.
Actors Performances
Pig is Cage's third movie this year, his two other movies, Willy's Wonderland and Prisoners of the Ghostland, came out in the first half of 2021. Critics praised Nicolas Cage's raw acting in Pig for being one of his best performances lately. Rob is a kind, smart man who is afraid of confronting the pain that comes with his grief. In the first 20 minutes, we see that he cannot listen to his late wife's recordings. Cage's character starts as a quiet, isolated man, but as the film continues, he opens up, and we get to see him walk back into his past life. It's easy to tell through his slow but precise movements while in his tiny kitchen that Rob is skilled in the art of cooking. When Apple is taken, his sharp wits aid him in his quest to find her. His perfect photogenic memory proves reliable despite him spending almost a decade in the woods.
In his quest to find his pig, he encounters a sous chef he fired that only worked for him for only two months, a long time before he went off the grid. Rob speaks his truth in a way that is delivered incredibly by Nicolas Cage. His ability to bring out Rob's pain with just a few words is a testament to Cage's great acting. Wolff also outdid himself in his role as Amir. He brings out his struggle with loss as he tries to cement himself in the restaurant market in Portland. He wants to be better than his father, which is evident when he talks himself up in the mirror up to him, trying to 'learn' class from listening to classical music recordings. Amir's business of reselling truffles from Rob to restaurants is part of his bigger plan to get rich and make a name for himself. Like Rob, Amir is yet to deal with his grief; instead, he carries it with him. As he gets to know more about Rob, we see his character grow to become more self-aware and empathetic towards the world.
Their relationship grows from one of truffle business into a real friendship. Rob and Amir's open dialogue explores the two men's vulnerabilities in a way that tugs at your heartstrings. The two portray great chemistry on screen with their short but deep conversations. You might even shed a few tears for the characters during the movie when you are not distracted by their push and pull relationship. Even though the movie still leaves a few unanswered questions by the end, it is satisfying to see the story unfold. Amir and Rob find out their pasts are intertwined and strengthen the relationship between them. By the end, both Rob and Amir can face their fears somehow and accept the reality of loss.
Worth the watch?
Yes. Pig is a slow burn type movie with great reveals throughout that will keep you glued to the screen. The pacing of the film is not for everyone, especially those who love action and entertaining movies. The movie is R-rated because of the many curse words used in the film, so it should not put you off. Without giving away too many spoilers, we can say the movie Pig is a great movie to watch that might earn Nicolas Cage a few nominations for his acting.