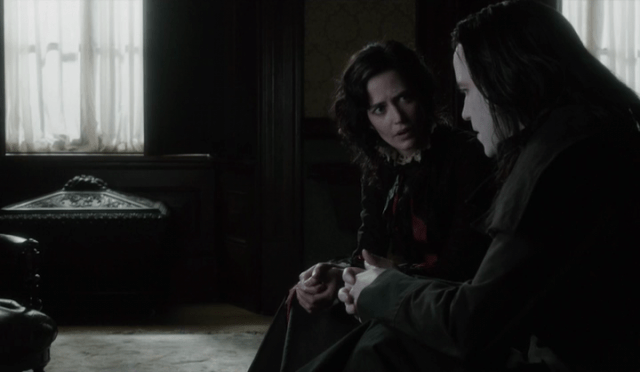 Throughout the seasons of Penny Dreadful, we've all known that a great evil resides within Vanessa. We've seen it manifest quite a few times. Every single time, it's been when Satan has tried to put Vanessa under his control and every single time she's battled that evil and come back. That's the appeal of Eva Green's Vanessa. She's one of the most tortured characters on television and she keeps chugging on despite everything. But, really, it was only a question of when she'd succumb to the evil. Turns out Satan was trying waaay too hard. All Dracula had to do was tell her to be herself. There's quite a few revelations in this episode. And of course, it's Penny Dreadful at it's best.
We begin with Lily in a graveyard with another woman. There we learn about Lily's dead child. Apparently, her name was Sarah Croft. The dead child's been referenced before but this is the first time they've actually revealed her name. She talks about a time when woman won't have to bow down and succumb to the laws of men and whatnot. Good luck doing that with Dorian against you.
After their make-out session, Vanessa's fast asleep and Renfield's creeping about. So far, the show's done nothing with the character. He does play a bigger part in the Classics but maybe that part's still to come. So far, all he's done is spy on Vanessa and be a a total creep. After some British courtesy, Vanessa meets The Creature at last. Now if you watched "A Blade of Grass", you'll know what's changed. Vanessa and The Creature's bond is far deeper than it appears to be. Rory Kinnear and Eva Green always did have a sort of natural chemisty. That chemistry is evident when she encourages him to seek out his family.
Now, I've been complaining about The Creature not having interesting story arcs here. For the first time, The Creature did have a proper story arc. Interesting? Don't think so, really. It's just his family accepting him for who he is. If this was supposed to be some sort of goodbye, then let it be. I think it's about time he exited the show since he's just not relevant enough anymore. Still, I do expect him to take a part in the struggle of the season.
Speaking of the struggle, the vibe of Dracula being a good guy is getting stronger than ever. That vibe intensifies when Catriona talks about how Dracula is portrayed as evil by different authors throughout history. In truth, he's supposed to be an unloved creature who walks the earth in human skin. Not to say that the prophecy is wrong. I think all of that WILL happen. But I still think they're supposed to team up to kill Satan.
Meanwhile in Murica, Kaetenay decides to hitch a ride back to London with the boys. Then he gets a vision about London overrun with night creatures. Then he contacts Vanessa, calls her a great fertile bitch of evil and realizes that she's halfway under Dracula's sway. Well, considering that by the end of the episode, she's completely under his sway, their journey seems to be in vain.
Of course, sometime during talking with Catriona, "The House of the Night Creatures" pops up. Finally, Vanessa realizes who Dracula really is. Considering that some of us figured it out after the first episode, it's about damn time. How do you respond to that? Kill him in his human form when he can be killed.
Funnily enough, we've only ever seen Dracula in his human form. Maybe Renfield's seen "The Dragon" but apparently, he can't be killed in his dragon form. Sounds like some sort of RPG quest, I know. Well anyways, all of this culminates in Dracula successfully seducing Vanessa and 'pledging himself to her service'. Yeah, people! Our girl Vanessa is so scary, Dracula wants to be her underling. He tells her that he just wants her to be who she is, and she succumbs. It was only a matter of time.
In other parts of London, Lily's preparing a revolution and Dorian's preparing a kidnap. You can tell which takes longer. Yep, the kidnap. Lily's revolution involves women cutting off the hands of unfaithful men and piling them around. Revolution people! Well, the kidnap finally kicks in so Lily is now being prepped for identity overhaul. What might happen here is Justine will probably rescue her and die at Dorian's hand which will result in Lily declaring war on all men rather than a few.
Penny Dreadful airs Sundays at 9:00 PM on SHOWTIME.
Tell us what's wrong with this post? How could we improve it? :)
Let us improve this post!