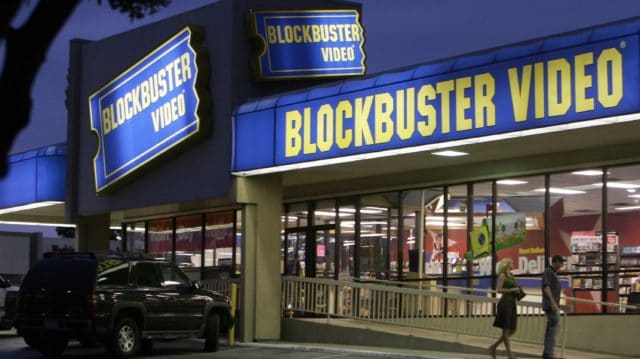 If you are over the age of 30, you remember the iconic presence of Blockbuster video. It was the place that you could go to rent the latest movies and even buy popcorn and candy. When the stores first open, they were literally stocking VHS tapes – that is how long ago it was. Eventually, the store shifted with the industry and begin stocking DVDs for their customers. That first transition went over relatively smooth in comparison to the next stage.
It appears that Blockbuster was not prepared for or simply could not come up with a response to engage the world of digital streaming, which is currently being dominated by Netflix while being adopted by Disney, Amazon, and YouTube. There was nothing to lure potential customers into standing stores to rent DVD movies that they could either download or stream. Well, this past week, the last standing Blockbuster video store in Texas closed its doors for the final time as it gave way to the dominance of the home video industry.
The Blockbuster brand dominated the home video market for years, and the store in Edinburgh, Texas was the last place the movie watchers could experience the nostalgia of dropping into the Blockbuster store to pick up a couple of movies and popcorn.
The store was owned by Blockbuster franchise licensee, Alan Payne. Payne still owns and operates six more stores in Alaska and a couple in Oregon, but there is no indication of how long those stores will remain open.
Just 15 years ago, walking into Blockbuster store on a weekend night meant dealing with crowds, long lines, loud talking, and a moviegoing atmosphere. Over time, convenience and variety won out. Initially, the chain was able to compete because while people could download and stream movies, the selection was not up to par, but now people can stream everything out there. In fact, the actual movie theaters are scrambling to combat the hits that they are taking at the box office because Netflix is making movies available for streaming to close to the release date of the movie. This type of access is leading to moviegoers being willing to wait until they can get it on Netflix or On Demand.
There are some who are concerned that technology is literally destroying the natural social experience that is so important to personal development. People no longer have to go out to buy their groceries, order and eat a full-course meal, buy a car, and now they don't have to leave the house to enjoy the latest movie.
So, unfortunately, Blockbuster is no longer alive in the state of Texas. Thank you, citizens of Edinburgh, for keeping hope alive for as long as you did. Who knows, at some point in the future there may be a great demand for nostalgic experiences that will facilitate the return of Blockbuster and the American Diner, but for now, Netflix and chills seem to be the order of the day for most American.