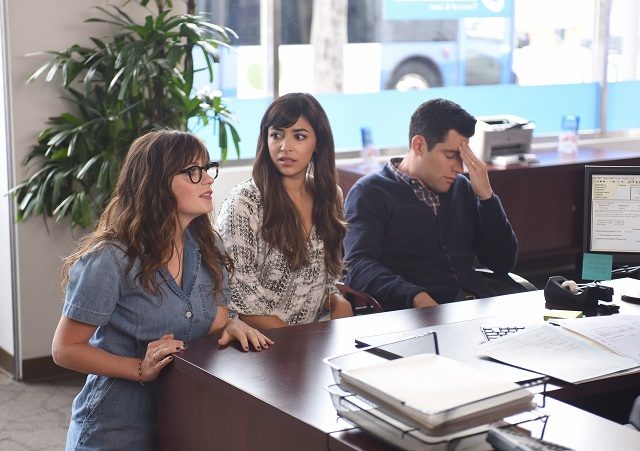 Throughout its five seasons, FOX's New Girl has seen a lot of changes. Damon Wayans Jr.'s Coach was on the show, then he left, then he came back, and then he left again. Winston has transformed from the lifeless Coach imitation he first was in Season 1 to the lovable, weird police officer that he is now. Schmidt and Cece have gone from an unfulfilled, on-again, off-again couple to a husband and wife with real goals and dreams; Cece has quit modeling and returned to school, while Schmidt remains a hard worker at his job and co-owns the bar with Nick. And speaking of Nick Miller, he's matured from the lazy, old man-like goofball we met in New Girl's first season to a motivated, responsible adult, who not only co-owns a business but also has finally finished his dream project: his first book. Does he still panic moonwalk away from situations that get too awkward? Of course he does, but we wouldn't want him to be any other way.
Yet while four of New Girl's main characters continue to move forward in their lives, whether it's Schmidt and Cece buying a house together, or Nick completing the first draft of his novel, one of the loftmates is still looking towards the past. Jess, just like she was for most of Season 5, remains petrified by her own history in "House Hunt," as she tries to fixate on different activities to distract herself from Nick's impending arrival and her unresolved feelings for him. Unlike her friends, she can't see what her future is because she's so caught up in what she Nick were and what they still could be, even though she knows that nothing can possibly happen while he's still with Reagan. For much of the Season 6 premiere, Jess does her best to help Schmidt and Cece plan their future so that she doesn't have to confront the past, but are Jess's feelings for Nick really holding her back, or like Nick himself, have they just grown and matured into something more serious and more special?
What the future holds for Jess and Nick remains to be seen, but the New Girl writers do a terrific job of reminding us about their strong connection in "House Hunt." Before the fireworks went off during Jess and Nick's first kiss in "Cooler," their relationship was built on the foundation of true, selfless friendship, and the scene between the two of them near the of the Season 6 premiere perfectly illustrates that bond, as Nick thanks Jess for pushing him to go to New Orleans by dedicating his book to her (and Anthony Rizzo). It's yet another sweet, tender, and authentic Jess/Nick moment, one of the best that New Girl has delivered in a while, and it works because of its honesty and its simplicity.
Despite the fact that their best friends may be Cece and Schmidt, there's no opinion that Jess and Nick value more than that of each other, and their talk in his room proves that yet again. Before their romance was rocked by constant bickering and fighting in Season 3, Jess and Nick were always best friends; they were able to talk to each other in a way that no one else in the loft could, and if they're able to get back to that past, the one that Jess seems so shackled by, and improve upon it, there very well could be a bright future ahead for them.
In many ways, Jess and Nick's story right now resembles what Cece and Schmidt went through in Season 4, before the two of them ended up getting engaged in that season's finale. Now, though, the newly married couple is at a much different point in their lives, as they search for the perfect home and find one, even though it's certainly a fixer-upper. Similar to how has Nick become more responsible and mature due to Jess's influence, Schmidt becomes less status and money obsessed thanks to Cece's impact on him. While he initially wants the expensive new home for the two of them, similar to how he wanted the most luxurious location for their wedding last season, he realizes that the material value isn't what's most important. What Schmidt wants more than anything is to have a place that he and his wife can call their own, a place where he can hang their wedding photo, and by episode's end, he gets that.
Whether it's a hanging photo or a book dedication, New Girl continuously illustrates that it's these small, intimate moments that showcase what actual love is. Grand gestures and big speeches aren't necessarily bad things, but it's refreshing to watch a sitcom this late in its run still understand that these short, little scenes between characters provide much more emotional impact than the big, over-the-top sequences that a lot of rom-coms nowadays try to push as romance.
However, as great as New Girl is at romance, it's even better at friendship, which is why moments like the conversation that Jess and Winston have before she talks to Nick, or the exchange between Nick and Schmidt at the bank, possess as much power as the important Nick/Jess and Schmidt/Cece scenes do. It's the friendships between these characters, so wonderfully displayed during the final scene at Schmidt and Cece's new house in tonight's premiere, that ensure that this series is still one of the best sitcoms on TV five-plus seasons in. It's good to have you back, New Girl. I missed you.
Other thoughts:
My two favorite things from this episode: the way Schmidt pronounces "coupons" and the goodbye song that Winston and Aly sing to each other. I'm so happy those two adorable dorks are together, and that Nasim Pedrad is still on the show, even if it's only in video form for right now.
There's some great recurring Jess jokes throughout "House Hunt," with her now knowing Portuguese (it's a very sexual language!) and having gotten "scary ripped" at the gym over the summer as she tried to distract herself from thinking about Nick.
Also, Jess apparently hates the zoo. Did we know this before? I would have thought that Jessica Day would be a big fan of zoos.
Fun, new facts about the loftmates: Schmidt cooks an egg at every new apartment/house he looks at, and Winston got his belly button pierced, even though he has an outie.
Speaking of Winston, what do we all think of his new facial hair? I'm digging the beard.
Schmidt's perfect response to Jess after he finds out she still has feelings for Nick: "We all need to meet new people."
FURGUSON!!! And one more time: FURGUSON!!! That cat is the best, y'all.
What did everyone else think about the New Girl Season 6 premiere? Did you enjoy it as much as I did? Comment below and let me know.
[Photo credit: Ray Mickshaw/FOX]
New Girl Season 6 Episode 1 Review: "House Hunt"
Summary
Schmidt and Cece search for the perfect house, while Jess deals with her unresolved feelings for Nick in New Girl's strong Season 6 premiere.