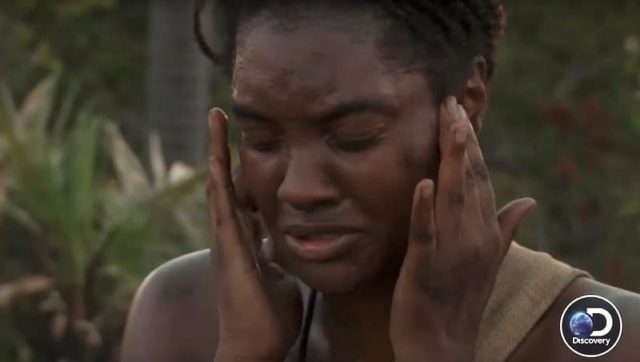 Some people might have sympathy for those on the show Naked and Afraid when they come up across certain hardships. But when one of the contestants suffered a meltdown after repeated insect attacks it's kind of hard to show much more than a 'what did you expect?' attitude. It's true that the blood-sucking flies that are attempting to burrow in anywhere they can to lay eggs are kind of disgusting and no doubt a hardship to get away from. But what in the world did Karra Falkenstein expect? Did she think that being on the show was going to be a cake-walk since she does naked yoga? Did she believe that since she walks on rocks and rough terrain near the river by her home that she would be entirely prepared?
Nature isn't kind when people get back out in it with nothing but their naked bodies and wits to rely on. If the cities and other civilized places are mean, then nature is flat out cruel. The insects that exist in nature aren't nearly as nice as those that have moved into people's homes and been around humans for so long. To them a human body is just another place to land, another walking feast depending on what they subsist on. And considering that she applied in 2015 and went through an entire battery of tests to prove that she was tough enough for this, there's not a lot of sympathy, if any, for the contestants that went on this show? Why? Because quite honestly if you're not aware of how hard nature and everything in it can be on a body then it's likely that you should stay home in the comfort zone where things make sense.
Even given the fact that the show isn't about to allow their contestants to get picked off by any natural predators there are going to be elements that the show has no control over. And the matter of the flies biting so badly that they burrow in past scabs to lay eggs is something that no respecting showrunner would ever allow to happen to their contestants. If such a thing were to happen you can surely bet that there would be an assessment of the situation and then a quick resolution that would likely involve the contestant being ferried to the nearest medical facility. This show putting their contestants in 'dire peril' is kind of a joke really since besides the obvious dangers and annoyances that are to be had there's no ethical way to run a show like this if the people are going to be in genuine danger.
The flies are no doubt worse than the average bug when it comes to biting, but the fact remains that Karra still tried to get on this show and had plenty of time to figure out just what it was going to be like. That's why it's so hard to muster even the slightest bit of pity for her. Don't jump in the water if you're afraid of getting wet.