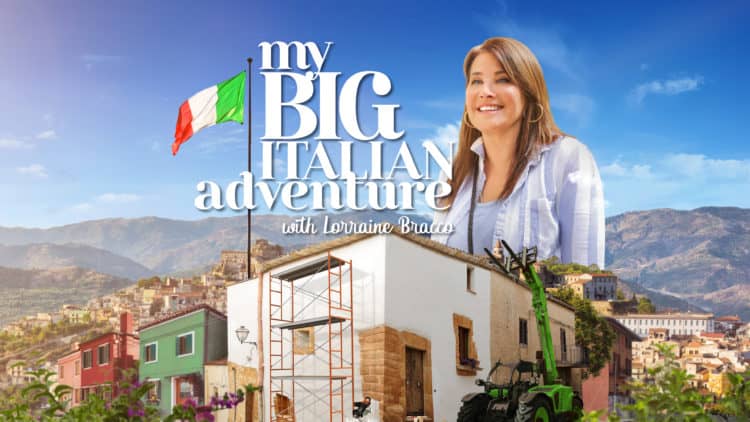 The pandemic has left a lot of people spending more time in the house than usual, and as a result they're constantly looking for new things to watch. One of HGTV's latest series, By Big Italian Adventure, might be the perfect fit for you. The show follows actress Lorraine Bracco as she goes to Italy to purchase a home to renovate. Lorraine is best-known for her role in movies like Goodfellas, but she's also made several small screen appearances over the years. While her HGTV show is a big departure from other projects she's done, Lorraine still manages to steal the show. Keep reading for 10 things you didn't know about My Big Italian Adventure.
1. Lorraine Purchased Her Home For 1 Euro
If you love home renovation shows as much as you love a good deal, then you'll really love My Big Italian Adventure. Lorraine purchased her property in Sicily for just 1 Euro which equals about $1.19. The house is 200 years old and has approximately 1,800 square feet of space.
2. Lorraine Has No Experience Renovating A Home
As you can imagine, a 200 year old house needs a little bit of TLC in order to reach its full potential. Most people who take on big renovation projects like that usually have some experience in the field. Lorraine, however, has no experience. She told HGTV, "I'm not a contractor. I'm not a decorator. I'm an actress. I've never done this before. I have no idea what I'm really getting into! It's a lot of work, but everything is possible. I believe that. And for one euro, we'll see!"
3. The Series Was Shot Over A Period Of 9 Months
The process of purchasing a home in Sicily was an adventure for Lorraine, and so was the show itself. Filming for My Big Italian Adventure took place over the course of 9 months. The network's goal was to follow Lorraine at every step in the home buying and renovation process.
4. The House Is In Worse Condition Than You Could Imagine
The old saying 'you get what you pay for' definitely rings true when it comes to the home Lorraine purchased. To see the home was in bad condition is a serious understatement. In addition to being extremely old, the home also had no electricity, running water, kitchen, or bathrooms. Needless to say, the home needed to be completed gutted.
5. The Show Is About More Than Just Renovations
HGTV already has lots of renovation shows so you may be wondering what makes this one different besides the fact that she purchased the property for a little over a dollar. The answer is simple: Lorraine. Her bright personality makes the show fun and exciting and puts a twist on the classic home renovation former.
6. Lorraine Has An Instagram Account For Her Adventures
HGTV hasn't made any official social media accounts for the show, but that doesn't mean My Big Italian Adventure isn't on social media. Lorraine has created a separate Instagram account for her journey abroad and the account features images and clips from the filming of the show.
7. Viewers Can Find Show Extras On The HGTV Website
If you're the type of person who likes to keep up with shows in between episodes, you'll be excited to hear that you can find exclusive clips and other content regarding the show on the HGTV website. The website also shows the schedule for upcoming episodes.
8. Lorraine Also Bought The Home Next Door
Whatever Lorraine saved on the purchase of the house, she ended up putting back into the property in order to make it the kind of place she would actually want to live in. She ended up purchasing the home next door for about 45,000 Euros so she could have space to build a kitchen.
9. The Show Has Gotten Positive Feedback On Social Media
Despite not having its own social media account, My Big Italian adventure has already become a hit on social media. People seem to really love the show and they're especially drawn to the element of adventure and Lorraine's entertaining personality. If you want to follow along with what people are saying on social media, you can use the hashtag #MyBigItalianAdventure.
10. Lorraine Wants To Make The Home Family Friendly
Lorraine doesn't just want to renovate the home for the sake of having a project, she actually wants to turn it into a place that she and her family can enjoy for years to come. One of the things she wants to have added to the home is a ping pong area for her grandchildren.
Tell us what's wrong with this post? How could we improve it? :)
Let us improve this post!