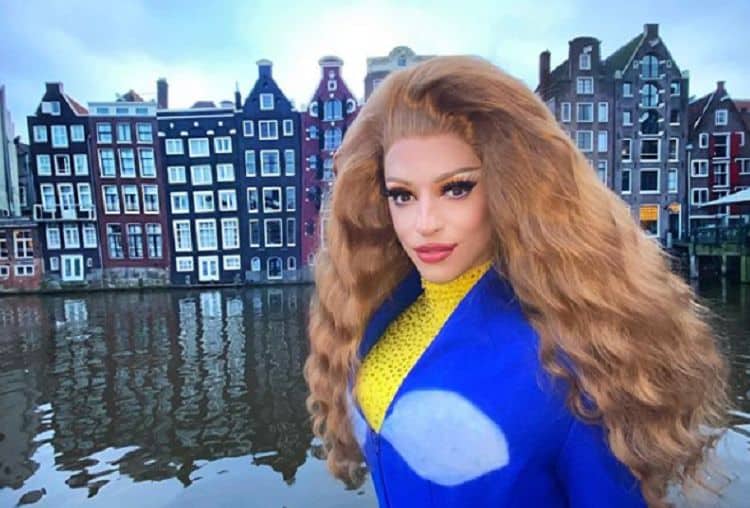 Maxwell Heller, better known as Miz Cracker, became famous after being on "RuPaul's Drag Race." Before then, she was a regular school teacher, teaching English to Senegalese students, and in return, they taught her Wolof. However, being a drag queen has brought her back to life because she once had suicidal thoughts resulting from feeling like a woman trapped in a man's body yet could not be herself. Her love life has remained private, although, in 2015, she was speculated to be dating a married man. She is an avid supporter of the LGBTQ community and even won an award in 2016 for the association of LGBTQ Journalists. Besides these facts, here is everything else you might know about Miz.
1. How she became a drag queen
Miz had never thought about becoming a drag queen, but one night she was kind enough to help a guy who lived down the street haul a bookshelf into his apartment. Miz was surprised to see wigs lying on the floor, so the neighbor explained that he did drag every weekend, and Miz should join him. Miz was, however, not interested, but the neighbor kept pestering him to join for the next six months until Miz gave in.
2. When he decided to pursue drag as a profession
Even after Bob the Drag Queen introduced him to drag, Miz was still not sure about being all in, so he kept holding back, a decision that did not work in his favor. While a colleague, Brenda Darling, was getting standing ovations, Miz received mild responses, which made her realize that she needed to either up the game or quit because being lukewarm was not cutting it in the industry. She consequently started putting more effort into her performances because, as she explained to Benchmark, you can feed it or starve it, but the rewards you get will be in equal measure.
3. Her mother supported her decision to be a drag queen
You would think the fact that Miz comes from a Jewish would have been an obstacle in her career, but surprisingly, her mother was for the idea. When Miz decided to quit her job to pursue drag full-time, she told her mother, who only wanted Miz to be happy. Therefore she would prefer if she was homeless and living in the streets than continue to work in a place that dampened her spirits. With her mother's blessing, Miz dove right in the industry.
4. Her pet peeves as a drag queen
Miz loves interacting with her fans, but she hates that autograph signing is usually scheduled after the performances. By then, she is sweaty all over her face, so she hates that she does not give her fans beautiful photos as souvenirs. Additionally, since the queens perform songs, Miz hates when two or more of her colleagues do the same songs because there have so many choices, yet they stick with one.
5. Being a drag queen has helped her learn that physical appearance does not matter
As a young boy, Miz Cracker remembers that people did not bother with what she looked like because she dressed and looked like a boy should. However, when she started wearing makeup and wigs, the same people would hurl slurs at her, and it took a long time for her to accept that what is outside does not matter. She always thought that her outside appearance meant a lot about who she was a person but has understood that it is not essential.
6. She and her best friend were mugged in 2018
On August 10, 2018, Miz took to her Twitter account to let her fans know that she and Katelyn had been mugged. She explained that it happened so fast that they were left in shock; the mugger managed to get away with all their money, identity cards, and credit cards. However, all she asked for from fans was lots of love and snacks during their next meet and greet. As reported on GCN Magazine, lots of her fans showed their love and Miz was not turned off from the country; she later announced her one-woman show in Dublin scheduled for January 2019.
7. She is a loyal friend
On a Reddit post, Miz stuck by her best friend's side, asking people not to be cruel to Katelyn. She said that Katelyn had set her account to private mode after receiving hateful comments. Miz said no one is forced to like Katelyn as a person or love her job, but there is no need to make her feel bad for choosing her profession.
8. She has always loved making costumes
Miz looks stunning in her drag costumes, but maybe it is because she has had the skills since she was young. At the age of 8, she remembers that she and her sister would make costumes from whatever they found. That ability to see a possible outfit in everything she finds in the streets has stuck with her because as she confessed to J., as late as last year, Miz made an outfit capped with a billiard ball she got from the trash. Her resourcefulness came from being raised in a low-income family, so everything they had was made by her mother, sister, or Miz.
9. Why she thinks she can handle anything
What does not kill you will always make you stronger, and Miz can testify to this expression. While in "Drag Race," her skin broke out under the duct tape, and every night she had to deal with pulling apart layers of blistered skin. As if that was not bad enough, she had a broken toe during the entire season, but since she wanted to remain in the cast, she did not say anything. As a result, her perseverance grew.
10. Why being on "RuPaul's Drag Race" meant a lot to her
Miz disclosed that her mother had a degenerative disease that would cause her to go blind with time. Therefore although her mother hated television, she still got the chance to see her daughter represent the Jewish culture and stay true to the family values; for that, Miz was grateful.
Tell us what's wrong with this post? How could we improve it? :)
Let us improve this post!